Cîgirê serokê Heşda ŞaebîEbû Mehdî Muhendis, yê di demjimêrên destpêkê yên Înê (3yê Kanûna Duyem) de hat kuştin di lêdaneke asmanî ya Amerîkî li Bexdayê, weke zilamê Tehranê li Îraqê û dijminekî serhişk ê Amerîkayê dihat dîtin.
Lêdana asmanî ya Amerîkî li ser balefirgeha navdewletî ya Bexdayê herwiha hevalê wî yê nêzîk ceneral Qasim Sulêmanî, fermandarê Feyleqê Pasdarên Şoreşa Îslamî ya Îranî (Pasdaran), serokê pêwendîyên derve yên Heşda Şaebî Muhemed Rîda Cabirî.
Kesên di lêdana asmanî de li ser karwanekê hatine kuştin serkirdeyên Heşda Şaebî ne, ku ew hêzeke serbazî ya Îraqî ye ku pir nêzî Îranê ye.
Lêdana asmanî piştî tenê çend rojan ji êrîşên alîgirên Heşda Şaebî li serbalyozxaneya Amerîkayê li Bexdayê hat, êrîşa ku bû sedema hêrseke berfireh li Waşintonê.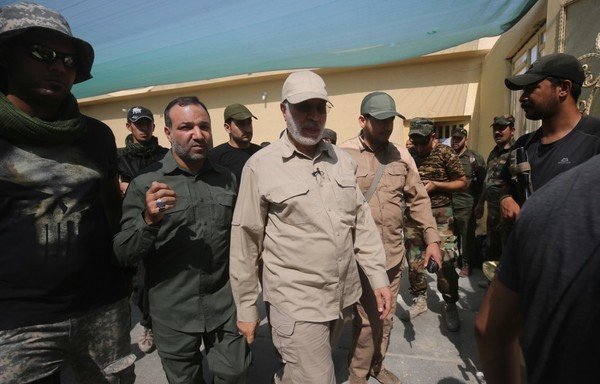 Muhendis -- ku gelek bernavan bi kar tîne navî wî Cemal Caefer Brahîmî ye -- di nava têkderên ser bi Îranê yên balyozxane roja Sêşemê dorpêç kiribûn de bû.
"Muhendis belgehek bû ku çawa Îran tora xwe ya peyayan li Îraqê ava dike," Filîp Smîs, lêkolînerekî ku giranîyê dide komên çekdar ên Şîe wiha got.
"Destê wî di hemû torên serekî yên Îranê li Îraqê de hebû. Tu nikarî belgeheke baştir " a hejmûna Îranê li Îraqê bibînî.
Ew bi esil xelkê Besrayê ye, Muhendis ji dayîkeke Îranî û bavekî Îraqî re di sala 1953 ji dayîk bûye. Wî di sala 1979an de berê xwe da Îranê, û bû şêwirmendekî serbazî yê Hêza Qudis, û ew herwiha fermandarekî Feyleqê Bedir bû.
Cezayê mirinê li wî li Kuwêtê hatibû birîn ji ber cihgirtina wî di êrîşên xwekujî de li dijî balyozxaneyên Amerîkî û Fransî li wir.
Damezrênerê milîseke tundrew
Muhendis demeke kurt bû endamê parlemanê Îraqî piştî hilbijartinên 2005an.
Pişt re wî alîkarî di damezrandinaKetaib Hizbulah de kir -- ku milîseke tundrew e ku Îran piştevanîya wê dike û wê hêzên Amerîkî armanc kirin.
Roja 4ê Kanûna Yekem, endamên milîsêêrîş birin ser xwenîşanderên Îraqî yên aştîxwaz yên ku rola Tehranê li welatê xwe şermezar kirin.
Di sala 2009an de, Amerîkayê Muhendis û Ketaib Hizbulah weke pêgehên "terorîst" destnîşan kirin.
Waşintonê got ku Muhendis "torên qaçaxîya çekan ava kirine û rol di teqandina balyozxaneyên Rojavayî de û herwiha di bûyerên terorkirinê de li herêmê gerandiye".
Michael Knights, şarezayek di Peymangeha Waşintonê de, Muhendis weke "kesê herî dijbir ji Amerîkayê re" di navên komên çekdar ên Şîe de li Îraqê bi nav kir.
Piştî ew bû cîgirê serokê Heşda Şaebî, û sîwaneke berfireh ji hêzan damezrand bo lidarxistina şer li dijî "Dewleta Îslamî" (DAIŞ) li Îraqê.
Heşda Şaebî pişt re bûne beşek ji hêzên ewlehî yên fermî yên Îraqî, lê hinek ji hêzên wê yên tundrew, di nav de Ketaib Hizbulah, bi tena serê xwe li derveyî fermandarîya Bexdayê tev digerin.
"Mejîyê birêvebir ê Pasdaran li Îraqê"
"Muhendis pir hewl da ku Heşda Şaebî bike rêxistineke ku hime ne li jêr fermandarîya ofîsa serokwezîr be û ne jî li jêr kontrola hêzên ewlekarî yên heyî be," Knights dîyar kir.
Tevî ku ew li jêr serokatîyaFalih Feyad, ku herwiha şêwirmendê ewlehîya niştîmanî ye, bû, Muhendis bi awayekî berfireh mîna serokê "rasteqîn" ê Heşda Şaebî dihat naskirin, li gorî çavdêran.
Him wî dilsozîya hêzên xwe li ser zemînê bi dest xistibû him jî dest danî ser samanên wan ên darayî.
Knights sala par nivîsî ku vê yekê hiştiye ku bibe "mejîyê birêvebir" ê Pasdaran li Îraqê.
Ew şêwirmendekî kesayetî yê Sulêmanî bû, ku wêneyên her du kesan di çend boneyan de hatine kişandin, ku germhîya pêwendîya di navbera wan de eşkere dikirin.
Tevî postê wî yên bilind di Heşda Şaebî de, kêm caran Muhendis dîyar dibû yan tevlî siyasetê dibû.
Smîs got ku hîn ne xuyayî ye wê kî şûna wî bigire, ji ber ku dê zehmet be kesek were dîtin ku xwedan heman asta bilind a têkilîyên îdyolojî û kesayetî bi Îranê re be.