Berpirsine herêmî dibêjin ku êrîşên tayîfgerî yên cihê yên ku ji hêla mlîsên girêdayî Îranê li parêzgeha Diyalayê pêk tên gefan li xwezaya aram a van komelgehan dixwin û rê li ber tundîyê vedikin.
Li gorî raportên medyayî, hejmara kuştin û armanckirina bêserûber a sivîlan bilind bûye, herwiha êrîşên bi mûşekan li ser hinek taxan.
Di 1ê Hezîranê de, sê cotkar ji heman malbatê hatin kuştin li gundê Ebû Xenazîr li navçeya Ebû Sadiya li parêzgehêdi êrîşekê de ku tê payîn milîsan pêk anîbe.
Vê yekê tirs di nava niştecihên xwecihî de çêkir û hişt gelek gundî ji malên xwe birevin.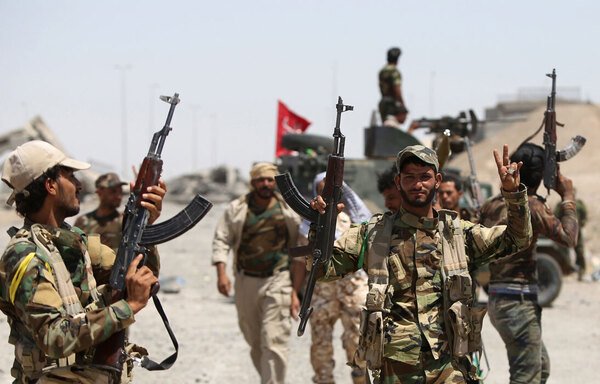 Di 14ê Hezîranê de, milîsan bi hawanan êrîşî taxa Behrazê kir.
Û roja 22ê Hezîranê, komek çekdaran bê serûber gule ji siwareyekê berdan civîlan li taxa Eewqaf a Tehrîrê li Baqûbayê, di encamê de sê kes birîndar bûn.
"Sekina li hember desthilatdarîyê"
"Hinek komên çekdar ên beradayî li hember desthilatîyê disekinin û hêza xwe bi kar tînin da sivîlan bitirsînin," endamê encumena parêzgeha Diyalayê Sacid Enbakî ji Diyaruna ragihand.
Enbakî dîyar kir ku "divê hikumet rêkarine yekalîker pêk bîne bo çalakîyên derqanûnî werin rawestandin û [bihêle] çek û ewlehî di destê hêzên fermî de be da ku ev tawankar nikaribin tawanên xwe pêk bînin û şîraza civakî ji hev bixînin."
Enbakî got "em ji desthilatên peywendîdar dixwazin ku li pey her kesê ku gefan li selametîya sivîlan dixwe û aramîya parêzgehê xerab dikin bikeve, eger ev kes kî be jî.
Di daxuyanîyekê de roja 8ê Hezîranê, parlamenterê Îraqî Raid Dehlekî ku nûnerê parêzgeha Diyalayê ye di parlamanê de got ku milîs "selametî û ewlehîyê qels dikin û xelekên kuştin, koçkirin û qewitandinê dubare dikin."
Wî anî ziman ku ev milîs hewl didin "desthilatîya xwe bisepînin û nehêlin tu berpirsekî xwecihî vê desthilatîyê ji wan bibe," her wiha bang li hikumetê kir ku berpirsyar be û dawî li vê rewşa Diyalayê bîne.
"Hîna êrîş sînordar in"
"Rêkarên ku milîsên beradayî pêk tînin hîna bûyerine sînordar in," endamê encumena parêzgeha Diyalayê Omer Qerewî ji Diyaruna re got.
Qerewî destnîşan kir ku nişteh êdî rastîya van milîsan nas dikin "ku ew dixwazin tayîfgerîyê gur bikin," û dê nehêlin ew vegerin rojên tundîya tayîfgerîyê.
Wî got ku ji bo bûyera Ebû Xenazîrê, "rêberên xwecihî destwerdan kirin, civîn li dar xistin û serdanên parlamanî û hikumî kirin."
Qerewî da zanîn ku rewşa Diyalayê "di bin kontrolê de" ye bi saya hêzên ewlekarîyê. "Tevî wisa jî, li hinek gundan ewlehî qels e -- weke Weqf, Muxesiya û Muqdadiya ku hîna şanên razayî li wir hene -- mirov dikare çalakîyên [miliîsên] çekdar bibîne."
Gefa "Dewleta Îsalmî" (DAIŞ) hîna li parêzgehê heye, her wiha hîna endamên terorîst ên xwe di nava bax û kendûkûzan de vedişêrin jî hene, Şêx Heysem Hawim, serokê êla Nîda ev tişt anî zimên.
Wî ji Diyaruna re got ku "komên çekdar ên beradayî vê yekê keysbaz dikin, herwiha kêmbûna yekîneyên ewlehîyê li hin deveran, ji ber ew beşdarî pêvajoyên ewlehî dibin, bi kar tînin."
Hawim destnîşan kir ku rewşa ewlehî li Diyalayê ne tirsnak e çimkî êrîşên çekar ên vê dawîyê "sînordar in, û ne operasyonên li ser asteke berfireh in."
Wî got ku hêzên me xwedî bandoreke xurt in û yekser destwerdanê dikin da çi operasyona ku ewlehîyê binpê dike an gefan li hevgirtina civakan dixwe rawestînin."
Wî dîyar kir ku "sivîl bi hêzên ewlekarîyê bawer in û bi wan re alîkar in bo aramîya parêzgeha xwe biparêzin."