Hikumeta Îraqî vê dawîyê gavek bo piştevanîya projene piçûk û navîn avêt, projên bi pêşengtîya ciwanan, nemaze yên li wan deverên ku ji "Dewleta Îslamî" (DAIŞ) hatine rizgarkirin.
"Pêşengên Îraqê", ku di 13ê Îlonê de dest pê kiriye, nîyet dikin ku çareyekê ji bêkarîyê re bibînin, rêxistinkeran got.
Ev gav bi piştevanîya Banka Navendî, Banka Navdewletî, Sendîka Banka Îraqî ya Taybet û Tora Medyaya Îraqî ye, û hwd.
Peyvdarê Banka Navendî Eyser Cebar Pêşengên Îraqê bi "projeyke jîyandar" wesf kir, herwiha ji Diyaruna re got ew hêvî dike ku encamine baş bi dest bixin û geşedana aborî û civakî ya welat pêş bixin.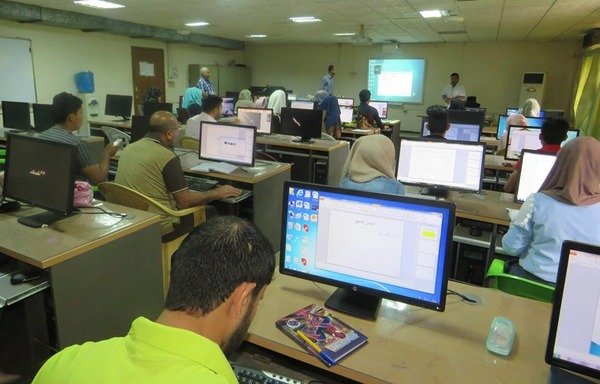 "Gava me balê dikşîne ser dîtina cihekî bo ciwanan ku mîna hembêzkerekê bo hizir û nêrênên wan be û herwiha awayekî bo peydakirina piştevanîya darayî daku karibin projene piçûk û navîn saz bikin û zora astengîyan bibin," Cebar got.
Cebar ragihand ku "plana piştevanîyê tenê yek deverê nagire dest," da zanîn jî ku kesên beşdar "bo bijartina projeya ku dixwazin ew tam serbest in, li gorî jêhatîyên wan û herwekî ku ev yek dê berhemdar be an na."
Cebar anî ziman ku taybetbûn bazirganî, karên destî, perwerdekirin û geştyarîyê dihundirîne.
Wî got demeke destnîşankirî bo vê gavê tune ye herwiha tu hejmareke destnîşankirî bo kesên sûdgir: "Herkes dikare beşdar bibe, lê pêşektî bo van ciwanên ku bajarên wan ji terorê rizgarbûne re ye."
Pêşkêşkirina piştevanîyeke din
Cebar got ku ciwanên ku ji deverên li jêr destên DAIŞê bûn "pir êş di encama koçberî, kirarên tetrorîst û şer de kişandine."
Wî anî ziman jî ku ew gerekdarî piştevanîyeke din in daku karibin beşdarî geşedana aborî ya bajarên xwe bibin.
Ev gav "piştevanîya projeyên ku dikarin li ser erdê pêk bîn dike, di rêya lêkolînine kêrhatî û planine bidiqet," wî got.
Cebar ragihand ku "hêvî ew e ku ev proje ne tenê dê derfetên kar bo xwedîyên kar peyda bikin, lê belê bo ciwanên din jî di demên bên de."
Rêjeya ciwanan dora sê ribê niştecihên Îraqê ye, Wezareta Plankirinê di Tebaxê de ragihand, ku %27.4 ji niştecihan ciwan in.
Hejmara ciwanên bêkar dora %22.6 e, li gorî raportê.
Çêkirina çîrokên serkeftî
"Ramna gava ku Pêşengên Îraqê kirine xwe dispêre peydakirina derfeteke guncaw bo ciwanan daku armanc û xewnên xwe pêk bînin," serokê Sendîka Banka Taybet a Îraqî, Wedî Nûrî Henzal anî ziman.
"Em dixwazin çîrokine serkeftinê bo ciwanan, û herwiha malbatên wan biafirînin û em dê bi wan serbilind bin," wî ji Diyaruna re got.
Henzal ragihand ku şîyanine ecêb di hundirê van ciwanan de hene, lê belê ew gerekdarî piştevanî û pisporîyê ne.
"Em li ser pêkanîna rahênanan teqez dikin, ku beşdarbûna me bo avakirina şîyanên ciwanan ku karibin karên xwe yên taybet baş plan û bi rê ve bibin," Henzal got.
Henzal anî ziman ku sendîkê "hejmareke mezin a ciwanan rahênan kirin di rêya komeke pergalên pîşesazî û perwerdekirinê, di nav de 50 jin û mêrên derçûyî vê salê weke beşeke projeya nûavakirinê ya bi navê Duristkirina Ciwanan."
Wî got ku piranîya derçûyên vê bernameyê kar bi dest wan ket.
"Ev e tiştê em dixwazin bi vê gavê re bikin," Henzal got. "Bo handana ciwanan, bi taybetî ew kesên xwedî bawernameyên zanîngehan, ku li bende peydakirina karekî di sektorên giştî de nemînin lê bo jêhatîyên xwe ava bikin û dest bi karên xwe yên taybet bikin."
"Em dê komeke rahênanên cihêreng bidin û xebatên xwe bo ciwanên ji bajarên rizgarkirî re bikin, daku em derîyan li hemberî terorîstan vekirî nehêlin û herwiha bo em ji wan sûd webigirin û bêkar nemînin," wî ragihand.
Parastina aramîyê
Gava piştevanîya ciwanan ew "gaveke hêja ye", berpirsê medyayê yê Tora Sazûmenên Civaka Sivîl li Nînewayê Muhened Omerî got.
Wî ji Diyaruna re got ku "bêkarî yek ji mezintirîn berhengarîyên ku rastî ciwanan tê îroroj, û ev yek bi taybetî rewşa kesên di zanîngehan de xwendine ye."
Omêrî anî ziman ku peydakirina rahênan û piştevanîyê bo karên ciwanan ew "gaveke pêwîst e" bo li hember bêkarîyê raweste û gepa nanê wan peyda bike.
"Li parêzgehên rizgarkirî, em pir gerekdarî weke van projeyan in, ji ber rola wê ya di parastina aramîya bajaran de û herwiha başbûna rewşan," Omêrî got.