Terorîzm
|
2019-04-30
Rêberê DAIŞê bal dikşîne ser binketina li Sûrîyayê di yekem vîdyo de piştî pênc salan
Xalid Taî û Welîd Ebul Xêr li Qahîrayê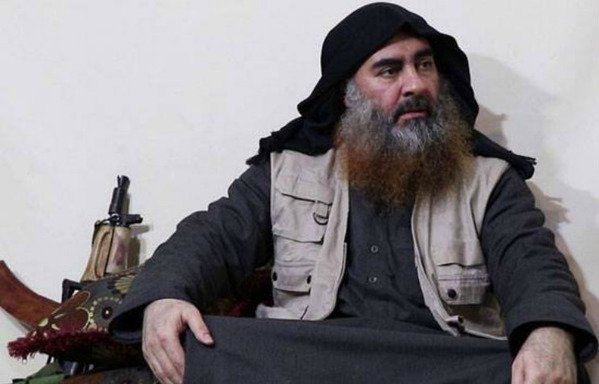 Rêberê rêxistina "Dewleta Îslamî" (DAIŞ) Ebû Bekir Bexdadî derketina xwe ya piştî pênc salan bi vîdyoyeke propagandayî ku Duşemê (29ê Nîsanê) hatiye belavkirin pêk anîn, AFP ragihand.
Zilamê herî tê xwestin cara herî dawîn li Mûsilê di sala 2014an de hat dîtin, dema ku wî damezrandina DAIŞê li Îraq û Sûrîyayê ragihand.
Di vîdyoyekê de ku maşîna propagandayê ya DAIŞê, Furqan, belav kiriye, zilamekî ku tê gotin ew Bexdadî ye qala mehên dûv û dirêj ên şer dawî yê DAIŞê li baxozê, yê ku di Adarê de bi dawî bû, dike.
"Şerê Baxozê qedîyaye," wî got, dema ku wî xwe pal daye û bi sê zilaman re diaxêve ku rûyên wan hatine nuximandin.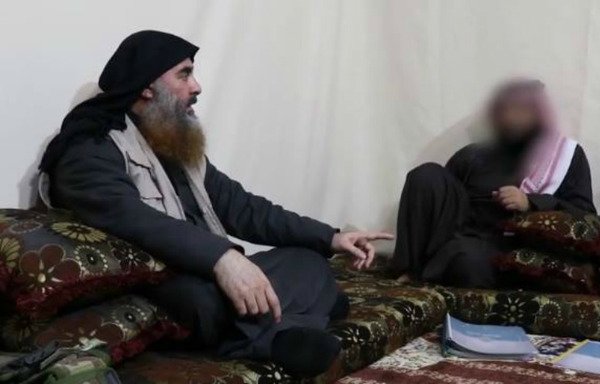 Wî herwiha balkişand ser şikestinên DAIŞê, li bajarê Mûsila Îraqê û Sêrtê li Lîbyayê.
Di beşekî de ji vîdyoyê ku zilam ne di kamîrayê de bû, dengê wîêrîşên Cejna Qiyametê ya 21ê Nîsanê li Serî Lankayê, ku 253 kes kuştin û dora 500 kesan birîndar bûn, weke "tolhildan bo birayên xwe li Baxozê anî ziman".
Bexdadî di odeyeke dîwar sipî de bûn, lê ne dîyar e kengî û li kû ev vîdyo hatiye kişandin.
Riha wî dirêj û sipî bû û dîyar bû ku hatiye hinakirin û ew giran diaxêvî, û gelek caran bo çend çirkeyan di nîva hevokên xwe de radiwesta.
Kalaşnikoveke şer a modêl kevin bi dîwar ve li pişt wî rakirî bû.
Bexdadî dîlê rabihûrîyê ye
Tîmeke xebîr û lêkolînerên Îraqî di warên hewalgirî, medya, derûnî û civaknasîyê de naveroka vîdyoya nû pişkinîn dike, peyvdarê Wezareta Berevanîyê ya Îraqî lîwa Tehsîn Xefacî ji Diyaruna re ragihand.
Wî got ku tîm naverokê lêkolîn dike û peyvên Bexdadî dide ber tîrên "şirovekirin, lêgerîn û dîrasekirinê".
Xefacî got ku rêberê DAIŞê, yê ku nîgeranî û gêjbûyîna wî xuyayî bû, hewl da ku "ku paşmahîyên şikestî û şanên razayî yên rêxistinê bi gotinan han bide, yên ku nikarîn rewşa şepirze ya ew û çeteyên wî tê de ne veşêre".
Wî got ku di vîdyoyê de, Bexdadî hewl dide ku "ji alîgirên xwe re îsbat bike ku ew hîn sax e û hîna rêbertîya rêxistinê dike tevî binketina wê".
Xefacî got ku Bexdadî nizane ku rewş êdî nema weke rewşa sala 2014an e.
"Hêzên me bihêztir in û xwedan ezmûn, rahînan û karînên hewalgirî yên mezin in di nehiştina terorîstan de bi hevkarî ligel hevpeymanîya navdewletî," wî got.
"Xebatên li pey gerînê [li Bexdadî] li dar in," wî got, ligel tiştê mayî ji rêxistinê, bo rêgirtin li ber her derfeteke xwerêxistinkirinê.
Wî daxuyand ku DAIŞ pişta xwe bi propagandayê girê dide "bo belavkirina derewan li dor çalakîyên wê yên ku herifîna wê veşêrin", û da zanîn ku rêxistin hewl dide wêneyekê durist bike ku ew li seranserê cîhanê çalak e.
"[DAIŞ] temam bûye û tiştê mayî dûr be yan nêz be dê biqede," Xefacî wiha got.
Xebîrê serbazî yê Mesrî Ebdul Kerîm Ehmed bi Xefacî re hevkok e, û got ku armanca Bexdadî ya serekî di vê vîdyoyê de ew e ku moralê şopdarên xwe bilind bike û hewl bide ku elementên nû tecnîd bike bi rêya angaştkirin ku hîna rêxistin heye.
Wî ji Diyaruna re ragihand ku rêberê DAIŞê hewl dide ku binketina rêxistina xwe li Sûrîya û Îraqî sipehî bike.
"Bexdadî çekek li alîyê xwe yê rastê danîbû, ev jî staylê rêberên Qaîdayê [Osama] bin Ladin, [Ayman] Zewahirî û Ebû Museb Zerqawî re, bo vejînkirina rewiştên Qaîdayê û vekişandina kevine terorîstan bo nav rêzên xwe," wî got.
''Gurzeke derûnî û stratîjî''
Amerîka, ya ku 25 milyon dolar li hember serê Bexdadî weke xelat terxan kiriye, got ku ew rastîya vîdyo dinirxîne, lê ew berdewam e di şerê li dijî rêxistina tundrew de.
Hevpeymanîya Navdewletî ya ku şerê DAIŞê dike dê "binxistina van terorîstan piştrast bike û dê misoger bike ku dê hemû serkirdeyên mayî rûbirûyî dadwerîya ew hêjayî wê ne bibin", peyvdarekî Wezareta Derve ragihand.
Eger Bexdadî sax be û bi selamet be jî, endamên DAIŞê rastî derbeyeke mezin hatin, li gorî peyvdar.
"Binketina DAIŞê li Sûrîya û Îraqê gurzeke derûnî û stratîjî û hilweşêner bû ji ber ku DAIŞê binketina xwe dît, û rêberên wê hatin kuştin an ji meydanên şer revîyan, û derewên rêxistinê eşkere bûn," wî got.
0 KOMÊNT