Tehrîr el-Şam dest bi pêkanîna desteserkirina samanên niştecihên Kiristîyan yên berî û yên niha li parêzgeha Idlibê ne kirin, çalakekî xwecihî got.
Her çi kesê ku birêvebertiya samanên Kiristîyanan dike, di rêya wekaletê yan lihevkirineke devokî re, bo ofîsa hevbendîya tundrew hat xwestin, çalak Mehmûd Hec Kamil got.
Kamil ji Diyaruna re got ku bo samanan ferman ji wan re hatin daku di demeke destnîşankirî de wan radest bikin.
Kamil anî ziman ku "berî çend rojan, Tehrîr el-Şam dest bi agahdarkirina kesên ku milkîyeteke Kiristîyanan di dest wan de be yan bi rê ve dibe, divê di heyama sê rojan de ji çaxa agaahdarkirina wan werin ofîsa milkîyetê."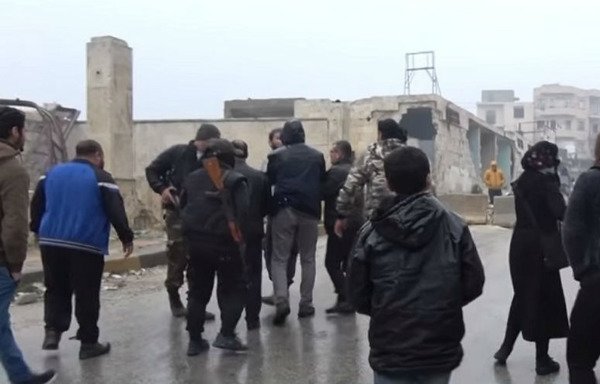 Kamil got ku ferman bi veguhestina milkîyeta wan samanan bo Tehrîr el-Şam derket, ku dê mafê bikaranîna wan jê re be herwiha sûdê ji wan werbigre.
Kamil got berî derketina vê bangkirinê, Tehrîr el-Şam hinek malên Kiristîyanan vala kirin, û endam û mîrên xwe di wan de bi cih kir.
Tehrîr el-Şam carinan radigihîne ke ew dixwaze milkîyetan bi kirê bide yan bifiroşe, bi taybetî dikan û zevîyên çandinîyê.
Kiristîyan neçarî derketinê dibin
Piranîya Kiristîyanan di çend salên dawî de ji parêzgeha Idlibê revîyan, û hinek ji wan heta niha li hinek taxên Idliba kevin belavbûyî ne û herwiha li hinek gundewaran.
Wî got ne bêhtirî 1,000 Kiristîyanî li parêzgeha Idlibê dimînin, da zanîn jî ku piranîya kesên mane jî yên temenmezin in.
Kamil anî ziman ku ew kesên ber bi deverên li jêr destên rejîmê revîyan an jî derketin derveyî welat hevalin an cîranin xwe bo samanên xwe destnîşan kirin, an bi wekaleteke fermî yan bi lihevkirineke devokî.
Lê belê Tehrîr el-Şam nema pabendî van wekalet û lihevkirinan dibe.
"Lê ev gav şermezarkirineke mezin ji hêla niştecihên Idlibê çêkir, ku vê yekê red dikin û dibînin ev alaveke bo yekcarê kiristîyanan ji herêmê biqewitînin û herwiha bo weke kesên nehezkirî werin dîtin," Kamil got.
Wî got ku ev guhertineke demografîk e ku Idlibê ji hemû Kiristîyanên wê vala dike, yên demeke dirêj bi niştecihên Misliman re jîyane.
Kamil anî ziman ku ev hevjîyan di rastîya ku "ew kesên smanên Kiristîyana di dest wan de heval û cîranine Misliman in" de xuya dike, da zanîn jî ku piraniya van kesan jî pereyên ji kirêkirina dikan û zevîyên çandinyê dihatin ji xwedîyên wan re dişand.