Children residing in Syria's al-Hol camp are "ticking time bombs" at risk of radicalisation as they are being raised under the shadow of extremist ideas and in dire conditions, stakeholders warn.
Many women who belonged to the "Islamic State of Iraq and Syria" (ISIS) live in the camp and continue to inculcate their children as well as others with the group's radical ideology, they say.
"There are around 34,000 children under the age of 12 in al-Hol -- more than 120 of them are unaccompanied or separated from their families and living in an interim care centre in the camp," UN spokesman Stéphane Dujarric said in a briefing on October 16th.
Conditions in al-Hol are "difficult by any measure", he said, adding that over the past month, "humanitarians have expressed alarm at the deteriorating security situation in the camp following a rise in violent incidents".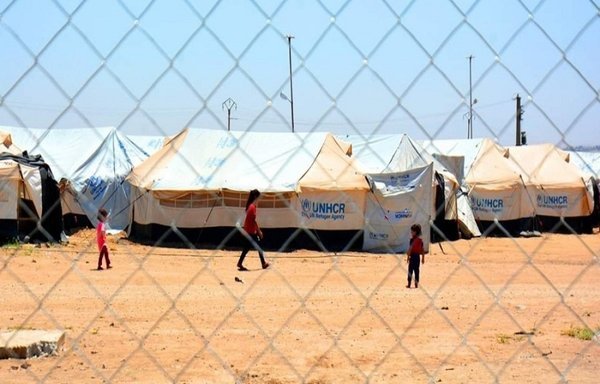 The issues facing al-Hol camp children are some of the most serious issues relief and social workers in the camp are dealing with, said Nermin Othman, who works in the Relief Department of the Kurdish Red Crescent in al-Hol camp.
The children fall into three groups: the first comprises children who live with their families and are children of ISIS elements, of collaborators with the group, or of families trapped in the camp.
The second group comprises fatherless children of dead or fugitive ISIS fighters who live in the camp with their mothers, while the third group comprises orphans who were found in areas liberated from ISIS control.
Organisations working in the camp are trying their best to create a suitable environment for the children, Othman told Diyaruna. "But the dearth of contributions and limited resources stands in the way of adequately serving this large number [of children]," he said.
There are not enough schools for all of them and not enough space to include all the children in the daily activities held in the camp.
Malleable young minds
The children in al-Hol camp are "ticking time bombs groomed by [ISIS] women at the camp", said Cairo University sociology professor Basma Husni.
"Children up to the age of 18 need school and a normal social environment, without which, it will be very difficult to return them to a normal life as they grow older," she told Diyaruna.
This issue must receive international attention since these children come from many different countries, she said, and integrating them into society "is a difficult process that requires significant funding".
"This is something that one country alone or the administration of the al-Hol camp absolutely cannot do alone," Husni said.
There are nearly 40,000 children from more than 60 countries living in al-Hol camp, according to UNICEF.
Husni recommended sending some children back to their home countries to undergo de-radicalisation and re-education under the supervision of international organisations, as it is crucial to remove the children from the harsh camp environment.
"Children's brains in the early stages of life absorb the ideas fed to them, and therefore staying under the control of extremist women, even if they are their mothers, will eventually lead them to extremism and espousing deviant ideas," she said.
Kurdish forces who manage the camp have repeatedly demanded that countries of origin repatriate foreign fighters and their families.
But many nations have been slow to oblige, other than to bring back orphans.
On Monday (October 26th), four Albanian children were repatriated from al-Hol at the request of the Albanian government.
Journalist and social activist Ammar Saleh said that by virtue of covering al-Hol camp and working there with a humanitarian and social organisation, he saw firsthand the actions of ISIS women there.
"They prevent their children and the children of many [other] women from attending the recreational, social and educational activities held in the camp in order to keep the children under [their] control," he told Diyaruna.
Instead they plant ISIS's hardline ideas in the children's minds -- as many of these women still believe in these ideas -- in order to build a new radicalised generation of ISIS youth, he said.
These women often intimidate other women and use violence against them in order to gain control of their children, Saleh said.