Militarily defeated in Iraq and Syria, with its fighters killed, imprisoned or forced to take cover, the "Islamic State of Iraq and Syria" (ISIS) sees al-Hol camp in Syria's al-Hasakeh province as its last hope for resurgence, local officials say.
The sprawling desert camp is controlled by the Syrian Democratic Forces (SDF) and houses an estimated 62,000 people, including the wives and widows of ISIS fighters and their children -- many of whom are extremists in their own right.
Despite the group's major losses, the camp remains a hotbed of extremist ideology, and therefore a focus of ISIS attention for resurgence and recruitment.
Between January 1 and 16, the UN said Thursday (January 21) it received "reports of the murders of 12 Syrian and Iraqi camp residents", warning of an "increasingly untenable" security situation.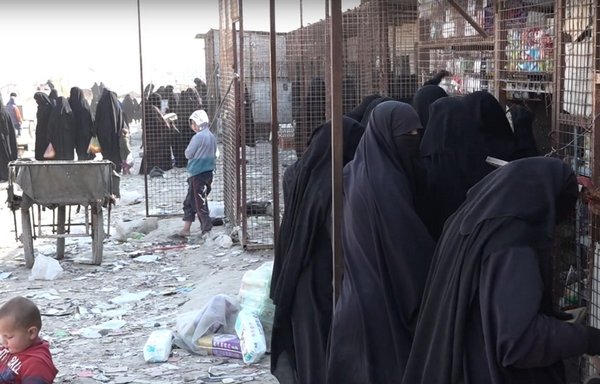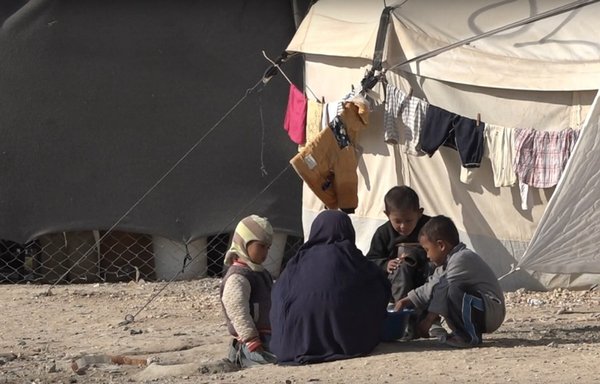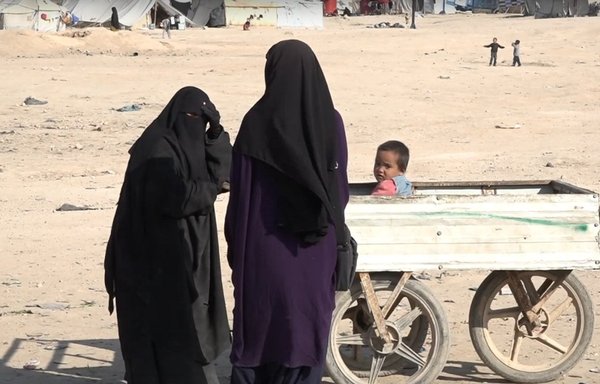 Hardline ISIS women in al-Hol have formed hesba ("religious police") units -- vigilante groups who enforce ISIS's harsh interpretation of sharia and mete out punishments -- and have been indoctrinating the camp's children.
These children are extremely vulnerable to exploitation and outright abuse, officials said, pointing to alarming reports that have emerged in recent weeks.
Syrian activists familiar with the situation say ISIS's attempts to make inroads in the camp and coerce children into joining it have been curtailed by funding shortages and blocked by SDF and international coalition security measures.
They noted that the local population is not receptive to the group, as a consequence of its brutality.
Yet al-Hol remains "the last opportunity for ISIS to recruit children and turn them into ticking bombs to use as they please", said SDF officer Farhad Khoja.
There are around 34,000 children under the age of 12 in al-Hol, according to the UN.
Young children who still live with their mothers comprise more than half of the camp's population, Khoja said, and many of their mothers "still espouse the group's ideology and dream of resurgence and proliferation".
Exploitation of teenage boys
Al-Hol camp Kurdish Red Crescent relief worker Narmin Othman pointed to a "dangerous phenomenon recently discovered in the camp".
A number of newborn children have appeared at al-Hol, she said.
This is an unusual development, she explained, as the mothers of these small children are the wives of ISIS fighters who were either killed in the fighting or are now in prison or in hiding.
Initial investigations into this situation revealed the camp's hardline women are forcing teenage boys to take wives so they can have children, raise them on ISIS ideology and send them off to "restore the caliphate", she said.
Reacting to the reports of teenage marriage, media and social activist Ammar Saleh expressed amazement at the women's naivete.
"How could ISIS's women and its remnants believe the group could make a comeback, after all the atrocities committed in the name of religion, including the beheading of opponents and the meting out of punishments?" he asked.
According to Othman, however, "ISIS women promote themselves on social media with the help of some of the group's cells to raise money".
Most of the money they receive comes from people who have been duped into feeling sorry for them, she said, adding that the women use this money "to finance escapes from the camp, purchase weapons and organise their ranks".
They have formed a hesba unit that has set fire to the tents of those who disagree with them or refuse to fall into line, attacked women in the camp and even gone as far as assassinating those who disagree with them, she said.
These problems are mostly visible in the so-called "migrants section" of al-Hol, which houses the wives and widows of ISIS foreign fighters, who are generally considered the most hardline of the camp's population.
Preventing an ISIS resurgence
In other sections of the camp, resentment of ISIS is rampant, Othman said.
She noted that in recent weeks, dozens of Syrian families have left the camp and returned to their home areas "after it was determined that they were not involved in killings and had distanced themselves from the group's ideology".
This was made possible by the issuance of tribal and familial guarantees.
"Outside the camp, the group's opportunities [at regrouping] have become virtually non-existent owing to increased civilians' awareness and the intense security efforts carried out by the SDF and Asayesh [Kurdish] forces," Khoja said.
These forces, with the support of the international coalition, have been conducting sweep operations "on a constant basis" in search of ISIS remnant cells that use desert areas as a safe haven, he added.
Saleh said that even though ISIS has been militarily defeated, "some of its sleeper cells are still carrying out terrorist acts against civilians, assassinating those who report them or collaborate with [international] coalition forces or the SDF".
Some of these cells have set fire to agricultural crops, which has inflicted heavy losses on the local civilian population, he said.
ISIS remnants are making every possible effort to disrupt normal life for those returning to areas that were under the group's control, such as al-Hasakeh, al-Raqa and Deir Ezzor, he said, because they know what this will bring.
"They know full well that when communities move away from tension and war, businesses reopen, job opportunities become available and the youth no longer suffer from unemployment, this would permanently block the group's path".