Tensions have been running high in al-Hol displacement camp, where some "Islamic State of Iraq and Syria" (ISIS) women have formed a self-appointed vigilante group and are continuing to make trouble, an activist said.
The women of al-hesba ("religious police") have been involved in cruel acts of repression, including burning down tents and stabbings, some fatal, media and social activist Ammar Saleh told Diyaruna.
Their goal is to impose their authority over the rest of the families inside the sprawling, overcrowded al-Hasakeh province camp, Saleh said.
The actions of the al-hesba women have caused deep divisions among the ISIS women inside the camp, with recent confrontations escalating tensions, he said.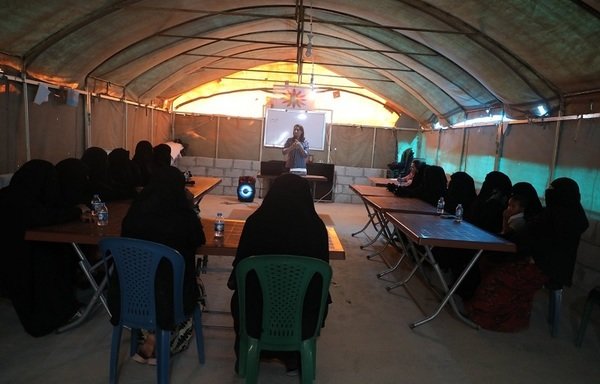 The dispute finally came out in the open, after hand-written leaflets were distributed inside the camp that listed complaints against the actions of al-hesba and demanded that these be put to an end.
According to Saleh, the al-hesba women "are behaving as they do in order to tighten their grip over the camp's residents".
They seek to ensure they can continue to brainwash and recruit children to support ISIS, and also seek to control financial transfers that reach the camp as well as any aid and its distribution, giving themselves first priority, he said.
The camp's administration, in co-operation with relief and social organisations, has been attempting to counter these extremist indoctrination attempts by providing courses for children who have been away from the classroom.
"Literacy and vocational training courses also are being provided for girls and women, who are assigned to classrooms by age," Saleh said.
Additionally, he said, one social organisation is conducting psychological support sessions in co-operation with the camp's administration, to steer women away from extremist ideology and help them get through their stay at the camp.