Many Iranian journalists commemorated National Journalists' Day in a somber mood this year, worrying for the fate of their friends and colleagues and noting the irony of the day designated to honor "martyred journalists".
The Iranian regime designated August 8 as National Journalists' Day to pay tribute to those who lost their lives on duty following the 1998 murder of Islamic Republic News Agency (IRNA) Afghanistan bureau chief Mahmoud Saremi.
Saremi was killed in the Iranian consulate in Taliban-controlled Mazar-e-Sharif, along with 10 Iranian diplomats, in an incident the Taliban later claimed had been carried out "by renegade forces who had acted without orders".
It was a dark day for Iranian journalists, but media professionals working in Iran today say they face similar dangers -- in many cases from the ruling regime itself.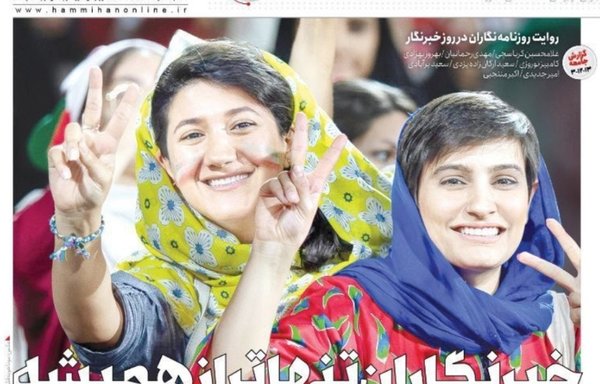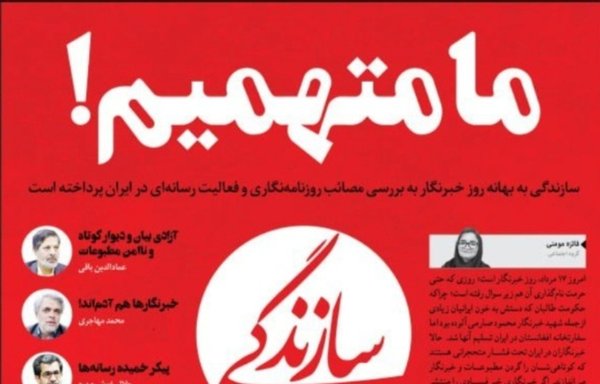 "I've never experienced a day as dark as this one as a journalist working in Iran," a Tehran-based magazine editor told Al-Mashareq on Wednesday (August 8), speaking on condition of anonymity out of concern for her safety.
"Iranian journalists have no job security, no physical protection, no digital safety," said the journalist, who has worked in the field for over 20 years.
"We don't know if our publication or website will stay open after each issue or each day," she said. "We continue working in this field because we love it, but it's honestly getting scarier to keep working as a journalist in Iran today."
"Not only is there severe censorship and a total lack of free speech, but there is a fear for our lives as well," she added.
On National Journalists' Day, several moderate and reformist dailies in Iran detailed the woes of Iranian journalists, particularly since the start of the widespread protests following the death of Mahsa Amini in September.
Amini's death, in custody of the regime's notorious "morality police", inspired the most widespread protests in Iran since the Islamic Revolution of 1979.
Iranian authorities have said they detained "tens of thousands" during the protests, including scores of journalists.
Two female journalists, Elaheh Mohammadi and Niloofar Hamedi, who were detained for covering the news of Amini's death, remain in Tehran's notorious Evin prison after 11 months.
They were among the first journalists who covered the news of Amini's death. Mohammadi worked for Hammihan and Hamedi for Shargh daily as reporters at the time of their arrest, which occurred within a week of each other.
'Dark era of journalism'
Reformist Shargh daily dedicated its main story to the situation of imprisoned journalists in Iran on August 8, as did the dailies Sazandegi and Hammihan, whose front pages focused on the situation of journalists in today's Iran.
On its front page, Hammihan ran a photo of Hamedi and Mohammadi taken August 8, 2022, following a ceremony in which they both won journalism awards, under the headline, "Journalists, more alone than ever".
"We are accused," said Sazandegi's front page headline.
In an interview with Hammihan, Tehran Province Journalists' Union board of directors head Akbar Montajabi said journalism in Iran is in its "dark era", and noted that "over 100 journalists have been detained in Iran in the past year".
A few months after Mohammadi and Hamedi's arrests, Iran's judiciary claimed that the two journalists have been detained and held due to "being in touch with the United States government", a claim that was repeated last week.
It claimed the pair "have not been jailed because of their news coverage".
Both journalists have denied the claim in their court sessions. They are being tried separately, behind closed doors. In November, they were charged with "propaganda against the state and conspiring against national security".
But the court system has still not issued a sentence for either of them.
Time Magazine named Mohammadi and Hamedi among the 100 most influential people of 2023, and the two were chosen for the 2023 Louis M. Lyons Award for Conscience and Integrity in Journalism by the Nieman Foundation for Journalism.
On May 2, the pair were awarded the 2023 UNESCO/Guillermo Cano World Press Freedom Prize.
'Perpetual uncertainty'
"Being a journalist in Iran means being in a perpetual state of uncertainty, and not knowing whether you have a job the following day," said a seasoned Iran-based journalist and author, who did not wish to be named.
"My daughter loves journalism, and she would've definitely pursued it as a major at university had I not discouraged her from doing so," she told Al-Mashareq.
"If I knew how to do something else, I would surely change my career," she said.
"The dark era of journalism [in Iran] is not over and the regime's utmost pressure and focus is on the arrest, omission and eviction of journalists," union official Montajabi said in his interview with Hammihan.
"When political developments take speed, they [the authorities] use the worn-out mechanism of arresting a few journalists to frighten the media society," he said. "But they cannot control [the narrative] any longer."
"The process of informing people will not be stopped; it will find its path like water."