The Iranian people are defying the actions and rules of the Islamic Republic in unparalleled ways, even as it persists with its brutal crackdown on protesters and strives to stifle freedom of speech and to deflect blame for the chaos.
Protests have roiled the nation for almost two weeks following the death in "morality police" custody of 22-year-old Mahsa Amini, sparking a movement many describe as a feminist uprising.
The movement has continued to focus on women's personal freedoms but has expanded in scope as protesters air other grievances with Iran's leadership.
Across Iran, women have been removing their headscarves, burning them while crowds cheer them on, and cutting their hair in protest over the brutal enforcement of mandatory head coverings.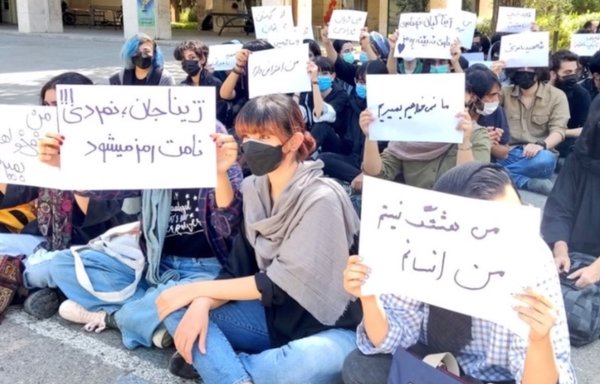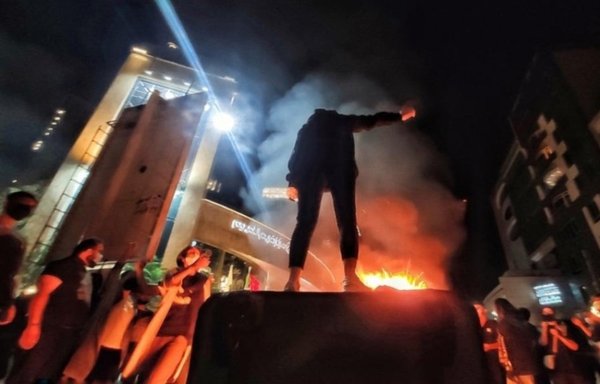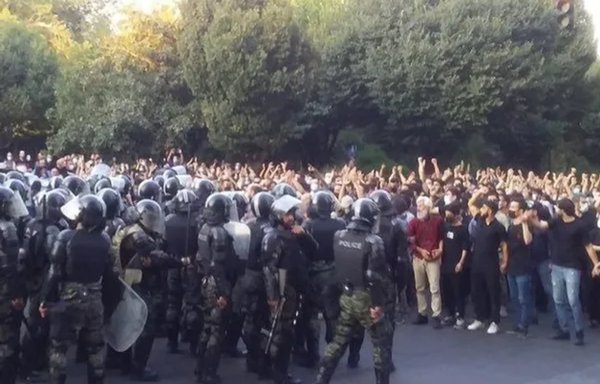 But it is the public's resistance as it faces the regime's brutal crackdown, head on and unafraid, that has sent the regime into panic mode.
The unified stance of the people, the widespread support of celebrities and the increasing move to civil unrest are the movement's most significant characteristics.
In the face of national and international outrage, Iranian President Ebrahim Raisi on Wednesday (September 28) sought to deflect blame for the woman-led protests, while vowing to deal "decisively" with the protesters, AFP reported.
Iran has tried to blame outside forces for the unrest, including "counter-revolutionary" Kurdish groups based in northern Iraq.
In a major escalation, Iran on Wednesday launched cross-border missile and drone strikes that killed 13 residents of Iraq's Kurdish region.
Targeting of journalists
Rights groups accuse Iran of carrying out a major round-up of critical journalists.
A reporter who had covered Amini's funeral for Iran's Ham Mihan newspaper was arrested on Thursday, her lawyer said, making her the latest of a growing number of journalists to be detained since the protests erupted.
Elahe Mohammadi was summoned by the judicial authorities but was then arrested by security forces while she was on her way to questioning, her lawyer Mohammad Ali Kamfirouzi wrote on Twitter.
Last week, security forces raided Mohammadi's home in Tehran, her lawyer said.
Her husband wrote on Twitter that she had said in a short phone call she was being held in Tehran's Evin prison and had not been informed of any charges.
Her arrest comes after police detained journalist Nilufar Hamedi of the Shargh daily, who went to the hospital where Amini lay in a coma and helped expose the case to the world.
Hamedi remains under arrest, also in Tehran's Evin prison, and her husband has said she is not aware of the charges against her.
Iran is meanwhile imposing increasingly severe restrictions on access to the internet, in an apparent bid to limit the sharing of footage of protests.
Access to Instagram and WhatsApp has been restricted, and authorities have now clamped down on apps like the Google Play Store as well as virtual private networks (VPNs) that seek to circumvent local access restrictions.
University campus protests
As of Monday, many Iranian universities have gone on strike, with neither students nor professors showing up for classes.
Students have instead gathered on several campuses in protest, chanting slogans, while some have stood up to "morality police" forces who try to convince them to cover their hair.
On Wednesday, a number of university lecturers announced they were joining the protests, with some simultaneously announcing their resignation from faculties across the country.
A tenured professor in a Tehran public university told Al-Mashareq she resigned on Tuesday after 18 years of teaching.
"I'm fed up," she said, speaking on condition of anonymity.
She said many newer faculty members are affiliated with the Basij Resistance Forces, a paramilitary group aligned with the Islamic Revolutionary Guard Corps (IRGC), and that university leadership is increasingly political and pro-regime.
"How could I continue working in silence and pretend to be content when many of my colleagues have been fired or departed the country, and more than half of my students are forced to face beatings or death if they don't cover their hair?" she asked.
Solidarity from workers
In a Monday statement, Iran's Council for Organising Protests of Contracted Oil Workers said it will not remain silent if the arrests, killings and harassment of women under the pretext of enforcing head coverings do not end soon.
Its members will stop working and will protest alongside the public, the statement said, expressing the workers' "wrath and hatred for the killing of Mahsa Amini".
Workers are protesting the cruelty and clampdown of the past 40 years, it said.
Both permanent and contracted employees of Iran's oil and gas sectors have been steadily protesting unpaid salaries, insufficient work benefits, unsuitable work conditions and low pay over the past several months.
"I support the Monday statement," a contracted oil worker based in southern Iran, who wished to remain unnamed, told Al-Mashareq.
"I knew about it and believe in it," he said. "I will go on strike if the status quo does not change."
"What do I have to lose if I stop working? I'm already living close to the poverty line. I've worked for 15 years in the oil sector now, and I have nothing. My family and I can barely get by," he said.
"If it weren't for my wife's income, we wouldn't be able to put food on the table," he added. "And with this violence and brutality ... I can't sit by or go to work as the regime kills people's daughters."
Celebrities' staunch support
Ordinary Iranians, who appear unafraid of the security forces' batons and guns, have been joined by a large number of celebrities, who are facing the regime's crackdown with courage and defiance.
A number of actresses have uncovered their hair in videos or photographs they have posted on social media, while many actors have expressed solidarity with the movement.
In an act of defiance, actress Fatemeh Motamed-Arya spoke at the funeral of a fellow actor without a headscarf in a public space.
Comedian and director Mehran Modiri posted a video on social media, asking the Islamic Republic of Iran Broadcasting (IRIB, the state-owned broadcasting company) to stop broadcasting his work.
"Please do not use even a frame of my show .... this is the least I could do...for now", he said.
Footballer Ali Karimi has meanwhile continued to support Iranian women.
After he defied the IRGC, which had threatened to confiscate his property, security forces on Monday night "sealed" his villa in Lavasan, a wealthy suburb of Tehran.
Following public uproar, the villa was unsealed a few hours afterward.