US forces conducted "precision strikes" Thursday (March 23) night on Islamic Revolutionary Guard Corps (IRGC) facilities in Syria's al-Hasakeh province in response to an unprovoked attack on US military and civilian personnel.
Earlier Thursday, "a US contractor was killed and five US service members and one additional US contractor were wounded" in a drone attack, the Pentagon said in a statement.
A one-way unmanned aerial vehicle (UAV) -- of a type often referred to as a suicide drone -- "struck a maintenance facility on a coalition base near al-Hasakeh" at approximately 1.38pm local time, it said.
"The intelligence community assess the UAV to be of Iranian origin," the Pentagon said.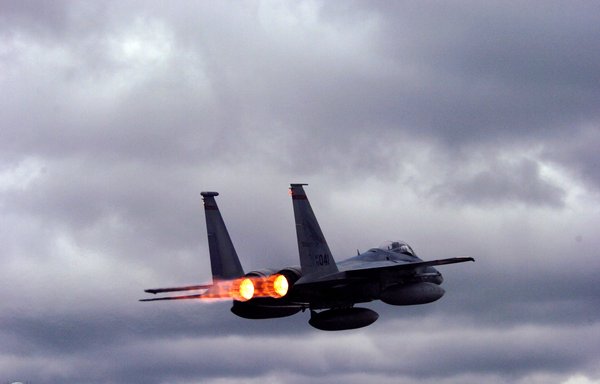 Two of the wounded service members were treated on site, while the other three and the US contractor were medically evacuated to international coalition medical facilities in Iraq.
In response, US Secretary of Defence Lloyd Austin said he authorised forces from the military's Central Command (CENTCOM) to conduct "precision air strikes" against facilities used by groups affiliated with the IRGC.
The strikes were conducted at the direction of US President Joe Biden, he said.
They were carried out by F-15 fighter jets, the Washington Post reported.
"The airstrikes were conducted in response to today's attack as well as a series of recent attacks against coalition forces in Syria by groups affiliated with the IRGC," Austin said.
"These precision strikes are intended to protect and defend US personnel," he added, noting that the United States "took proportionate and deliberate action intended to limit the risk of escalation and minimise casualties".
"As President Biden has made clear, we will take all necessary measures to defend our people and will always respond at a time and place of our choosing," Austin said. "No group will strike our troops with impunity."
Several media outlets on Friday reported that a US base at al-Omar oil field in Syria's northeast had been targeted that morning with a missile attack.
It was unclear whether that attack had caused casualties, Reuters reported.
'Postured for scalable options'
"We are postured for scalable options in the face of any additional Iranian attacks," CENTCOM commander Gen. Erik Kurilla said in a statement issued after the Thursday strike on IRGC facilities.
"Our troops remain in Syria to ensure the enduring defeat of the 'Islamic State of Iraq and Syria' (ISIS), which benefits the security and stability of not only Syria, but the entire region," Kurilla said.
Kurilla visited al-Hasakeh earlier this month, where he met with US troops and the Syrian Democratic Forces (SDF), which led the battle that dislodged ISIS from the last scraps of their Syrian territory in 2019.
There are around 900 US troops stationed across northeastern Syria as part of the international coalition, which on Thursday marked the fourth anniversary of the extremist group's territorial defeat in Iraq and Syria.
Yet as they carry out this assignment, US personnel in Syria have been the frequent target of attacks that are largely blamed on Iran-aligned militias.
Iran-backed militias have a heavy presence across Syria, especially around the border with Iraq and south and west of the Euphrates in Deir Ezzor province.
Earlier Thursday, Kurilla told the committee responsible for Pentagon funding and oversight that Iran has launched 78 attacks on US positions in Syria since January 2021, the Washington Post reported.
He said Iran now possesses the largest and most diverse missile arsenal in the Middle East, and the largest and most capable UAV force in the region.
Uptick in aggressive behaviour
In January, the US military said "three one-way attack drones" were launched against the international coalition garrison at al-Tanf in Syria, with one breaching its air defences and wounding two allied Syrian fighters, AFP reported.
The Syrian Observatory for Human Rights said it was likely Iran-backed militants had carried out that attack.
Last August, Biden ordered similar retaliatory strikes in Deir Ezzor province after several drones targeted a coalition outpost, without causing any casualties.