Women living in a camp housing families of the "Islamic State of Iraq and Syria" (ISIS) in north-east Syria are reportedly soliciting money within the camp and online.
While female ISIS members camped in al-Hol in al-Hasakeh province aggressively ask for donations under the guise of recruitment for the group and promoting its ideology, many do so mainly to support themselves.
Al-Hol, which is controlled by the Syrian Democratic Forces (SDF), houses many relatives of fighters who were detained or killed in the battles to liberate Syria from ISIS in 2019.
SDF officer Farhad Khoja told Diyaruna there are numerous social media channels that co-ordinate and collect money for ISIS women.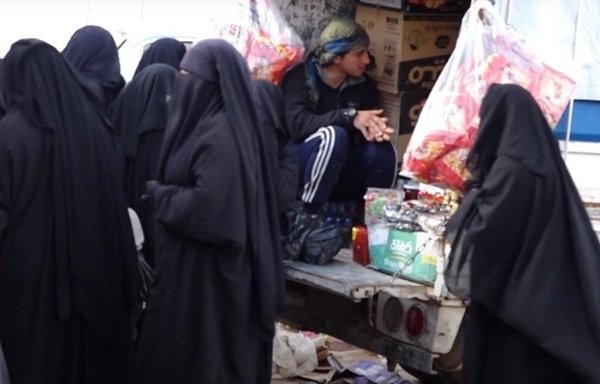 Channels with names like "Sisters in Captivity", "Thoughts from Prison", "Caged Birds" and "Modesty" feature posts by ISIS females whose aim is to portray them as very loyal to the group, thus enabling them to collect donations from ISIS supporters abroad, according to a July 9th Middle East Institute report.
When al-Baghdadi was killed, for instance, many females in al-Hol posted messages swearing their allegiance to the new caliph, the report said.
Their motivation, however, is strategic more so than ideological: they are in it for the money, as life in the camp is not cheap. According to the women interviewed for the report, $300-500 a month is barely enough for a mother with several children to survive.
"So they have pinned their hopes for survival on the members of ISIS who escaped the final stronghold in al-Baghouz with significant sums of money as well as its supporters abroad who never made it to Syria but still back the group," the report said.
"The only requirement to get help from ISIS is to pretend to still be a part of the group, so that is exactly what they do."
Money is the real motivation
Syrian lawyer Bashir al-Bassam told Diyaruna that money has always been a key factor in ISIS's establishment and its intensive recruitment efforts.
"A large number of ISIS women in the camp play an important role in recruiting new members and soliciting donations," he said, by publicizing the group's principles and teachings in the camp and raising children according to ISIS ideology.
However, the majority of these women does it "for the sake of accumulating money, and only a handful of them actually adhere to the group's principles", he said.
Narmin Othman, who works for the Kurdish Red Crescent in the camp, told Diyaruna some ISIS women use the money they solicit to carry out illegal activities at al-Hol, such as the purchase of weapons, or fuel to burn down other residents' tents.
They also use it to buy expensive items that other camp residents cannot afford, which is apparent by looking at their children's clothes wear and observing the food items they buy, such as ice cream, sweets and nuts, which are considered luxurious among the rest of the camp's residents, Othman said.
"But the majority of them try to save as much money as possible to pay someone to smuggle them and their children, or at least just their children, out of the camp," she said. Some are saving to have money on hand in case cash transfers to the camp are suspended or severely restricted.
Cash transfer process to change soon
There are 12 branches of cash transfer companies inside al-Hol, one of which is devoted to serving the camp's "foreign women's section", Khoja said. The camp allows the transfer of up to $300 per transaction.
Any sum over $300 is paid to the recipient in monthly installments. According to Khoja, it is impossible to control exactly how much money each woman receives because sometimes larger donations are transferred to multiple women.
Al-Bassam, the lawyer, said the process of transferring money to al-Hol will change "very soon", after the US designated in late July Farouk Hammoud, CEO of Tawasul Money Transfer company, which operates inside the camp.
Tawasul facilitated financial transfers to ISIS members at al-Hol, the US designation said.
New restrictions will be implemented to prevent ISIS women from taking advantage of the large amounts of money they receive, al-Bassam said.