Female members of the "Islamic State of Iraq and Syria" (ISIS) pose a serious threat because of the role they play in radicalizing their children and communities, and must be handled with extreme caution, experts say.
Many women in the camps where ISIS elements are being held are fierce loyalists who "clearly still espouse the group's ideology", Syrian Democratic Forces (SDF) officer Farhad Khoja told Diyaruna.
In one case, he said, a woman stabbed a security guard who had been assigned to monitor her at al-Hol camp in Syria's al-Hasakeh province, and then fled.
In a video circulated online on Monday (July 15th), a group of ISIS women in al-Hol described themselves as a "ticking time bomb" and threatened to revenge their internment, saying they would rather die than live among "enemies".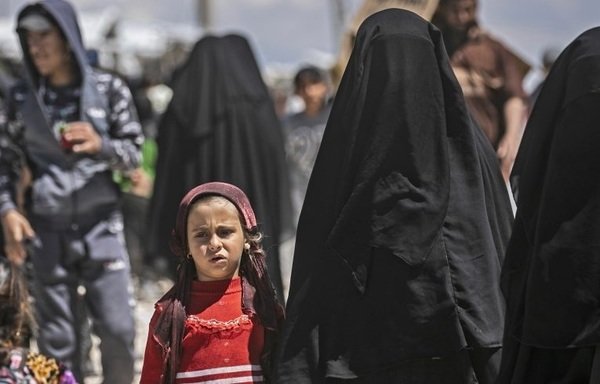 Other videos circulated online have shown the ISIS flag being hoisted inside the camp, in one case while children and their mothers look on.
There are concerns that women affiliated with ISIS who have been indoctrinated with extremist ideology are passing this on to their children, Khoja said, noting that there is evidence they are forming their own cliques inside the camps.
"Tireless and serious efforts are needed as soon as possible to purge the minds of these women and children" of distorted ideology, he said.
The issue of what to do with ISIS women is one of the key issues that countries contending with them face, Cairo University sociology professor Basma Husni told Al-Mashareq.
If these women do not renounce their extremist views and are not successfully rehabilitated, then they, along with their children and the men they influence, have the potential to become "human time bombs", she said.
Children need careful attention
Children born to extremist mothers also need to be rehabilitated, which can be a challenging endeavour, Husni said, "as they were raised on terrorist principles from the moment they opened their eyes".
When Iraqi forces moved in to liberate Iraq's Ninawa province villages and towns from ISIS in late 2017, they found amid the ruins of buildings textbooks the group had used to steer children into extremism through the use of violent teachings and images.
The textbooks included treatises on mathematics, political sharia, Arabic and physical training that include texts and a teaching methodology designed to plant the seed of terrorism in young hearts.
Ridding children of these views might be difficult, but it is not impossible, Husni said.
Hosni stressed that working with children must be done very carefully, as some have been trained to carry arms or have witnessed executions, and might perceive these actions as normal or the right thing to do.
First and foremost they must be convinced that such acts are wrong, she said.
In her conversations with Yazidi women who had been kidnapped by ISIS, Syrian journalist Roshan Qassim told Diyaruna, she learned that ISIS women had treated them badly and had punished them if they failed to follow sharia.
At al-Hol, ISIS women "do not allow their children to mix with other children and have formed a hesba ("religious police") unit inside the camp", she said.
Thousands of children residing at the displacement camp "do not hide their conviction that ISIS will return", she said. "This proves that ISIS women are bent on raising another generation of terrorists."
These women also are capable of contributing to online recruitment operations by engaging in discussions in online forums or various social media platforms that seek to justify or propagate extremism.