Russian airstrikes on Tuesday (August 18th) pounded southern parts of the north-western province of Idlib, prompting medical and relief organisations operating in the area to warn of impending humanitarian disaster.
The targeted areas are heavily populated, as hundreds of thousands of Syrians displaced from other parts of the war-torn country have taken refuge there.
The White Helmets and other relief and medical organisations operating in Idlib warned that humanitarian disaster in Idlib and its environs would be inevitable if the airstrikes continued, Idlib activist Haisam al-Idlibi told Diyaruna.
In addition to the loss of civilian lives, the bombardment could trigger a new wave of displacement to other areas, with disastrous consequences, he said.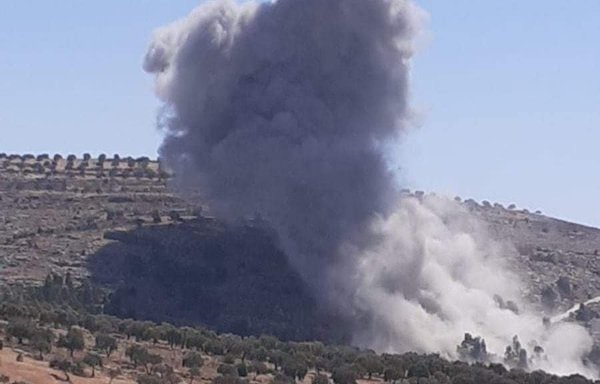 There are not many areas where they could go that would be considered "safe", he said, noting that the airstrikes have come amid a serious outbreak of novel coronavirus (COVID-19) in the camps in northern Syria.
Russian warplanes carried out more than 10 airstrikes on the towns of Sheikh Bahr and Harboush in southern rural Idlib and surrounding wooded areas, in addition to the town of Kuknaya and its environs, al-Idlibi said.
All of these areas are known to be crammed with internally displaced persons (IDPs), he said, adding that regime forces also have resumed their shelling.
Syrian regime shelling targeted the towns of al-Bara and Kafr Aweed in southern Idlib, he said, and civilian casualties were reported.
Fierce fighting also broke out between Syrian regime forces and armed opposition groups, including the extremist alliance Tahrir al-Sham, in the Maarat al-Numan area and in the village of Dadikh, south of Saraqib.
Armed groups in the area on Tuesday downed three Russian reconnaissance drones, the Syrian Observatory for Human Rights said.
Russian officer killed in Deir Ezzor
Meanwhile, in eastern Syria, a Russian major general was killed and two servicemen were wounded Tuesday when an improvised explosive device (IED) went off near a Russian convoy, AFP reported.
The Russian Ministry of Defence said the device went off while the convoy was returning from a humanitarian operation near the city of Deir Ezzor.
The statement, released to the Interfax, RIA Novosti and TASS news agencies, said the three servicemen were wounded in the blast and that a "senior military advisor with the rank of major general" died while being evacuated.
No further details were provided.
Thousands of Russian troops are deployed across Syria in support of the regime.