A humanitarian disaster is looming, Syrian activists warn Diyaruna, as thousands flee southern rural Idlib for safe areas in the northern parts of the province amid intensified bombardment.
The Syrian regime and its allies have stepped up their bombing and air raids, and have been able to advance into opposition-held territory, they said.
Fierce shelling of southern Idlib and eastern Hama villages has pushed the local population -- and those in displacement camps -- to flee to safe areas, said Idlib media activist Haisam al-Idlibi, using a pseudonym for his own safety.
The residents of many villages have fled out of fear of the regime advance or out of fear of being subjected to raids and shelling, he told Diyaruna.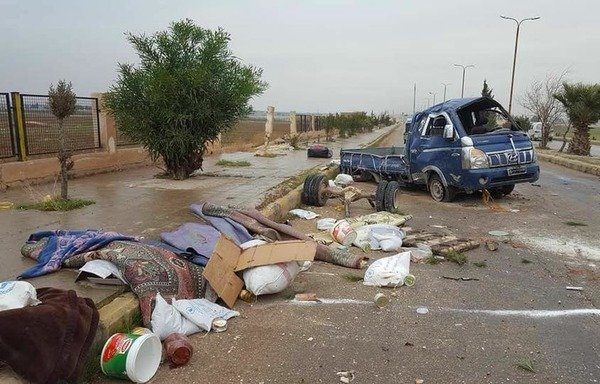 At least seven civilians, including five children, were killed Tuesday (January 2nd) by airstrikes in Idlib province.
Fighting intensified nearly a week ago, with the regime announcing its determination to move on Idlib.
There has been mass exodus from towns in the Sinjar area and the towns of Mahershurin, Gergnaz, al-Sikayat, al-Mushairafa al-Shamaliya, Tal Aghar, Tal Maraq, Wadi Shahrur, al-Nasiriya and Tal Amara, among others.
Al-Idlibi estimated that at least 8,000 families have fled so far, with that number rising significantly by the day.
"Some are staying in barren areas and fields in the city of Idlib and in its northern and eastern hinterland," he said, "and most are living in the open."
"Local humanitarian organisations have been unable to assist due to the vast number of internally displaced persons (IDPs) and the lack of time," al-Idlibi said.
Many are out in the cold
Many civilians have been forced to move from one area to another after regime warplanes struck the safe areas they reached, such as Maarat al-Numan and its environs, Saraqib, Mount Shahshabu and Mount al-Zawiya, he said.
Area residents are trying to help the IDPs with their modest means, he added.
"Dozens of families have been put up in abandoned buildings, poultry houses and abandoned factories," al-Idlibi said.
The tents that have been set up at times contain five families, he said, and some groupings have taken the form of new camps, such as the camp near Wadi Obeid, which has been named camp al-Faraj (Salvation).
Some IDPs have arrived at the Turkish-Syrian border in the Atmeh area and are being cared for by the camp's administration in the area, al-Idlibi said.
But the vast majority are still out in the open, and are in need of supplies such as tents, mattresses, woolen blankets, heating equipment and fuel, he said.
Relief baskets are another necessity for the displaced population, he added, as most fled their areas quickly, without bringing any food or basic belongings.