The Syrian Civil Defence (White Helmets) have warned of an impending humanitarian disaster in northern Syria amid an escalation in airstrikes and a resulting surge in civilian displacement, a local activist said.
The group is pointing to an escalation of military activity and Syrian regime and Russian airstrikes in Idlib province, which is largely controlled by Tahrir al-Sham.
This has led to a significant surge in the number of people being displaced from parts of Idlib that are coming under airstrikes, said activist Haisam al-Idlibi.
Most of the displaced are heading to the edges of the opposition enclave and to relatively safer areas along the Turkish border, he told Diyaruna.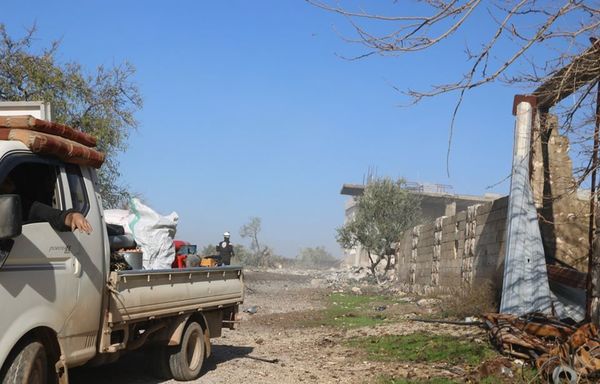 The White Helmets issued a statement warning of a humanitarian disaster as a result of the heavy bombardment of various areas of Idlib, particularly the city of Maaret al-Numan and surrounding towns and villages, al-Idlibi said.
According to the group, about 100,000 people remain in the area, dozens of whom were killed or wounded in the past few days alone in Russian and Syrian airstrikes that hit civilian facilities, paramedic centres, markets and homes.
Thousands flee the area
The White Helmets said that in recent hours, thousands of people have fled the areas that are coming under the heaviest fire for the border areas, which are relatively safer for civilians.
Activists in the Idlib region surveyed the impact of the military operations that took place from December 15th to 18th, and found that 30 areas had been hit with shelling and airstrikes during this period, al-Idlibi said.
"This included 110 Syrian regime airstrikes and 79 Russian airstrikes, in addition to more than 200 instances of shelling and missile strikes," he said.
This round of violence left 37 people dead, including 11 children and 10 women, he said, noting that women and children also were among the 76 wounded.
Al-Idlibi said the situation in and around the city of Maaret al-Numan is "catastrophic", as the streets are empty of civilians and the only people who remain in the area are those who are unable to move to safer areas.
Many of those who want to leave are fearful of doing so, because vehicles carrying civilians are being directly targeted, with three such recorded incidents in recent days, he said.
Clashes with Tahrir al-Sham
Meanwhile, clashes between Syrian regime and armed groups have killed more than 60 on both sides in the past 24 hours, despite UN calls for de-escalation, the Syrian Observatory for Human Rights said Friday (December 20th).
The Observatory said 38 extremists and allied fighters had been killed in battles with regime forces in Idlib since Thursday night, AFP reported.
The fighting near Maaret al-Numan also killed 23 pro-regime fighters, it said.
Russian warplanes pounded areas around Maaret al-Numan and the nearby town of Saraqeb with a series of airstrikes, according to the Observatory.
The flare-up triggered a wave of displacement from nearby areas.
Yasser Ibrahim al-Dandal said he was fleeing with his family to olive groves in northern Idlib, where they would sleep out in the open.
"Hundreds of rockets hit Maaret al-Numan," he said. "The situation is very bad."
The UN this week condemned a deadly rise in violence in the area, with Najat Rochdi, senior humanitarian adviser to the UN's Syria envoy, calling for "immediate de-escalation".