Syrian regime airstrikes and artillery fire on Tuesday (December 17th) killed 14 civilians and wounded 18 others in different parts of the northwestern province of Idlib, the Syrian Observatory for Human Rights said.
The latest violence comes as fighting continues between regime forces and affiliated militias on one side and Tahrir al-Sham and affiliated armed groups on the other on more than one axis in Idlib and on the edges of Aleppo province.
In the previous 24 hours, Syrian regime and Russian airstrikes killed three children and wounded seven others, Idlib activist Musab Assaf told Diyaruna.
A number of other civilians were killed or wounded in the airstrikes, which have been hitting residential areas and civilian infrastructure and facilities on a daily basis in the recent period, he said.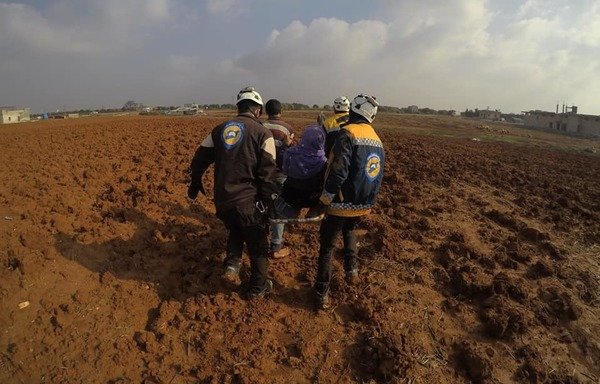 Assaf said the airstrikes have been concentrated on several areas, including the town of Maar Shourin, where a child was killed and seven adults were wounded.
Two children were killed and a number of civilians were wounded, including children, in airstrikes on a displacement camp near the city of Binnish, he said.
Airstrikes also targeted the Idlib province towns of Maasaran and al-Ghadqa, as well as al-Tah, al-Najeya and Bidama, he said, in addition to the towns of al-Surman, al-Heraki, Harran and al-Raffa.
Assaf said fighting also is ongoing on the edges of Idlib province between the Syrian regime and its allies on one side and Tahrir al-Sham and its affiliates on the other, with both sides suffering casualties.
Tahrir al-Sham made a modest advance in the south-eastern hinterland of the city of Maarat al-Numan, specifically in the abandoned al-Kutaiba area and Umm al-Tineh farms, and on the outskirts of al-Msheirifeh, he said.
At the same time, Syrian regime forces are attempting to push forward along al-Hawijah axis in the Sahl al-Ghab area without much success, he said, as rainfall is impeding the attempts by heavy armoured vehicles and tanks to advance.
Renewal of UN aid operation
The UN on Tuesday said it has no choice but to keep shipping humanitarian aid across Syria's borders and front lines, according to a report by Secretary-General Antonio Guterres, which ran into contrary views from Russia.
UN Security Council members are debating the renewal of the operation, whose mandate expires January 10th.
Four entry points into Syria -- two from Turkey, one from Jordan and one from Iraq -- are currently used to ferry aid to the millions in need. Negotiations are under way to open a fifth crossing, at Tel Abyad on the Turkish border.
The fifth crossing is mentioned in the draft resolution brought by Germany, Belgium and Kuwait, who handle the Security Council's Syria humanitarian file.
They propose a one-year extension of the mission.
Moscow wants only a six-month renewal.
Diplomats said that on Monday Russia sent the Security Council an alternate draft resolution, which proposes the elimination of two of the crossing points.
Moscow sees the situation on the ground as having changed with the Syrian regime's retaking of territory. It proposed the closure of al-Yarubiya between Syria and Iraq, as well as al-Ramtha on the Jordan border.
Russia's approach is far from the wishes expressed by Guterres, who said that to distribute humanitarian aid, crossing borders and front lines is indispensable.
"The UN does not have an alternative means of reaching people in need in the areas in which cross-border assistance is being provided," Guterres said in the report he recently submitted to the Security Council.
"Humanitarian assistance provided by UN agencies included food for an average of 4.3 million people in need each month and more than 1.3 million health and medical treatments to people throughout the country," Guterres noted.
"Cross-border assistance... remained a vital part of the humanitarian response to the more than 11 million people in need," he added.
The report said the overall situation in Syria deteriorated even further in 2019 and added that everything should be done to avoid a military offensive in the north-western area of Idlib, where about three million people currently live.