In recent hours, Syrian regime forces advanced in rural Idlib as Russian and Syrian airstrikes targeted various parts of the province, a local activist said.
Civilian displacement continues from these areas, Idlib activist Musab Assaf told Diyaruna, with a wave of people heading for the relative safety of the area along the Turkish border.
The Syrian Civil Defence (White Helmets) last week warned of an impending humanitarian disaster in northern Syria amid an escalation in airstrikes and a resulting surge in civilian displacement.
Turkish President Recep Tayyip Erdogan on Sunday (December 22nd) warned that Turkey could not handle alone a new wave of Syrian refugees.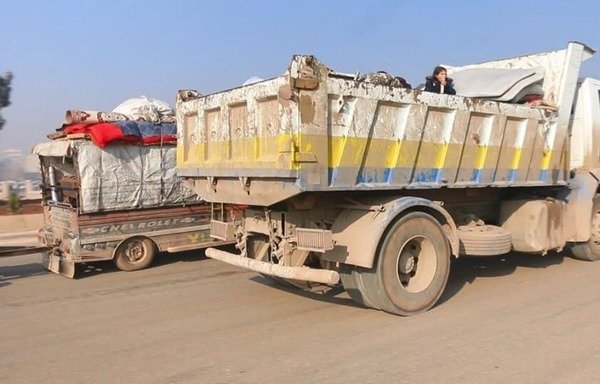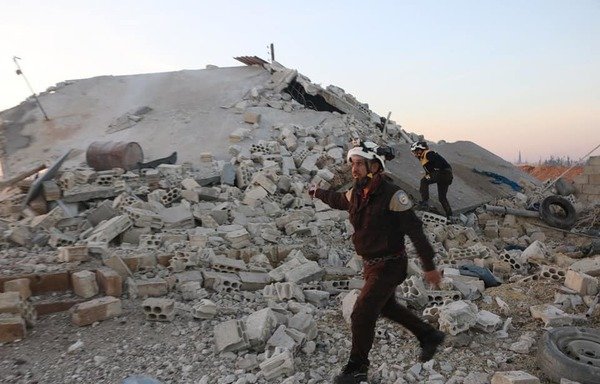 Tens of thousands of Syrians have fled towards the Turkish border following heightened regime and Russian bombardment of the Maaret al-Numan region since December 16th.
"Turkey cannot handle a new refugee wave from Syria," Erdogan said, adding that over 80,000 people from Idlib had fled to areas near the Turkish border.
The fresh regime and Russian advances in Idlib came as Russian warplanes continued to pummel the province's south, on Sunday killing nine civilians who were trying to escape the area, the Syrian Observatory for Human Rights said.
Regime allies advance
Syrian regime forces and allied militias were able to advance and take control of several areas in eastern and southern rural Idlib, Assaf told Diyaruna.
These forces were observed advancing on more than 20 towns and villages, he said, and have now come within 10 kilometres of the city of Maaret al-Numan, which is one of the largest urban centres in Syria's last major opposition bastion.
"This push is an attempt to get closer to Maaret al-Numan," said Observatory head Rami Abdul Rahman.
Residents of the southern Idlib town flooded out of the area.
According to the Observatory, more than 30,000 people had fled the flashpoint area in southern Idlib in recent days. More than 40 civilians were reportedly killed in the region in the past week.
Area resident Abu Akram said rescue workers and local relief groups were struggling to get families out.
"Everybody is working at full capacity but they cannot handle such a large number of people," the father of five said, after he could not find a vehicle to drive his own family further north.
"Nowhere is safe. If we stay inside our homes, or if we flee outside, we will die either way," he said.
Battles with Tahrir al-Sham
The Syrian regime and its allies have since Thursday been locked in battles with Tahrir al-Sham, which largely controls the province, and its allies, seizing a total of 29 towns and villages from their control, the Observatory said.
Four days of fighting has killed 110 extremists, as well as 77 pro-regime fighters, it added.
Areas that have fallen to regime forces include Um Tina, al-Sayyadi, al-Raffa, Tal Dam, Qatra, al-Heraki, al-Qarati and al-Halubah, along with a large number of farms, Assaf told Diyaruna.
They also include Um Jalal, Rabia, al-Mudairseh, Brennan, al-Shaarah, al-Khraibeh, Tal al-Shih, al-Farjah, Abu Habbeh, al-Braysa, Harran and Sihal, he said.
"The displacement of civilians from rural Idlib and the Maaret al-Numan region for areas near the border with Turkey has picked up pace significantly," he said.
Humanitarian assistance
The White Helmets have been helping civilians who do not have vehicles or the financial means to leave, Assaf told Diyaruna, using civil defence trucks to transport them to safer areas.
Warplanes have been striking the same sites multiple times, which is complicating rescue operations and the retrieval of survivors from under the rubble, he said, noting that several rescuers have been killed or wounded.
As the bombardment continues, Russia and China on Friday vetoed a UN Security Council resolution that would have extended for a year cross-border aid deliveries to four million Syrians, many of them in Idlib.
The move raised fears that UN-funded assistance could stop entering opposition-held parts of Syria from January unless an alternative agreement is reached.