Civilians fleeing Idlib are being targeted with airstrikes by Russian and Syrian warplanes, with many killed or injured as they evacuate areas in north-west Syria witnessing fierce fighting, a local activist told Diyaruna.
More than 235,000 people have fled the Idlib region over the past two weeks, the UN said Friday (December 27th), amid heightened regime and Russian attacks on Syria's last major opposition bastion.
The mass displacement between December 12th and December 25th has left Maaret al-Numan in southern Idlib "almost empty", according to the UN humanitarian agency OCHA.
The main highway connecting southern Idlib to the province's north has been bustling with pick-up trucks ferrying civilians out of the flashpoint region.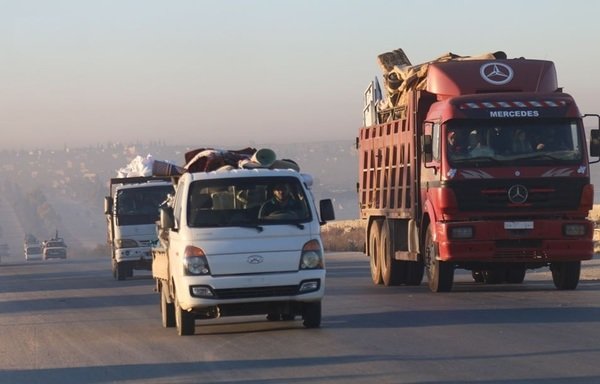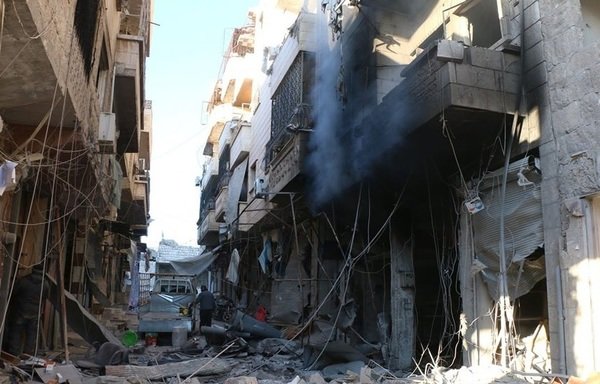 Since mid-December, Russian-backed regime forces have pressed with an assault on extremists in southern Idlib, despite an August ceasefire deal and calls for a de-escalation from Turkey, France and the UN.
The increased airstrikes came as pro-Damascus fighters advance on the ground.
They have since December 19th seized dozens of towns and villages from extremists amid clashes that have killed hundreds on both sides.
The advances have brought them less than four kilometres away from Maaret al-Numan, one of Idlib's largest urban centres.
According to OCHA, ongoing battles have amplified displacement from the area and the nearby town of Saraqeb.
"People from Saraqeb and its eastern countryside are now fleeing in anticipation of fighting directly affecting their communities next," it said.
Idlib is dominated by the country's former al-Qaeda affiliate, extremist alliance Tahrir al-Sham.
Tahrir al-Sham chief Abu Mohammed al-Joulani said in a statement on December 24th that the war in Syria now is not against the regime alone anymore, but against its backers Russia and Iran who are pushing to occupy the country.
Fleeing civilians targeted by airstrikes
A number of civilians were killed and injured when their vehicles were struck by Russian and Syrian warplanes, particularly on the international highway near Maaret al-Numan, Idlib activist Haisam al-Idlibi told Diyaruna.
"Targeted vehicles included a tractor carrying more than 10 people, three of whom were killed while the rest were injured," he said.
Another vehicle carrying a family was hit, which led to the death of one passenger.
As a result, "residents are now apprehensive about using the highway to flee to the border areas in search of safety", said al-Idlibi.
Meanwhile, a Russian airstrike targeted a displacement camp on the outskirts of the town of Jobas in Saraqeb, where the Syrian Civil Defence (White Helmets) reported that eight people were killed, including five children.
Fierce fighting rages on in rural Idlib, where regime forces and affiliated militias continue to advance and have captured the towns of al-Teh, Baboulin and Jarjanaz in southern rural Idlib, he said.
The areas hardest hit by the shelling, airstrikes and destruction are the towns of Kafr Nabl, Tramla, Khan al-Subul, al-Ghadfa and Maasaran, where five people were killed and a large number of others were wounded, he added.
"This is in addition to the city of Maaret al-Numan, which is now virtually empty of its residents," he said, noting that some residential districts in the city have been almost fully destroyed as a result of artillery shelling, surface-to-surface missiles, airstrikes and explosive barrel drops.
Meanwhile, Syrian Civil Defence and other volunteers are using their vehicles to help evacuate stranded residents to safer areas, al-Idlibi said.