A tense calm prevailed in the early hours of Wednesday (July 15th) after renewed Russian airstrikes and Syrian regime artillery on Tuesday pounded several areas of rural Idlib and Latakia provinces, a local activist said.
Russian airstrikes and shelling by Syrian regime and pro-regime militias caused a number of civilian casualties, Idlib activist Haisam al-Idlibi told Diyaruna.
Russian warplanes carried out several airstrikes on Benin in southern rural Idlib and in the hills of al-Kabinah in northern rural Latakia, he said, as Syrian regime forces and affiliated militias targeted several sites in western rural Idlib.
Especially hard hit were the Idlib village of Hmeimat and the city of Ariha, where one person was killed and a number of civilians were injured, al-Idlibi said.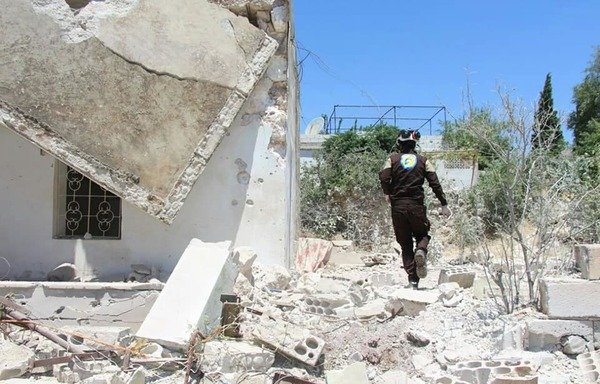 The airstrikes caused widespread destruction due to the use of thermobaric (vacuum) bombs, he said, as did intensive shelling by Syrian regime forces using rocket launchers.
Joint patrol attacked
This sudden escalation, after a period of calm that lasted since March as part of the ceasefire agreement, came after three Russian soldiers were on Tuesday injured by an improvised explosive device (IED) on the M4 highway in Idlib.
The Russian soldiers had been on a joint patrol with Turkish forces, and several Turkish soldiers also were wounded in the blast, AFP reported.
Al-Idlibi said several areas of rural Idlib and Hama came under fire in the past few days from regime forces and pro-regime militias, which injured civilians, destroyed private property and displaced dozens of families.
Many families fled to safe areas in Idlib and the Turkish-Syrian border area.
Targeted areas include the villages of Qalidin, al-Qahira, Qoqfin, Arnabeh, Sarjah, Ruwaiha and Ain La Rose, and Deir Sunbul in the Jabal al-Zawiyah area, he said.
The renewed military operations put tremendous pressure on civilians in the Idlib area, as they come amid a decline in international food aid, al-Idlibi said.
This is due to the restriction of the entry of aid to one border crossing with Turkey, and to a recent outbreak of novel coronavirus (COVID-19) in the north-western province, he said.