Syrian regime forces and militias affiliated with Iran's Islamic Revolutionary Guard Corps (IRGC) are imposing a total blockade on al-Rukban camp, and for the past three weeks have not allowed any food whatsoever to enter it, a local activist told Diyaruna.
The blockade is threatening a real humanitarian crisis, as the supplies on hand are enough to last for only a few days, according to Tariq al-Nuaimi, a relief worker in the camp.
The blockade has been ongoing for nearly a year, he said, but starting three weeks ago, Syrian regime forces and IRGC-affiliated militias have been blocking the entry of food and medical supplies into the camp, leading to an acute shortage.
"The supply on hand of staple items such as flour is enough for only a few days, and the same is true for other food items such as meat, cereals and legumes," al-Nuaimi said.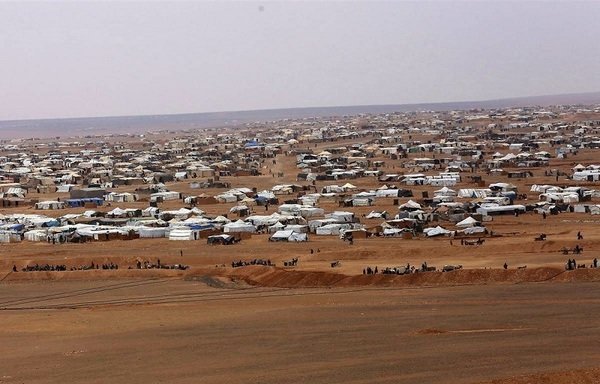 The shortage threatens the outbreak of a real famine in light of the continued blockade of international relief and medical organisations from entering the camp, he said.
The last convoy of UN relief supplies to enter the camp was in February 2019.
Despite the claims by regime media outlets that the camp's residents want to leave, the truth is completely different, he said.
"More than 10,000 civilians absolutely refuse to return to regime-controlled areas out of fear of the security crackdown unleashed on those who wish to leave the camp, including arrests or forced conscription of youth to fight on the frontlines in Idlib," he said.
Most of those who remain in the camp come from areas controlled by the IRGC and refuse to submit to it, as civilians in those areas are living in dire circumstances due to the clampdown imposed on them that limits their movement, al-Nuaimi said.
In addition, the militias have confiscated much of their property and prevent residents from returning to their agricultural lands, he said.