Instead of working to ensure decent living conditions for the residents of Syria's al-Rukban camp, Russia and the Syrian regime have been spreading disinformation designed to discredit international coalition-backed forces.
A series of rumour-mongering stories published by Syrian media claim there has been a "massacre" at al-Rukban camp near al-Tanf base by international coalition-backed forces, and also claim these forces are holding residents at the camp against their will.
But these rumours are "patently false", according to al-Rukban camp local council head Mohammed Ahmed Derbas and other camp residents and activists who spoke with Diyaruna.
They refuted these claims, saying al-Rukban camp is in fact besieged by Syrian regime forces who are barring food and medical supplies from entering.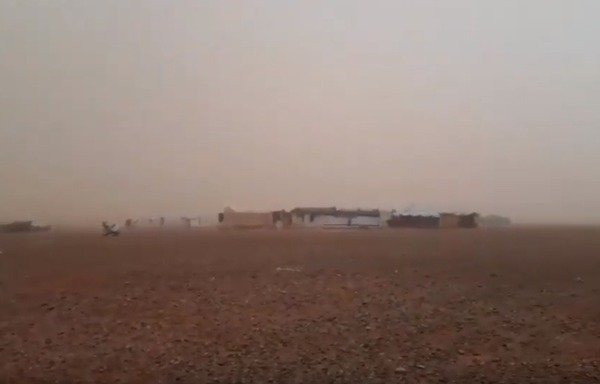 Meanwhile, they said, Jaish Maghawir al-Thawra, a Free Syrian Army (FSA) faction backed by the international coalition, has been helping to ensure the safety of civilians in the informal refugee camp and its vicinity.
Jaish Maghawir al-Thawra has been providing camp residents and other internally displaced persons (IDPs) in the area with support and ensuring their safety against the "Islamic State of Iraq and Syria" (ISIS) pockets that still pose a threat in the area.
"US Central Command continues to stand ready with our partners in Syria to provide security within al-Tanf deconfliction zone to UN humanitarian aid convoys to the 40,000 IDPs at al-Rukban, as we have repeatedly done in the past," spokesman Capt. Bill Urban said in a statement.
"Despite Syrian and Russian propaganda to the contrary, the US is not restricting the movement of IDPs into or out of the camp at al-Rukban," he said.
"The US fully supports a process to allow IDPs freedom of movement that is free from coercion and allows for safe, voluntary and dignified departures for those wishing to leave al-Rukban," he added.
Rumours and disinformation
"There have been many rumours circulated about the camp recently by some media outlets," Derbas told Diyaruna.
Among them is a claim there is a "mass graveyard" near the camp containing the bodies of civilians killed by FSA forces, which is "patently false", he said.
"The response to these rumours is very simple," he said. "Yes, the graveyard exists, but it is an ordinary graveyard like any graveyard in any other town."
More than 40,000 people reside at the camp, he said, and when deaths occur, from natural causes, age or illness, the bodies are buried in that place.
Regarding the issue of camp access, Derbas said the Syrian regime had announced the opening of only two crossing points.
"Some camp residents tried to leave but were prevented by the regime's security forces under the pretext that their security files must be reviewed before they would be given permission to leave," he said.
These residents "returned to the camp, refusing to ever return to those security offices again", he said.
Protecting al-Rukban residents
Derbas said the armed groups in the camp, mainly Jaish Maghawir al-Thawra, "are absolutely not preventing anyone from leaving".
"They are doing everything in their power to maintain security in the camp and safeguard the lives of civilians," he said, adding that this includes "warding off ISIS elements, with whom they clashed [on March 7th] on the camp's outskirts".
A number of ISIS elements were killed in these clashes and four were detained, while Jaish Maghawir al-Thawra's Col. Muhannad al-Talaa was wounded, he said.
The situation inside the camp is indeed tragic, "but this is due to the siege imposed on the camp by the Syrian regime", al-Rukban camp relief worker Tareq al-Nuaimi told Diyaruna.
The regime is preventing food aid, medicine and water from entering, relenting once every few months when it comes under international pressure, he said.
Jaish Maghawir al-Thawra, which is responsible for the camp's security, "does not prevent the entry of any aid", al-Nuaimi stressed.
On the contrary, he said, the FSA faction "periodically distributes a portion of the supplies allocated for its elements to the IDPs" and has gained the "full support of the camp's residents".
IDPs used as political pawns
"The false news being disseminated aims to turn the civilians in the camp into political pawns to be used by the Russian and Syrian regimes," al-Nuaimi said.
Gaining control of al-Tanf crossing with Iraq, which is used by the international coalition as a base for the co-ordination of airstrikes and training of local forces in the fight against ISIS, also appears to be a particular goal of Iran's Islamic Revolutionary Guard Corps (IRGC) and its affiliates.
The rumour-mongers seek to "tarnish the image of the US and the opposition groups it supports when they could be working instead to ensure decent living conditions for the camp's residents", he said.
Al-Rukban residents live under very difficult conditions, al-Nuaimi added, "especially in view of the turbulent weather, bitter cold and sandstorms".
Leaving the camp is currently not an option most residents are considering, as this would entail returning to the regime-controlled areas from which most of them fled, al-Rukban camp resident Raheef al-Khaledi told Diyaruna.
Most al-Rukban residents fled Palmyra and eastern rural Homs province, he said, "which are currently under the control of the IRGC and its militias".
Other areas the IDPs fled are now under Russian and Syrian regime control "and are totally deserted and lack all basic services", al-Khaledi added.