Residents of al-Rukban, an informal camp in the tri-border area of southern Syria, would not have been able to survive in recent weeks without the support provided by US forces, sources inside the camp said.
US forces are operating in the area, a designated "deconfliction zone", as part of the international coalition to combat the "Islamic State of Iraq and Syria" (ISIS), whose remnants continue to stage sporadic attacks in parts of the country.
But al-Rukban is under blockade from Syrian regime and Russian forces, which have for years prevented United Nations (UN) aid from entering the camp.
Many of the roughly 7,000 internally displaced persons (IDPs) who still reside in the camp say they will face danger, even death, if they return home to areas in eastern Syria, according to local media.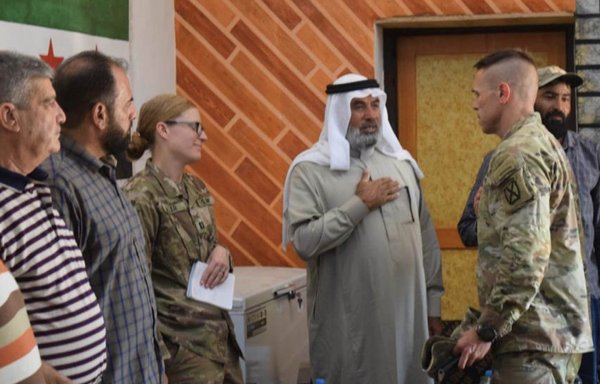 Even if safety was not a factor, the neglect that is prevalent in regime-controlled areas and the lack of jobs provide little incentive to leave the desert camp.
About 200 members of the US military are stationed at al-Tanf garrison in the southern Syria desert, near the country's border with Jordan and Iraq.
US forces have made a significant contribution to the well-being of camp residents, said Palmyra and Badiya Tribal Council vice president Mohammed Ahmed Derbas.
Derbas serves on the board of directors in al-Rukban camp's relief office.
Their most important contributions are protecting the camp and its residents, he said, both directly, and through their support of Jaish Maghawir al-Thawra.
"Most international and regional humanitarian organisations have ceased their work in al-Rukban camp for security and political reasons," said al-Rukban camp relief worker Tareq al-Nuaimi.
This has left little support for the camp residents, who are facing a shortage of food and medical supplies, he said, noting that US forces have helped to meet the camp's needs and have sent in specialised teams.
Addressing camp's needs
US forces have helped to secure clean water for al-Rukban and to build sewage drains and provide electricity, al-Nuaimi said.
They also have supported the camp's clinic by providing training for its workers, and by providing essential medications and vaccines, he added.
Military personnel pay regular visits to the camp to meet with elders and Jaish Maghawir al-Thawra commanders to identify the residents' needs and demands, "most of which are met as quickly as possible", al-Nuaimi said.
Al-Rukban camp resident Basem al-Akidat described the relationship between camp residents and the US forces as "friendly", noting that this rapport is evident during the delegations' visits.
Camp residents appreciate the security that US forces provide, he said, as the area is vulnerable to attack from armed groups backed by various parties.
ISIS is active in the region, as are militias affiliated with Iran's Islamic Revolutionary Guard Corps (IRGC), Syrian regime and Russian forces, he said.
Al-Rukban camp residents have no choice but to stay put, al-Akidat said, because "returning to their homes in Deir Ezzor or al-Raqa is akin to suicide".
These areas are controlled by Syrian regime forces, Russian forces or IRGC-affiliated militias, and returning "would expose any returnee to harassment by the Syrian forces or pressure to join one of the militias", he said.
Al-Akidat said many of the families who left the camp and returned home have not been heard from at all, despite "security guarantees" given by regime forces.
"These families were taken to security centres, and many of the men were arrested and their families were left without a breadwinner," he said.