The informal Syrian refugee camp of al-Rukban, situated in the barren no-man's land between Syria and Jordan, is facing an acute shortage of food and drinking water, an activist and a camp resident told Diyaruna.
This is because all smuggling and supply routes that fed the camp were cut off as Syrian regime and Iran-backed militias advanced in the area, they said, as did the "Islamic State of Iraq and Syria" (ISIS).
"Al-Rukban is facing a severe shortage of basic food items that threatens to turn into a real famine," relief worker Tareq al-Nuaimi told Diyaruna, warning that the crisis is worsening by the day.
There has been continued fighting in the Badiya (desert) region around the camp, where Syrian regime forces and allied militias affiliated with Iran's Islamic Revolutionary Guard Corps (IRGC) -- such as Lebanon's Hizbullah and the Fatemiyoun Brigade which encompasses Afghan nationals -- have taken control of some areas.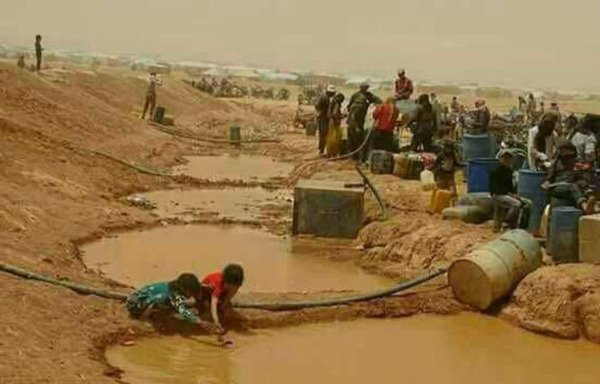 As a result of this advance, he said, the routes used to supply the camp have been cut off, leaving al-Rukban and its surrounding areas -- which are under the control of the Free Syrian Army (FSA) -- almost fully besieged.
In the meantime, ISIS has seized additional areas in the Badiya region near Homs province, exacerbating the situation, he said.
'Catastrophic consequences'
Food supplies used to arrive at the camp via eastern rural al-Suwayda province, eastern rural Damascus and the city of al-Mayadeen in Deir Ezzor province.
But all the crossings to and from those areas are now cut off, al-Naimi said.
"If the situation in the camp continues as it is, there will be catastrophic consequences," he said, noting the absence of international and regional relief agencies, and the large number of children and the elderly who require nutrition.
The crisis will continue to worsen, he said, as dozens of families have arrived at al-Rukban from the Hadalat and Ruwaished camps, which came under shelling a few days ago.
Al-Rukban resident Bassem al-Aqaidat, 40, who arrived at the camp in mid-2016 from the Palmyra area, told Diyaruna the situation in the camp has become more difficult than before.
In addition to a long-standing drinking water crisis, he said, the camp lacks basic supplies such as baby formula and milk for children, while there is a severe shortage of oil, sugar, rice, flour and other grains and legumes.
"Some black market dealers have been selling these basics, but their prices are exorbitantly high, with sugar and flour selling at 1,200 Syrian pounds ($2.32) per kilogramme, and a litre of oil for 3,000 pounds ($5.82)," he said.
"These prices are beyond the purchasing power of the camp residents, and only a few well-to-do refugees can afford to pay them," he said.
Some camp residents have managed to leave the camp and escape from the area through smuggling crossings, al-Aqaidat said.
But as the battles are drawing closer and getting fiercer and the crossings have been completely blocked, it would be "insane" to try this now, he said.
Those attempting to flee the area might come under fire from Syrian regime forces or Iran-backed militias, he said, or be exposed to ISIS gunfire and mines.