A heat wave has claimed the lives of three children in al-Rukban camp, an informal settlement of Syrian refugees in the closed military zone on the Jordanian border, and afflicted dozens with heat-related illnesses.
Thirty of those afflicted are in critical condition, activists told Diyaruna, noting that the severe shortage of drinking water at the desert camp was a main contributing factor to the latest crisis.
The heat, which soared above 40 degrees Celsius, has been well above the seasonal average, local media reported.
Scorching temperatures in an area where there is little shelter from the sun, coupled with a shortage of water, have had a devastating impact on the health of Syrian refugees, particularly children, said camp relief worker Tariq al-Nuaimi.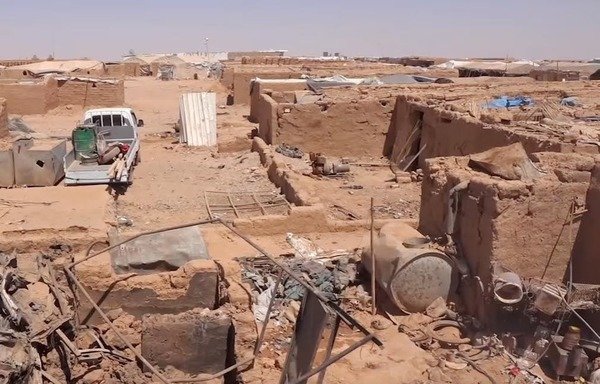 As of Tuesday (July 4th), he told Diyaruna, three children have died as a direct result of the heat.
"More than 80 children were sent to the camp's medical clinics to receive treatment for various heat-related symptoms, where they continue to receive care, and 30 remain in critical condition," he added.
Adults at the camp also have been afflicted with heat-related illnesses, he said, which include dehydration, vomiting, fever, heat exhaustion and heat stroke, with others suffering from diarrhea after ingesting brackish water.
Severe shortage of water
Jordan closed the area and declared it a military zone a year ago following an "Islamic State of Iraq and Syria" (ISIS) suicide attack that killed seven Jordanian soldiers and injured 13 others at a military outpost near the camp.
The camp houses more than 75,000 Syrian refugees, most of whom fled areas under ISIS control such as Deir Ezzor, al-Raqa and al-Hasakeh.
"Al-Rukban is located in a desert area with no water sources at all," al-Nuaimi said.
"Water is supplied by tankers and the nearest source of water is about eight kilometres away from the camp, a distance which is impossible to cross on foot because of the heat," he said.
Relief and humanitarian organisations have been trying their best to supply the camp with drinking water, he said, but the constant increase in the camp's population and the shortage of humanitarian help has created a huge gap.
"Many vendors who supply the camp with water are taking advantage of these conditions and selling water at prices that only a small number of the camp's residents can afford to pay," al-Nuaimi said.
The camp is in urgent need of additional medical and relief teams, expanded treatment beds and medicine, and a permanent source of water, he said.
"Artesian wells could be drilled to meet the camp's [water] needs, or at least the authorities could secure enough tankers to deliver water to the camp's residents free of charge," he added.
If conditions do not change, he warned, health conditions will deteriorate.