The Iraqi government has been working hard to enable those who were displaced from their homes by the "Islamic State of Iraq and Syria" (ISIS) to return to their villages and towns, though challenges remain.
While Baghdad seeks to send 1.2 million internally displaced persons (IDPs) back to their homes, many are still unable to return because of the ongoing activities of Iran-affiliated militias in their areas.
Former residents of the town of Jurf al-Sakhr, south of Baghdad in Babil province, still face major obstacles on their path to returning home.
More than 1,300 families from Jurf al-Sakhr reside in the Bzeibiz camp in the Anbar province town of al-Ameriya, among them the family of Ahmed al-Jubouri.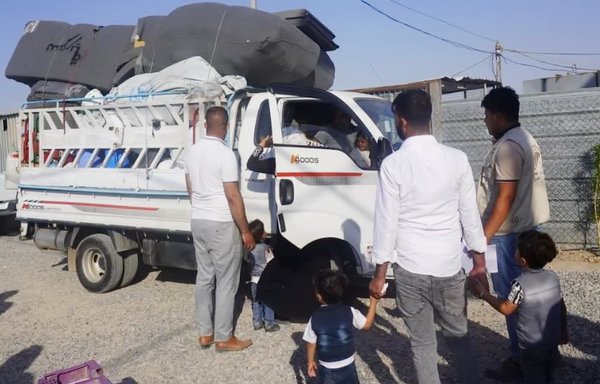 Al-Jubouri, who has spent about eight years away from his small farm on the outskirts of Jurf al-Sakhr, told Al-Mashareq he is eagerly waiting to return home, reclaim his land and resume work on it.
"Our crisis has gone on for too long, but we hope that it will end soon," he said.
"We want the officials to pay serious attention to our suffering and find solutions," he added. "The camp cannot replace our home, and we cannot stay in the camp indefinitely."
Iran-backed militias also are present in villages north of al-Muqdadiya and al-Azim in Diyala; in the Salaheddine towns of Aziz Balad, al-Awja and Yathrib; in al-Tharthar region and the phosphate complex in al-Qaim, Anbar province; and in villages near the Ninawa towns of Sinjar, Tal Afar and Rabia.
Between 2014 and 2017, Iraqi forces were able to liberate these areas from ISIS, but pro-Iran militias such as Kataib Hizbullah, Harakat al-Nujaba and Asaib Ahl al-Haq have since sought to establish their dominance.
These armed groups are now blocking entry to these areas, under the pretext that they have not been cleared of the remnants of war and that the militias are there to maintain security and prevent the return of extremist elements.
Security concerns
Iraqi authorities recently pledged to resolve the displacement crisis through a government programme that calls for closing all the remaining camps, among other measures.
In a November 29 statement, Minister of Migration Evan Faiq Jabro stressed the need to secure the return of displaced families to Jurf al-Sakhr.
In a statement issued November 21, the parliamentary migration committee said it supports the government's efforts to repatriate the IDPs.
The committee said the ministry will continue to facilitate the voluntary return of IDPs, as well as merging a number of camps where only a small number of residents remain, to make it easier to provide services and support.
There are plans to ensure the return or repatriation of all IDPs after confirming that they have not been involved in any questionable or terror-related activity, as is the case with Iraqis from al-Hol camp in al-Hasakeh province, Syria.
Iraqi officials reportedly have compiled lists containing the names of residents of the Jurf al-Sakhr area and other towns, in order to conduct security checks before they allow them to return home.
Some see the issue of return as complicated and possibly unsolvable at present, as many of these towns have transformed into militia strongholds.
Militia strongholds
Jurf al-Sakhr and other towns have become "fortified strongholds for the militias", political researcher Abdul Qader al-Nayel told Al-Mashareq.
It is an open secret that Iran-backed militias have established military bases in the Jurf al-Sakhr area, he said.
"Weapons, missiles and drones are produced in factories in Jurf al-Sakhr under the supervision of the Islamic Revolutionary Guard Corps (IRGC), and houses have been turned into centres for training militia elements," he said.
Iran-affiliated militias are accused of turning the towns they control into military headquarters, ammunition depots and prisons that they keep under heavy guard.
Meanwhile, reports confirm there are mass graves in these towns, where civilians are buried. Those interred here were either executed in prisons or killed on the battlefield by militia elements during the fight against ISIS.
In light of this, some people say that Iran-backed militias deliberately have made it difficult for former residents to return out of fear of being exposed and held accountable for the crimes they have committed.