After Iraqi forces liberated the areas occupied by the "Islamic State of Iraq and Syria" (ISIS), the government launched a large-scale programme to rehabilitate them and enable displaced residents to return.
But in some cities and towns, even some where four years have passed since ISIS was ousted, residents still have not returned because armed militias that took part in the "liberation" battles have refused to withdraw.
According to Iraqi officials and activists, more than 900,000 civilians are still living in displacement camps, even though their homes are still standing and their cities have been liberated.
They could have returned to their homes, just like many of their fellow citizens in Fallujah and Mosul who have been home for several years, but the militias have stood in the way.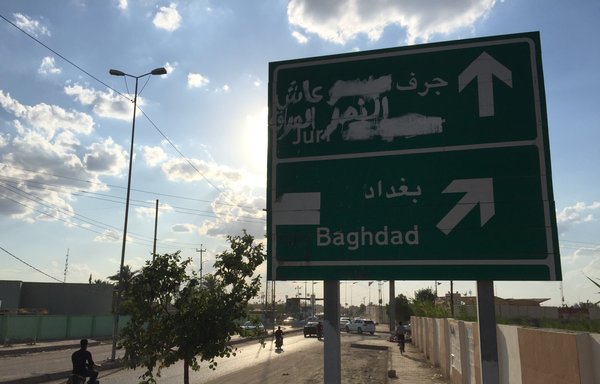 Militias recently prevented UN teams and local and international humanitarian organisations from entering these areas to document the level of destruction and determine what is needed to facilitate recovery.
Displaced residents cannot return
At least 20 towns and around 300 villages have been declared off limits for potential returnees, according to Iraqi officials.
Among them are the towns of Jurf al-Sakhr and al-Janabiyen in Babil province; Yathrib, Salman Beik and Aziz Balad in Salaheddine province; Jadidah, Arar, Khams Biyout and Uweisat in Anbar; and al-Rashad in Kirkuk province.
Residents have been unable to return to the towns of al-Shishan, al-Jamilat, Sansal, Baz al-Shakha, Nahr al-Imam, al-Makhisa, Abi Saida, Sherween al-Saghira, Sherween al-Kabeera, al-Tubaj and al-Adhim Dam in Diyala province.
They also have been unable to return to 300 villages in Anbar, Salaheddine, Diyala and Ninawa, including those in Ninawa Plains, Sinjar and Tal Afar comprised of Christian, Muslim, Assyrian and Shabak residents.
These areas are under the control of various Iran-backed militias, said Mohammed Ali, who heads a human rights organisation focused on looking after orphans and victims of violence and terrorism.
Among them are Kataib Hizbullah, Saraya al-Khurasani, Asaib Ahl al-Haq, Harakat al-Nujaba, Kataib Ansar al-Hijja and al-Tufuf Brigade, he told Diyaruna, speaking by telephone from Erbil.
Local and international organisations have said they are willing to support these cities and bring services back, he said, "but sadly the militias refuse to pull out".
The militias are "now using these towns as large closed military bases", he added. "We believe they also have their weapons warehouses there, in addition to detainees, which is illegal."
'Perpetuating a state of instability'
In May 2017, former Iraqi Prime Minister Ayad Allawi said matters had come to a standstill in areas where Iran seems to have an influence.
Allawi said he had tried to facilitate the return of the displaced population to Jurf al-Sakhr, but was told by leaders of Iran-backed popular mobilisation militias, Hadi al-Amiri and Abu Mahdi al-Muhandis, that this was in the hands of Iran.
Former Iraqi MP Kareem Abtan told Diyaruna it was "shameful, inhumane and immoral that people were not able to go back to their liberated cities".
"How is it that a person whose home is just a few kilometres away has to live in the desert and is banned from returning? ISIS is gone so why are they still in the desert?" he asked.
He noted that "there are certain entities that are trying to perpetuate a state of stress and instability in Iraq, which are responsible for this situation".
Addressing this issue will be a top priority for the new Iraqi government, said Mohammed al-Rubayie, a member of the cabinet's national reconciliation committee.
"The newly formed government started its mandate a month ago, and there are several issues on its agenda, including bringing stability and security to all liberated cities," he told Diyaruna.
This includes the return of the displaced population, he said.
Upholding Iraqi sovereignty
"Previous mediations have failed to ensure the return of 80,000 inhabitants of several villages and towns in the province that are controlled by armed factions," said Salaheddine tribal council member Ali al-Jubury.
"We have met with several leaders and officials there who previously said these areas had been destroyed and are still unsuitable to live in, while at other times they cited landmines and explosives as the reason," he told Diyaruna.
Now they are just saying: "When we receive orders to withdraw, we will do so," he said.
Al-Jubury accused the former government of being too cozy with these factions, and advised the head of the new government to implement the rule of law, uphold Iraqi sovereignty "and allow people to go back to their homes".
Bilal Talib, a displaced resident of the village of Abi Saida in Diyala province, told Diyaruna that as winter approaches, he is currently living in a place that is "not even suitable for rats".
Meanwhile, he said, his own spacious home has been taken over by an armed militia that has prevented him and fellow villagers from returning.
Talib said he currently lives in the basement of a building in Baghdad with no income that affords him any sort of comfort, but wants to return to the house he inherited from his father, where he was born and lived his whole life.
So far, he said, he has not even been able to enter the city to see if his home is still standing, adding that the motives of these Iran-backed militias appear to be to change the area's demographics and undermine peaceful co-existence.