Iran-backed Kataib Hizbullah is the prime suspect in the disappearance of civilians during the fight to retake Iraqi cities from the "Islamic State of Iraq and Syria" (ISIS), and their families continue to press for answers and accountability.
On August 30, the International Day of the Victims of Enforced Disappearances, Kataib Hizbullah was again blamed for the disappearance of thousands of Iraqis.
Most of the enforced disappearances took place after the government prevented Kataib Hizbullah elements and those of other Islamic Revolutionary Guard Corps (IRGC)-backed militias from taking part, with the security forces, in liberating Fallujah, Anbar province, in 2016.
At that time, the Iran-aligned militias set up checkpoints around Fallujah and arrested men and youths fleeing the battles, after separating them from women and children in their families.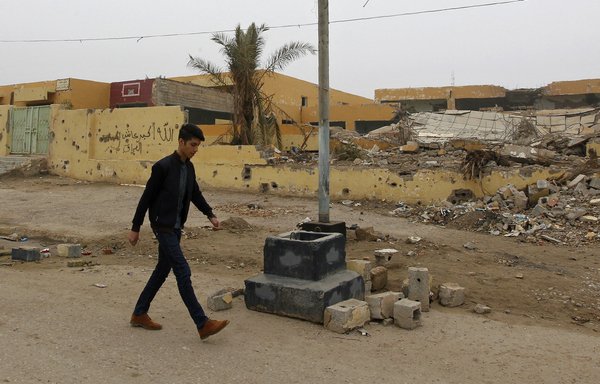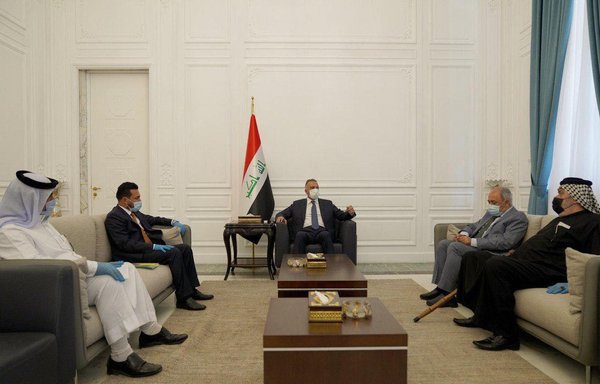 The militias arrested more than 2,400 people in the towns of Razzaza, al-Saqlawiya and Bzebez, near Fallujah, by some accounts, and took them to unknown locations. They have not been heard from since.
Relatives accuse the militias of kidnapping their family members and concealing their fate.
'Unbearable pain'
The mother of one of the victims, who asked to remain anonymous, told Al-Mashareq she has long suffered the pain of the disappearance of her eldest son.
Nobody has heard anything from Ibrahim, or knows what happened to him since the militias arrested him at Razzaza checkpoint, she said.
In the ensuing years, she said, she and the families of other victims visited several government detention facilities, prisons and hospitals but never found her son in the records.
"We've been looking for our children for years but in vain," she said.
"We don't know where they are, and whether they are still alive, or dead. If they did something wrong, why aren't they brought to courts of law for trial?"
"Not knowing the fate of our children is an unbearable pain."
Ibrahim has a wife and three children who are supported by the modest pension his mother receives from the state.
Many other mothers and wives have found themselves facing the difficulties of life after their breadwinners were forcibly disappeared by the militias.
There are no official statistics on the total number of victims, but some officials and local rights groups put the number at more than 12,000, with disappearances concentrated in Anbar and Salaheddine provinces and in Mosul.
According to some sources, Kataib Hizbullah transferred many of the victims to headquarters and deserted houses in Jurf al-Sakhar, south of Baghdad, which the militia is reportedly using as secret detention facilities for interrogation.
'The pain must end'
Some victims might have been executed or killed under torture, analysts said.
"Mass graves have been found in areas that were neither under ISIS control nor battlefields but were rather controlled by Iran-linked militias," said political analyst Ghanem al-Abed.
"This enforces suspicions that those militias might have killed a number of the detainees in their custody," he added.
In a video clip circulated on social media last year, a senior militia leader known as Abu Azrael (Angel of Death) said he had received messages from Iraqi Sunnis asking about the fate of their sons who disappeared during the war on ISIS.
"I tell them there are no detainees. They killed them," the Kataib al-Imam Ali leader said, adding that at that time "sectarianism consumed anything and everything".
Over the past two years, several mass graves have been discovered on the outskirts of al-Saqlawiya, Jurf al-Sakhar, al-Mahawil and al-Ishaqi.
But there is no clear information as of now that the remains inside them, probably of dozens of victims, belong to the forcibly disappeared.
This is because the gravesites are cordoned off by militias.
"The fate of all those who have disappeared must be revealed; the pain of their families that has been ongoing for years must end," al-Abed told Al-Mashareq.
Demand for accountability
There are rising calls in Iraq to hold the militias to account for the disappearances, especially Kataib Hizbullah, blamed for the disappearance of 75 civil and media activists following the popular uprising of October 2019.
On August 30, activists kicked off a social media campaign entitled "Where are they?" demanding answers on the fate of all those who have disappeared.
They posted pictures of children holding pictures of their fathers.
"These are children who lost their fathers when they were just a few months old, and now, after they became six years old, they still hope to see them," wrote Twitter user Wael al-Taey.
"On the International Day of the Victims of Enforced Disappearances, we renew calls for revealing the fate of our disappeared sons (…) The conditions of their families are deplorable," wrote Twitter user Ali al-Mahmoud.
The government is highly focused on the issue, and has instructed the Interior Ministry to use all of its capabilities to follow up on the fate of the disappeared, calling it a "legal obligation".
But it has repeatedly stated that much time and effort are needed to thoroughly investigate all cases of enforced disappearance, and to learn the fate of the victims.