The Iraqi government has repatriated more than 600 relatives of suspected "Islamic State of Iraq and Syria" (ISIS) fighters detained at al-Hol camp in Syria's al-Hasakeh province, sources said Tuesday (October 18).
"The Iraqi government repatriated 161 families, including 659 people, from al-Hol camp to Iraq," the Syrian Observatory for Human Rights said.
The Iraqi families left al-Hol camp, which lies less than 10 km from the Iraqi, border for their home country in a move co-ordinated with Iraqi authorities, the Observatory said.
A Kurdish security source who requested anonymity said that 634 Iraqis had crossed from al-Hol to their country on Tuesday.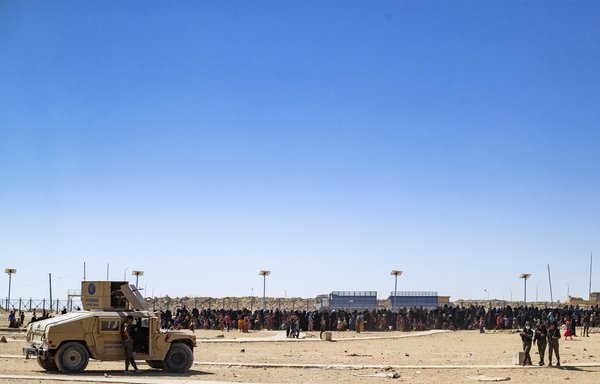 The overcrowded, Kurdish-run camp is home to 55,000 people, and houses thousands of relatives of suspected ISIS members, mostly women and children, from close to 60 countries.
It is the largest camp for displaced people who fled after ISIS fighters were dislodged from the last scrap of territory they controlled in Syria in 2019.
The United Nations said more than 100 people have been murdered in the camp since the start of 2021.
Kurdish forces arrested more than 200 people last month, after a sweeping three-week security operation in the camp against ISIS supporters, during which they uncovered tunnels used by extremists and seized an arsenal of weapons.
The vast majority of al-Hol residents, about 29,000, are Iraqis. There are some 18,000 Syrians, with about 8,000 of other nationalities, who hail from countries in Europe, Asia and elsewhere in the region.
Repatriation is seen as the key to curbing violence inside the camp, as the camp administration is stretched too thin to ensure al-Hol residents who espouse hardline ideology are kept in check.
As a result, many are in danger of becoming more deeply radicalised.
Kurdish authorities have repeatedly called on countries to repatriate their citizens from crowded camps and bear their share of the burden of responsibility for their care and rehabilitation.
But many have been reluctant to take responsibility for them, wary of security threats and domestic political backlash.
The pace of repatriations has picked up recently, however, with Germany announcing October 5 it was bringing home 12 of its citizens from nearby Roj camp, and France repatriating 83 minors in seven operations, some via Iraq.
Tajikistan, Belgium and Iraq are among the nations that have repatriated some or all of their citizens from the Syrian camps this year.
Iraq steps up repatriation efforts
Iraq is expected to repatriate 500 families in total from al-Hol this year, state news agency INA reported earlier this year.
It has been working to bring home Iraqi citizens with a clean record from al-Hol, in returns facilitated by the Syrian Democratic Forces (SDF), and to ensure they receive anti-extremism education upon their return.
As of March, more than 450 families had been brought back to Iraq since mid-2021, Iraqi officials said. Upon their arrival, they were moved to refugee shelters as an initial step, for a security check.
The repatriation decision was driven by concerns about ISIS's influence over Iraqi youth in the camps, and the potential for Iraqi citizens to be recruited by extremists, Iraqi Deputy Immigration Minister Karim al-Nouri said at the time.
Leaving a large number of youth to possibly fall prey to ISIS's destructive ideology would have been a dangerous course of action, he told Al-Mashareq.
Most of the Iraqi citizens already repatriated are youth under 18 and women, and they are temporarily housed at al-Jadaa camp, south of Mosul, he said.