Militias loyal to Iran have taken over several Iraqi towns as soon as they were liberated from the "Islamic State of Iraq and Syria" (ISIS) and to this day are preventing the return of their inhabitants.
Abu Hamed, a 53-year old resident of Jarf al-Nasr, previously known as Jarf al-Sakhr, said that he and thousands of other residents of his village have been forced to leave and the militias now refuse to let them come back.
Ending the residents' state of displacement has deliberately been "put on hold" by the militias, said Abu Hamed, who lives in a rented house in Baghdad and did not want to reveal his full name for fear of reprisal.
"We do not know when our suffering will end. For nearly five years now, we have been homeless and there are no solutions in place to address our situation," he said. "Do we have to remain forever displaced and lose all hope of returning home?"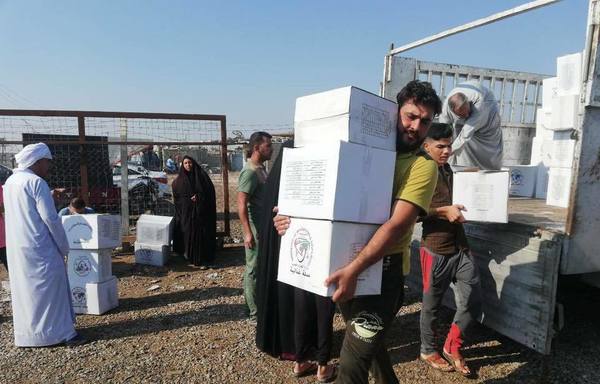 Jarf al-Sakhr used to boast 100,000 inhabitants who were forced out of their homes after ISIS took control of their town in mid-2014.
Weapons manufacturing, storage
The town, located 60 kilometres south-west of Baghdad, was liberated a few months after ISIS's incursion only to fall into the grip of Kataib Hizbullah and other militias loyal to Iran.
It later became a hotbed for militia activity.
Former Iraqi MP Taha al-Lahibi told Diyaruna "the militias are now using Jarf al-Sakhr as headquarters for their military bases as well as a centre for manufacturing and storing weapons, missiles and drones".
"The town has turned into a place where militias are committing the most atrocious crimes against unarmed civilians and they are banning anyone from entering it," he said.
In addition to Jarf al-Sakhr, there are other towns liberated from terrorism whose residents have still not been able to return to due to pressure and threats from militias such as Asaib Ahl al-Haq, Badr, al-Nujaba, Saraya al-Khorasani and Kataib Jund al-Imam.
Towns such as Aziz Balad, al-Toz, Yathrib, al-Siniya, al-Oja and villages in north-east Baquba and Zammar are still closed off and their inhabitants are prevented from returning due to pressure from the militias, said political analyst Ahmed Shawqi.
Several official approvals have been given to allow the return of IDPs to their homes after security checks have been completed to identify those implicated in acts of terrorism, he told Diyaruna.
"However, militias are still holding on to these areas and preventing their residents from returning and threatening them if they decided to do so," he said.
Shawqi stressed the importance of "putting an end to the militias' influence in order to end the suffering of civilians, which has continued for far too long".
"Resolving the displacement crisis and establishing stability and the foundations of co-existence in the liberated areas are basic guarantees against the recurrence of terrorism," he said.
Iranian silk road
The militias claim that they are opposed to people returning to their homes because these areas are yet to be secured and they fear they would turn into ISIS incubators, said Thaer al-Bayati, secretary general of the Council of Arab Tribes in Salaheddine.
These are mere excuses, he told Diyaruna.
These militias are implementing Iran's agenda, he said, noting that "Iran is seeking to tear the country apart and spread chaos through every means possible".
The militias are obeying Iran's orders and conducting ethnic and sectarian cleansing as well as trying to tear apart the national fabric, MP al-Lahibi said.
The Iranian regime wants its proxy militias to establish a foothold in areas it deems strategic, which lie on "the Iranian silk road that extends to Syria" through the Iraqi provinces of Diyala, Salaheddine, Ninawa and Anbar, he said.
Iran would use this road to smuggle missiles and weapons to Syria and the Mediterranean Sea via Iraq, according to al-Lahibi.