In strategic areas across Iraq, militias affiliated with the Islamic Revolutionary Guard Corps (IRGC) are seeking to effect demographic change.
The militias are designating certain areas -- including Jurf al-Sakhr, south of Baghdad and the agricultural projects area in the Anbar province border town of al-Qaim -- as "military zones".
This designation has given the militias a pretext for preventing residents who were displaced by "Islamic State of Iraq and Syria" (ISIS) from returning to their homes and lands, and justification for moving militia members in, observers said.
This is currently happening on a large scale in Ninawa Plains, home to the country's largest Christian community, in towns west of Mosul, and on the outskirts of Samarra, home to the Shia shrines of Imam Ali al-Hadi and Hassan al-Askari.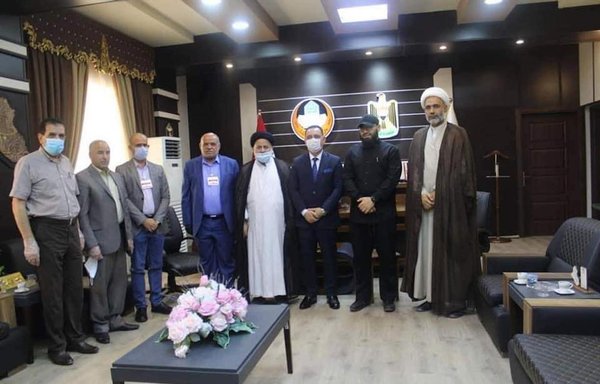 Haji Abed, who resides in the village of al-Ishaqi, south of Samarra, said many families were forced to leave their homes and lands in the villages of Balad district to escape the militias' threats.
"In the past, we used to be afraid of ISIS," he said. "Today, the militias control our lands and seize our property."
Many villagers were displaced from their homes on the outskirts of Samarra, and the militiamen moved in to replace them and brought some families up from the south of Iraq to live there as well, political analyst Ziyad al-Sinjari said.
"The militias are now trying to seize mosques owned by the Sunni endowment, such as the Great Mosque of Samarra and the Samarra School, as well as commercial shops and streets in the heart of the city," he said.
Al-Sinjari said that since 2014, more than 70,000 civilians have been prevented from returning to their homes in Jurf al-Sakhr on the militias' orders, which have transformed the town into a restricted military zone.
A demographic shift also is under way in northern and western Iraq, he said, and is heavily concentrated in Ninawa province.
Former Ninawa governor Atheel al-Nujaifi said these militias are responsible for the "demographic displacement" of the original inhabitants of Ninawa Plains, the majority of whom are Christians displaced by ISIS.
One of these militias is led by Waad Qado (Abu Jaafar al-Shabaki), who is under US sanctions for directly or indirectly engaging in "serious human rights abuse".
"This group's elements are expanding their presence in the plain, especially in al-Hamdaniya and Bartella, and are acquiring Christian property by threatening their owners and buying [properties] from them," al-Nujaifi said.
Christian community leaders have been urging Christian families not to sell their homes, he said.
Imposing political agendas
Al-Nujaifi said the most serious threat is not only the demographic change the militias are seeking to bring about, but also their attempt "to impose their political agendas in the areas they acquired and subjected to their hegemony".
The militias have brought in loyalists and handed them administrative positions, he said, and have "penetrated most state institutions and departments, including universities and academic and vocational institutions".
"The criterion now for taking positions is not competence and integrity, but rather whether [the candidate] has a relationship, or is affiliated with, an influential group or party," al-Nujaifi said.
"Independents are completely excluded from taking any positions."
Today, armed factions, notably Iran-aligned Asaib Ahl al-Haq and the Badr Organisation, control the University of Mosul, which is the second largest government university in Iraq after the University of Baghdad.
According to al-Sinjari, the political analyst, "the militias are running projects and investments inside the university, stealing iron and scrap from its buildings that were destroyed during the war".
"They heavily intervene and use their influence to appoint people close to them to leadership positions at the university," he added.
Al-Nujaifi said the militias' agenda includes imposing "a religious character on my province [Ninawa] that wasn't there before, and to acquire tombs, burial sites and religious shrines in the city of Mosul that belong to the Sunni endowment".