Iran has opened a permanent trade fair in the city of Sulaymaniyah in Iraq's Kurdish region, in what analysts see as an apparent bid to extend its hegemony into this area and create a market for Iranian goods.
The fair's three-storey pavilion features about 100 Iranian brands and hosts the offices of 30 companies specialising in sectors as varied as transportation and communications, said Iran's consul general in Sulaymaniyah, Mehdi Shoushtari.
Textiles, bags and shoes are displayed on the first floor of the pavilion, with industrial, electrical, electronic and construction products on the second floor, he said in a February 12 announcement.
The third floor showcases logistics services, insurance, consulting, advertising, marketing and legal support to Iranian companies operating in Iraq, he said.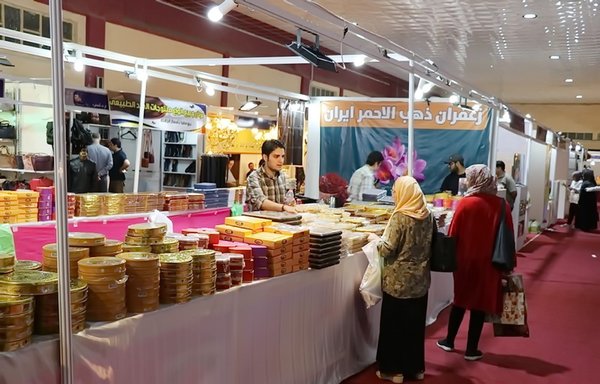 The pavilion also includes open spaces for the display of heavy industrial equipment and machinery, cars and road building materials, he noted.
According to Iranian officials, the fair provides an opportunity to introduce Iranian goods and products directly to the Iraqi market, and aims to "strengthen trade relations" between the two countries.
But Iraqi observers told Al-Mashareq they were sceptical of Iran's motives, seeing the opening of the pavilion as yet another attempt to monopolise the Iraqi market and economy and gain control over the Kurdish region's resources.
Iran's quest for monopoly
According to political analyst Adel al-Ashram, Iraq does not stand to gain from Iranian trade fairs, which in fact have a detrimental effect on its economy.
Iranian "product dumping" crowds out nationally produced products and can have a substantial negative impact on local producers and small-enterprise owners, he said.
Based on Iranian figures, he said, Iranian exports to Iraq (excluding energy) amounted to $9 billion last year and include agricultural crops, food products, electric appliances, cars and building materials.
Iran now seeks to diversify its exports to Iraq to include medical equipment, medicine, agricultural machinery, furniture and clothing, he said.
Tehran fears Baghdad will boost its domestic production, he said, noting that Shoushtari explicitly stated as much when he announced the opening of the trade centre, during a speech delivered in the Iranian province of Kermanshah.
"We must accept that Iraq intends to support its products," Shoushtari said. "The only way to maintain the export status quo is to have some of our companies turn to producing goods in Iraq."
Iran and its proxies are looking after their own interests at the expense of the economies of the region and exploiting their natural resources, al-Ashram said.
He noted that the profits generated from trade activities are used to fuel terrorism and threaten regional stability.
They do not support economic prosperity, as the Iranian regime claims, he said, but rather serve Iran's expansionist agenda and seek to put the resources of other countries at its disposal.
Iran is acting according to strategic plans that include the imposition of economic hegemony, he said, noting that it plans to open a similar trade fair devoted to the construction sector in the Sulaymaniyah town of Kalar in coming months.
It plans to set up a joint transport company with Sulaymaniyah to facilitate the flow of goods across the border, and it also submitted proposals to establish a free trade zone with the Kurdish region earlier this month, he added.
Iran is working on developing the infrastructure at its border crossings with Iraq, especially with the Kurdish region, al-Ashram said, to facilitate the regional sale of its goods.
A strategy of hegemony
Last month, Iranian official Kiwan Kashifi of the Kermanshah Chamber of Commerce announced, "Sulaymaniyah and Kurdistan are a gateway for trade with Syria and Lebanon as well."
At a March 2 conference, Iranian Trade Development Organisation director Farzad Belten said the Iranian government is seeking to establish a railway link with the southern Iraqi provinces (Basra, Dhi Qar and Maysan).
He pointed to the need to work towards unified management of the Shalamcheh border crossing between the two countries.
"We are seeing the presence of Iranian pavilions in all fairs held in Iraq, and we have a plan to organise specialised fairs to market goods," he added.
Iraqi tribal leader Thaer al-Bayati told Al-Mashareq that trade and the economy are an essential part of "the strategy of hegemony pursued by Iran".
Commercial activities and events serve Iran's objective "of weakening its neighbours and drowning them in crises and economic burdens such as unemployment, poverty and disruption of development", he said.
Iran is using the economic gains achieved to ensure its armed groups continue to be funded so they can continue implementing aggressive projects and spreading havoc and chaos, al-Bayati said.
He said Iran seeks to "monopolise the Iraqi market, destroy the economy and national resources, and create an infrastructure that gives it greater ability to economically penetrate into Iraq and the countries of the region".