Angered by Iran's reduction of gas supplies to Iraq amid the winter cold, Iraqi activists revived a campaign to boycott Iranian products, sending the #Khalliha_Tkhees (Let them Spoil) hashtag trending on social media.
The campaign is the second of its kind in two years.
Activists had launched a previous campaign in 2019, using the same hashtag, to express their resentment of Tehran's interference in their affairs and its labeling of the popular protests as "riots and anarchy".
As Iran-backed militias attempted to suppress the protests in Iraq, the boycott picked up pace, leaving a glut of Iranian goods in markets and triggering a surge in the demand for products made in Iraq.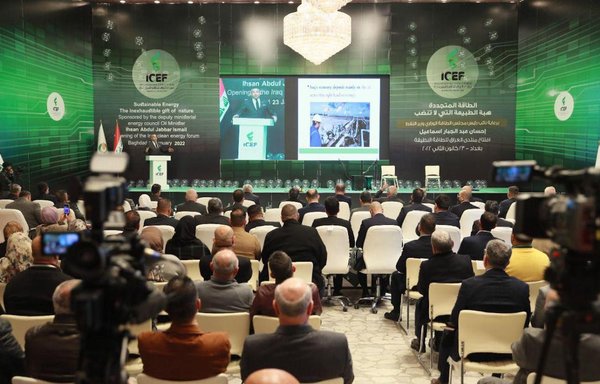 Activists who spoke to Al-Mashareq said they hope the new campaign will achieve similar results and pressure Iran to stop its "blackmail" of Iraq through its control of the energy supply.
'Rejection of everything Iranian'
"The boycott campaign must be understood as a rejection of everything that is Iranian in Iraq!" activist Ali Fadel said in a January 25 post on Twitter.
In a January 23 tweet, Mustafa al-Dulaimi took aim at Iranian products.
"They are rotten to begin with; do not buy them," he said.
His views were reflected by Twitter user Shahd Ali, who described them as "among the most inferior products on the market to begin with".
Using the hashtag "Let them spoil, let them rot", Suha al-Rubaie wrote: "A pile of stones rather than this neighbour," in reference to Iran.
The reduction in the gas supply from Tehran forced Iraq's electric power stations to suspend operations, causing widespread electricity shortages.
Iran often cuts off the gas supply to Iraq, especially during times of peak demand in winter and summer, under the pretext that Iraq has failed to pay its gas debts -- gas it sells to Iraq at several times the global price.
In a January 22 statement, the Iraqi Ministry of Electricity said gas imports from Iran decreased from 50 million cubic metres to 8.5 million cubic metres per day, leading to a loss of 1,100 megawatts of power.
Last summer, the Iraqi electricity sector lost more than 7,000 megawatts because of the decline in Iranian gas imports, which plunged several Iraqi cities into darkness amid extremely hot weather.
Public anger over 'blackmail'
Iraqi Centre for Strategic Studies director Ghazi Faisal Hussein said the "Let them spoil" campaign is "a natural reflection of the public anger over Iran's illegal practices" towards Iraq.
The renewed calls for a boycott of Iranian goods are "a new message that confirms the Iraqis' rejection of the blackmail attempts by Tehran to force Iraq to revolve in its orbit and become dependent on it", he said.
Hussein said Iran wants to establish itself as Iraq's main energy supplier, and is working via its proxies to keep Iraq under constant pressure, so that it is unable to meet the electricity needs of its citizens, especially in peak seasons.
"Iraqis are fully aware of this provocative behaviour, so they want to respond to it by boycotting Iran's goods and forcing it to comply with its legal obligations under the gas import contracts," he said.
Hussein stressed the need to combat corruption and interference in the energy sector, which has resulted in losses of about $80 billion over a 15-year period, and to find alternatives to Iranian gas supplies.
Iraq has been looking to its other neighbours to help it secure its electricity needs and reduce its dependence on Iranian imports, and on January 25, Iraq and Saudi Arabia signed an agreement to connect their electricity grids.
Iraqi Electricity Minister Adel Karim said the link would be completed within two years, according to the Iraqi News Agency.
Iraq must find 'radical solutions'
Observers say Iraq's moves are irritating Iran.
"Iran cuts gas [supplies] when it needs to, and when Iraq looks for a better alternative, the Iranians are upset and say it is a conspiracy to strike the Iranian economy!" journalist and blogger Shaho al-Qaradaghi tweeted on January 25.
"There is no problem in contracting with any country, even with Iran, to supply gas or electricity, but on the condition of abiding by the contract's legal obligations," said Muzahim al-Huweit, spokesman for the Arab tribes in Ninawa.
Iran should not be using these contracts "as a card for leverage or blackmail", he said.
The Iraqi government must find "radical solutions to the electricity crisis through multiple partnerships with all countries without exception", al-Huweit said, and should also investigate energy corruption cases and bring the corrupt to justice.