BEIRUT -- Lebanese intellectuals have decried "the systematic destruction" of Beirut's cultural face, after Hizbullah-affiliated and Iranian publishing houses displayed pictures of Islamic Revolutionary Guard Corps (IRGC) leaders at a book fair in the city.
The 63rd Beirut Arab International Book Fair, which was held March 3-13 after a three-year hiatus, included 90 Lebanese publishing houses and a mere four Syrian and Egyptian publishers.
Meanwhile, 10 Iranian publishing houses were assigned two pavilions.
Both pavilions carried books about the lives of Iranian leaders, including slain IRGC Quds Force commander Qassem Soleimani.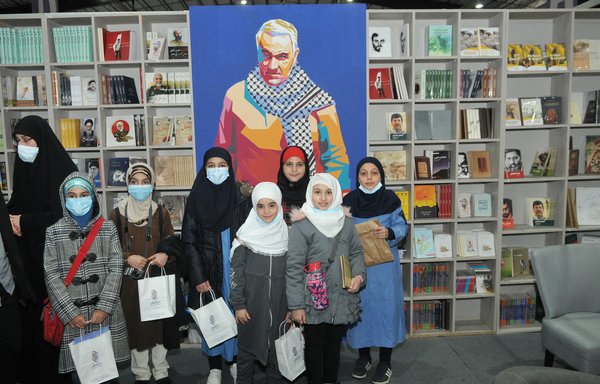 Pictures of Soleimani and of Islamic Republic founder Rouhollah Khomeini, Iranian leader Ali Khamenei and Hizbullah leaders, including its chief Hassan Nasrallah, were also on display throughout the fair.
The displays were accompanied by recordings of "resistance" songs.
The pictures angered activist Shafiq Badr while he toured the fair March 7. Punching a picture of Soleimani with his fist, he shouted: "Beirut is free; Iran must leave!"
A group of youth assaulted him in retaliation, after which he had to be hospitalised.
Two days earlier, one of the book fair organisers demanded that the Bikar Beirut band's performance be cut short in the middle of the song "Ya Beirut" by singer Majida el-Roumi, and power in the hall was promptly cut off.
A band member told news outlet Almodon.com that representatives of Iranian publishing houses were "annoyed" by the music, which they said "conflicted with their principles", and by patriotic songs about Beirut.
'Systematic destruction'
"The Beirut book fair has become a mirror image of the Tehran [International] Book Fair and has nothing to do with Beirut anymore," said activist Mariam Majdoline Lahham in a video posted on her Facebook account.
Novelist, critic and playwright Elias Khoury said the fair showcases "the systematic destruction of Beirut's many faces and its culture, for which the city is most famous".
He told Al-Mashareq that Beirut's culture is destroyed more every day and is at risk of being ruined as Lebanon is under Iranian siege, not to mention the economic, financial and social crises the city is facing.
The display of Soleimani's pictures at the fair confirms that Hizbullah and Iran are imposing a new culture on the Lebanese, which adds to the forced changes they have previously imposed on Lebanon, said novelist Lina Kreidieh.
They have chosen a sensitive place to implement these changes, namely the Arab Book Fair, she said.
"What does Soleimani have to do with the fair and books, and what cultural symbolism does he represent? He was not a poet or a writer," she said.
"I would understand if a picture of a writer, poet or novelist... is displayed as part of the fair's activities but not one of Soleimani and what he represents," she added.
Distortion of Beirut's cultural face
Kreidieh said Hizbullah and Iran not only changed Beirut's cultural face "but also took us to a place that has nothing to do with our culture at all... while our goal with any celebration is to spread culture and the arts".
What has happened is "unacceptable, and we reject it", Kreidieh said.
"As intellectuals, writers, novelists, poets and painters, we respect and accept different opinion, but Hizbullah and the Iranian axis do not accept or tolerate differences of opinion, and they impose one ideology only," she said.
A poet opposed to Hizbullah, who preferred not to be named, said the display of Soleimani's pictures at the book fair is "an extension of Hizbullah's and the Iranian axis's control over Lebanon".
"Hizbullah uses its sway because no one calls it out on what it is committing," he told Al-Mashareq.
As a result, it will take everything it can put its hands on and will not leave the Lebanese any cultural and intellectual space to thrive, he warned.
Soleimani's pictures at the fair "reflect who truly rules Lebanon", he said. "This is a sad and painful reality for us as writers, poets and intellectuals."