BAGHDAD -- Two rockets on Tuesday (May 4) slammed into Ain al-Asad base in Anbar province, which hosts international coalition troops, in the third attack in three days on military installations in the country.
The rockets fell on an unoccupied segment of the airbase, "without causing damage or casualties", the army said.
On Monday evening, six rockets were fired towards al-Balad airbase in Salaheddine province, where a foreign contractor working for Sallyport, a US company, was lightly wounded, an Iraqi security official said.
Three rockets initially fell in an area where Sallyport -- the contractor that maintains Iraqi F-16 aircraft -- is located, wounding a foreign employee, the security source said, requesting anonymity.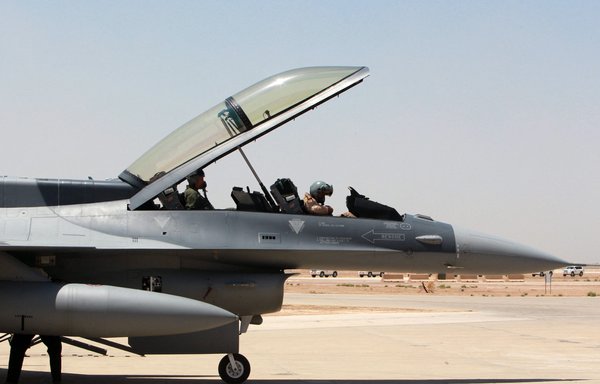 Three other rockets were fired around 15 minutes later, the source added, saying they fell near the base without hitting it.
Pentagon spokeswoman Jessica McNulty said no US or international coalition troops were assigned at al-Balad, but said US civilian contractors worked there.
On Sunday, two rockets targeted an airbase at Baghdad airport housing international coalition troops, without causing any casualties.
One of the projectiles was intercepted by the C-RAM counter rocket, artillery and mortar system deployed to protect US troops in Iraq, a security source said.
There was no immediate claim of responsibility for the attacks.
String of attacks
Two foreign contractors, one Iraqi contractor and eight Iraqi civilians have been killed in a string of around 30 attacks on international targets in Iraq in recent months that are widely blamed on or claimed by Iran-linked Iraqi militias.
A new crop of shadowy militias aligned with Iran has emerged in Iraq over the last year, at least 15 in total.
These "smokescreen" militias are generally understood to be fronts for the three most prominent Iran-backed militias operating in Iraq: Kataib Hizbullah, Harakat al-Nujaba and Asaib Ahl al-Haq.
Last week, three rockets crashed into the sector of the Baghdad airport base occupied by Iraqi troops, wounding one soldier.
In early April, two rockets hit near al-Balad, without causing casualties or property damage.
Also last month, an explosives-packed drone slammed into Iraq's Erbil airport in the first reported use of such a weapon against a base used by international coalition troops in the country, according to officials.
The strikes come at a sensitive time as Tehran is engaged in talks with world powers aimed at reviving a 2015 nuclear deal, known as the Joint Comprehensive Plan of Action (JCPOA).
The JCPOA curbs Iran's nuclear programme in exchange for sanctions relief.