BAGHDAD -- Three rockets on Friday (April 23) crashed into a base at Baghdad airport where Iraqi and US troops are housed, security sources said.
There was no immediate claim of responsibility, but Iran-aligned Iraqi militias are routinely blamed for such attacks on military and civilian targets.
The projectiles hit the section of the airbase occupied by Iraqi troops, who share the base with US soldiers deployed as part of the international coalition against the "Islamic State of Iraq and Syria" (ISIS).
One Iraqi soldier was wounded, a security source said.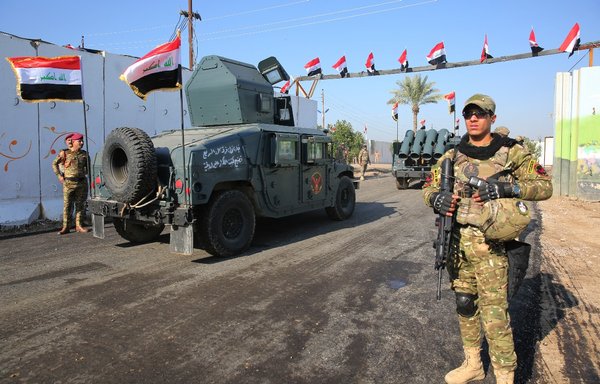 It is the second attack on the anti-ISIS coalition in Iraq in less than a week. On Sunday, five rockets targeted al-Balad airbase north of the capital, wounding three Iraqi soldiers and two foreign contractors.
Friday's is the 23rd bomb or rocket attack against the anti-ISIS coalition in Iraq -- including troops, the Baghdad embassy or Iraqi supply convoys to foreign forces -- since late January.
In mid-April, an explosives-packed drone slammed into Erbil airport in northern Iraq's Kurdish region, the first reported use of such a weapon against a base used by international coalition troops in the country, officials said.
In February, more than a dozen rockets targeted the military complex inside the same airport, in an attack claimed by a shadowy group calling itself Awliyaa al-Dam, widely believed to be a front group for prominent pro-Iran militias.
In the past year, two foreign contractors, one Iraqi contractor, two foreign contractors have been killed in the attacks, sometimes claimed by obscure groups experts say are smokescreens for Iran-backed militias long present in Iraq.
Militias, nuclear programme
Friday's attack comes as Iran-backed militias in Iraq have been ratcheting up their rhetoric amid heightened tensions over Iran's nuclear programme.
World powers on April 14 expressed "grave concern" over Iran's announcement it would move to boost uranium enrichment up to 60%.
The step would bring Iran closer to the 90% purity threshold for military use and shorten its potential "breakout time" to build an atomic bomb.
Meanwhile, the Islamic Revolutionary Guard Corps (IRGC) continues to supply its proxies in Iraq with rockets and assist them in carrying out attacks that violate the country's sovereignty and damage its interests, Iraqi analysts say.
Since 2019, IRGC-backed groups have launched dozens of rocket attacks on civilian and military targets in Iraq, including international missions.
Six attacks this year were carried out with 107mm short-range rockets manufactured by Iran, known as "Fajr1".
On April 4, two rockets landed near al-Balad air base, which hosts US military advisors and houses the Iraqi F-16 fleet, consisting of 34 aircraft. The same base came under two separate attacks on March 15 and February 20.
Other rocket attacks in Iraq, including those on Baghdad's Green Zone, have killed and injured dozens of civilians and destroyed their homes and properties.
Iran remains the biggest threat to stability in the Middle East, the top US military official for the region said Tuesday (April 20).
Speaking to the House Armed Services Committee in Washington, US Central Command chief General Kenneth McKenzie warned that Iran was increasingly using small and medium-sized drones to attack the anti-ISIS coalition, but added that "Iran has failed" in its effort to drive US forces from the region.