A shadowy group calling itself Awliyaa al-Dam (Guardians of Blood) on Monday (February 15) claimed a deadly attack in northern Iraq's Kurdish region that appeared to have been targeting a military complex in Erbil airport.
A civilian contractor working for the US military was killed in the attack and nine people were wounded.
Security officials said they believe Awliyaa al-Dam is a front group for prominent pro-Iran militias that have been blamed for similar attacks in the past, including hardline Kataib Hizbullah and Asaib Ahl al-Haq.
The Erbil complex hosts foreign troops deployed as part of the international coalition that has been helping Iraq battle the "Islamic State of Iraq and Syria" (ISIS) since 2014.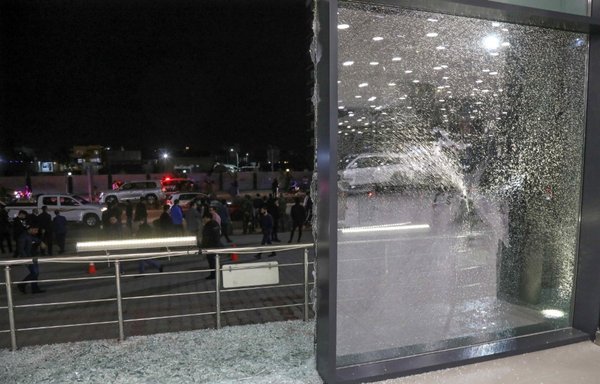 On Monday evening, more than a dozen 107mm rockets -- the same size used in attacks in Baghdad -- were fired from around eight kilometres west of Erbil.
But they struck all over the northwest of the city, including residential neighbourhoods, where they wounded five civilians, the Erbil health directorate said.
It was the first time in nearly two months that Western military or diplomatic installations have been targeted in Iraq, after a series of similar incidents blamed on pro-Iran militias last year.
International coalition spokesman Wayne Marotto said three rockets hit Erbil airport, killing one foreign civilian contractor who is not a US national.
Another nine people were wounded, including eight civilian contractors and one US soldier, he said.
By Tuesday morning, the remnants of the rockets had been cleared, leaving small craters in the paved streets of Erbil and in the plaster walls outside homes.
"Of course this bombing affected us -- it put our lives at risk," said resident Nariman Mohammad, 51.
"I don't see any meaning to any of this. We're also people, and we want to live."
After being closed to flights throughout the morning, Erbil airport resumed its normal schedule at midday, a government spokesman told AFP.
'Smokescreen' militias
The UN's top representative in Iraq, Jeanine Hennis-Plasschaert, slammed the attack in a Tuesday post on the social media platform Twitter.
"Such heinous, reckless acts pose grave threats to stability," she said.
Late Monday, US Secretary of State Antony Blinken said he was "outraged" by the attack and pledged US support in holding those responsible to account.
"I have reached out to Kurdistan Regional Government Prime Minister Masrour Barzani to discuss the incident and to pledge our support for all efforts to investigate and hold accountable those responsible," he said.
Barzani condemned the attack "in the strongest terms", while Iraqi President Barham Saleh called it a "dangerous escalation and a criminal terrorist act".
A new crop of pro-Iran militias has emerged in Iraq over the last year -- at least 15 in total -- operating under many names and using social media platforms to promote themselves and disseminate incendiary messages.
Iraqi experts have described this proliferation of previously unknown militias as a "smokescreen" intended to deflect attention from the real perpetrators: Kataib Hizbullah, Harakat al-Nujaba and Asaib Ahl al-Haq.
Though the new militias have different names, they are all cut from the same cloth, according to Thaer al-Bayati, secretary-general for the Arab Tribal Council in Iraq's Salaheddine province.
The members of these new groups come from "large and well-known armed factions" who are taking on a new guise as a tactic to shield the "mother militias" from accountability for their actions, he said.
Erbil targeted 'very rarely'
Western military and diplomatic facilities have been targeted by dozens of rockets and roadside bombs since late 2019, but most of the attacks have been on Baghdad, not Erbil.
Several of the attacks have been deadly, with both foreign and Iraqi personnel killed.
Most international coalition troops who remain in Iraq are concentrated at the military complex at Erbil airport, a coalition source said.
Erbil has been targeted very rarely, although Iranian forces fired missiles at the same airport in January last year, a few days after top Iranian general Qassem Soleimani was killed in a US airstrike at Baghdad airport.
Both Iran and hardline Iran-backed Iraqi militias have repeatedly pledged to take revenge for Soleimani's killing.
The same groups have recently vowed to boost their military activity in the Kurdish region, ostensibly against a Turkish incursion.