The intended targets of recent attacks carried out by Iraqi militia Kataib Hizbullah, often attributed to shadowy groups operating under its command, leave little doubt about the militia's allegiance to Iran.
A barrage of Iranian-made rockets slammed into Ain al-Asad military base in western Iraq on March 3. It houses US forces providing support to Iraqi forces in their fight against "Islamic State of Iraq and Syria" (ISIS) remnants.
The attack was widely attributed to Kataib Hizbullah, which has been implicated in previous missile attacks on international coalition targets and Western diplomatic missions that have killed Iraqi civilians.
Little-known groups linked to Kataib Hizbullah have claimed similar attacks in recent weeks. They include Saraya Awliyaa al-Dam, which said it was responsible for a February 15 rocket attack on Erbil.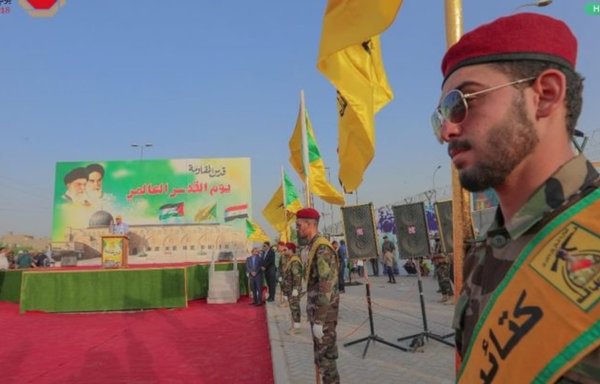 A foreign contractor and an Iraqi civilian were killed in Erbil, and a number of others were injured.
According to Iraqi journalist Shaho al-Qaradaghi, Kataib Hizbullah directs more than 11 active armed groups that are linked to it.
These small groups "would not be able to carry out attacks of this magnitude without receiving support and planning from Kataib Hizbullah and the Islamic Revolutionary Guard Corps [IRGC]", he said.
Kataib Hizbullah stepped up its activities at the end of 2019, firing about 30 rockets at the K1 air base northwest of Kirkuk on December 27, killing a US civilian contractor and wounding a number of US and Iraqi soldiers.
Last year, at least 50 attacks with 107mm-calibre rockets were carried out by previously unknown groups that are affiliated with Kataib Hizbullah.
These included a March 11, 2020, attack with 33 rockets on Taji air base, north of Baghdad, that killed a US soldier, a US contractor and a British female soldier and wounded a number of Iraqi soldiers.
A group known as Usbat al-Thaereen claimed responsibility.
Civilian casualties
Other Kataib Hizbullah affiliates, including Ahl al-Kahf, Saraya al-Muntaqim, Saraya Thawrat al-Ishreen and Thaar al-Muhandis, claimed responsibility for firing rockets at Iraqi bases that house international forces, al-Qaradaghi said.
They also claimed attacks on the US Embassy in the Green Zone in central Baghdad and on international coalition convoys, which killed a number of civilians who lived near the targeted sites.
On September 28, a rocket struck a house near the Baghdad Airport base, killing seven members of the same family, most of them children.
A barrage of rockets slammed into Baghdad on November 17, killing one girl and wounding five civilians.
"Kataib Hizbullah's affiliate militias claim responsibility for their attacks and boast about them, but when civilians are killed in them, they quickly deny responsibility to deflect the anger on the street," al-Qaradaghi said.
He noted that Kataib Hizbullah was established in 2007 under Iranian auspices "and was trained to carry out ultra-complex missions and execute the orders issued by the IRGC to the fullest".
Today, it comprises between 10,000 and 15,000 elements and is based in the town of Jurf al-Sakhr, south of Baghdad, and at the Iraq-Syria border.
Al-Qaradaghi described it as "a dangerous mafia with broad influence, economic activities and illegal trade that generate money for it".
The militia and other Iran-backed militias have been involved in sectarian violence in Iraq, including the abductions of hundreds of men from areas liberated from ISIS control, many of whom remain missing.
The former leader of Kataib Hizbullah, Abdul Aziz al-Mohammadawi, or "Abu Fadak", was listed by the US State Department on January 13 as a specially designated global terrorist.
Silencing opponents of Iran
Kataib Hizbullah has worked to silence voices "that are opposed to Iran or pose a threat to it", said strategy analyst Alaa al-Nashou.
He noted the militia's involvement in the July 6 assassination of Iraqi security analyst Hisham al-Hashemi, who was shot outside his home in east Baghdad as he was getting into his car and later died of his wounds.
Al-Hashemi had received death threats on his phone from Kataib Hizbullah, reportedly over statements he had made to the media revealing the identities of its leaders, their links to the IRGC, and their responsibility for attacks.
In mid-February, Iraqi authorities arrested four accused members of the "death squad" responsible for the assassination of a large number of anti-Iranian activists and journalists last year in Basra.
Among those killed were journalist Ahmed Abdul-Samad and his colleague, photographer Safaa Ghali, and activists Mojtaba Ahmed al-Skini and Jinan Madhi al-Shahmani.
The authorities identified 16 men involved in the assassinations, but most of them -- including the cell's leader, Ahmed Abdul Karim al-Rikabi, aka Ahmed Tawisa -- had already fled the country.
According to some reports, the accused cell members belong to Kataib Hizbullah, which tried to exert pressure to secure the release of the four detainees.
"Kataib Hizbullah is part of the Iranian security apparatus and one of the largest and most prominent of the Iraqi groups sowing violence and chaos in the country," al-Nashou said.