Iraq has reinforced its security presence along the border with Syria in order to block the smuggling operations "Islamic State of Iraq and Syria" (ISIS) remnants rely on for their survival, government and military officials said.
In addition to smuggling goods across the border, in covert operations that help to finance the group, ISIS has sought to exploit gaps in border security to move fighters between the two countries, they said.
The responsibility for maintaining security of the 600-kilometre strip is shared by the Ministry of Interior's Border Guard Command and the Ministry of Defence's Anbar, al-Jazeera and Western Ninawa operations commands.
These forces conduct regular combing operations in desert areas near the border and seal off passages used by smugglers and militants crossing between Iraq and Syria.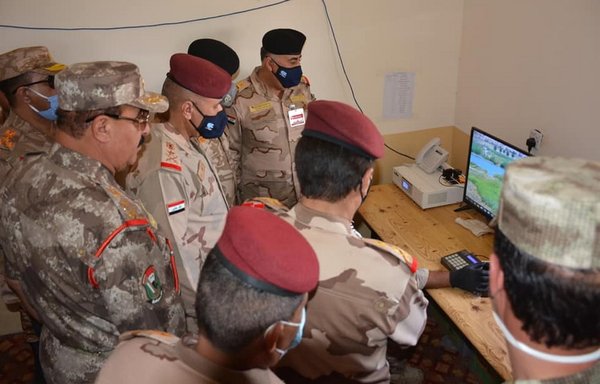 A major security operation was staged in the border area on November 10th, said Iraqi Joint Operations Command spokesman Maj. Gen. Tahseen al-Khafaji.
It was part of a series of operations led by the military operations commands to clear the border region of ISIS cells and cut off their funding sources, he said.
"Efforts are focused on uprooting terrorists from the desert and combating their activities, in addition to pursuing organised crime gangs, smugglers, human and drug traffickers, and imposing a tight grip on the borders," he told Diyaruna.
Many ISIS hideouts and weapons have been discovered and destroyed in operations that stretch to the north and south of the Euphrates river, he said.
Security forces have combed the areas of al-Jazeera and al-Qaim, and areas south of the international highway in the direction of Syria and Jordan.
These operations are occurring in conjunction with continued reinforcement of border fortifications in the Upper Euphrates, where there have been frequent reports of ISIS infiltration from the Syrian side and smuggling activities.
Efforts to fortify border
Iraqi MP for Diyala Abdul Khaliq al-Azzawi told Diyaruna the security situation along the border "has greatly improved, thanks to the deployment of army and border police units, which work with high efficiency and professionalism".
These policing efforts are complemented by work to fortify the borders, which includes the rehabilitation of border posts destroyed by ISIS, he said.
An integrated system of barriers also is being established: an earthen berm, a three-metre-wide trench, a line of metal wires, a fence equipped with monitoring and sensing equipment and concrete towers equipped with thermal cameras.
Al-Azzawi noted that 18 billion Iraqi dinars ($15 million) is being allocated to pay for enhancements to the fortification system, which has contributed towards easing the burden on the security forces and enhancing border security.
ISIS reaped enormous wealth between the years of 2014 and 2017, but after losing its grip on urban centres, its remnants sought to establish a foothold in the desert between Iraq and Syria, he said.
These desert areas have served as a haven for ISIS networks transporting weapons and fighters and engaging in all types of smuggling activities, he said.
But strong border security has hindered the group's efforts to exploit these border crossings, he said, so it has turned to kidnappings for ransom and extortion for revenue.
Non-state actors impede security
Despite the efforts made to secure the border with Syria, it remains a focal point for ISIS remnants, military expert Jalil Khalaf Shwayel told Diyaruna.
The military deployments and surveillance systems have greatly limited the activities of ISIS remnants, but not completely, he told Diyaruna, as the group continues to smuggle fighters, weapons and logistical supplies.
He underscored the importance of "removing any irregular armed factions from the border area and limiting deployment to legitimate security forces".
Iraqi forces should be "solely responsible for preserving the security of this region and addressing terrorist threats", Shwayel said.
Since the defeat of ISIS in late 2017, he said, militias linked to Iran have sought to expand their presence in the border region by establishing bases and barracks in the Iraqi town of al-Qaim and on the Syrian side of the border.
Shwayel stressed that the presence of any group that does not answer to the state and works to further foreign agendas is a "major threat that impedes efforts to control and secure borders".
He pointed to the need to strengthen the trust between the local population and Iraqi forces in order to eradicate ISIS cells and cut off their sources of funding.