Farmers from Anbar's al-Qaim district who were driven from their land by the "Islamic State of Iraq and Syria" (ISIS) have been complaining that Iran-backed militias have prevented them from returning and reclaiming their property.
Iraqi forces backed by the Popular Mobilisation Forces (PMF) ousted ISIS from the "Agricultural Projects" area in the south of the district three years ago.
But much of this rural area remains under the influence of militias operating under the auspices of the PMF, some of which, notably Kataib Hizbullah, are backed by Iran. The militias have turned this area into a sealed off military zone.
Local farmer Abu Ali, who asked that his full name not be used, told Diyaruna he was optimistic when ISIS was expelled from his area, and hoped to return and cultivate his land, which is his only source of income.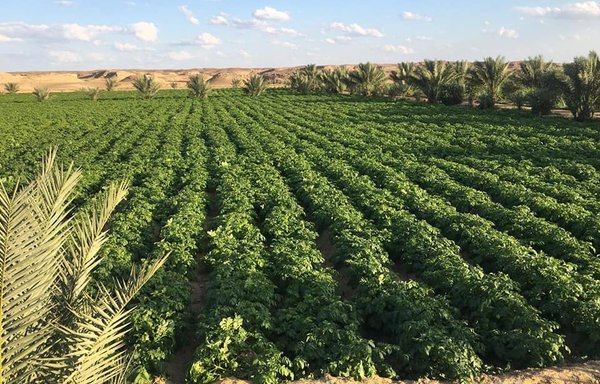 He was disappointed, however, after hearing that militias deployed in the area were not allowing the local population to return, under the pretext that improvised explosive devices (IEDs) and landmines had not yet been cleared.
"This is nothing but an excuse, as the area had been liberated for some time now," he said, noting that there had been plenty of time to clear any explosives.
According to local residents, militiamen have exerted pressure on al-Qaim's local authorities, prevailing on them not to give in to displaced residents' demands for an expedited return.
They pointed to other areas of Iraq, where Iran-backed militias have forced farmers to pay for the privilege of staying on or returning to their land.
Militias seal off farmland
The situation in al-Qaim's Agricultural Projects area is not unique, in that its residents remain in displacement camps years after the liberation of their hometowns, political analyst Ghanem al-Abed told Diyaruna.
Residents of Jurf al-Sakhr, south-west of Baghdad, are in the same situation, he said, as the militias have been using the area as a base for their operations.
"This matter is no longer a secret since the militias, led by Kataib Hizbullah, have seized homes and farms belonging to residents of those areas and turned them into military camps and warehouses for weapons and equipment," he said.
They also maintain secret prisons and detention centres there, al-Abed said.
As well as attempting to convert areas under their control into military bases, the militias also seek to exploit the natural resources in these areas, he said.
The Agricultural Projects area offers economic wealth which Kataib Hizbullah and other militias are trying to seize, he said, adding that they also have an eye on its strategic location near the border with Syria.
Establishing a presence at this location would help them expand their influence and facilitate smuggling operations, he noted.
The region is home to hundreds of agricultural projects and produces a range of crops, from fruits and vegetables to strategic crops such as wheat and barley, in addition to animal husbandry.
Livelihoods at stake
Al-Qaim district officials have called for the withdrawal of militias stationed in about 500 agricultural projects owned by local farmers, saying these projects remain stalled, despite the stability of the security situation in the district.
Approximately 1,600 agricultural projects were suspended in the district because of damage caused during the battles to oust ISIS and electricity shortages.
Agriculture in this part of al-Qaim district is the main source of livelihood for the local population, the majority of whom are modest farmers, said Ghazi Faisal Hussain, advisor to the Iraqi Centre for Strategic Studies.
Some raise livestock and cultivate crops, while others work on the business side of the farming industry, he told Diyaruna.
"Today, hundreds of displaced families are unable to return to their homes and work in their lands, which is their main source of income," Hussain said.
"Kataib Hizbullah, along with other [Iran-aligned] militias, disrupt economic life in this region and in other areas, inflicting heavy damage on the local economies," he said.
"The militias conduct activities that are harmful to the country and the national economy by exploiting wealth and public resources for themselves and smuggling narcotics" and other items for their own financial gain, he said.
"Militia control of people's property by force is a serious and major violation," he said. "People should not be kept homeless and forcibly removed from their areas or deprived of the right to return and resume their work and lead a normal life."