A main post on the Syrian border has now been reopened, with plans to reopen five more border posts that were destroyed by the "Islamic State of Iraq and Syria" (ISIS), the Iraqi Border Guard Command said Wednesday (March 18th).
The al-Waleed border post near al-Waleed crossing has been reopened to support efforts to boost security alongside the border with Syria, Border Guard Commander Lt. Gen. Hamid al-Husseini told Diyaruna.
This is the first major post to be rebuilt and returned to service, he said.
Four other large posts that host regiments will be reopened next within the 4th Border Guard Brigade's sector, he said.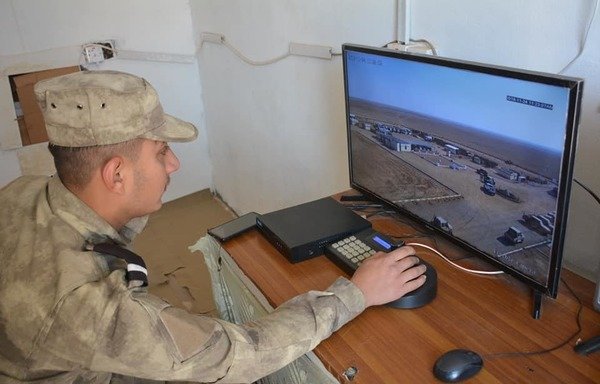 Among them are the "Southern al-Waleed" and the "Martyr 1st Lt. Abu Bakr" posts, in addition to a fifth post in the 15th Border Guard Brigade's sector.
The Iraqi-Syrian border infrastructure, of which control posts are a central element, suffered bombing and demolition at the hands of ISIS militants.
"When we re-took control of the border (at the end of 2017), there were about 200 posts and outposts that have been completely destroyed by the terrorists," al-Husseini said.
As a result, the border guards installed tents and caravans along the border while the international coalition provided the border command with about 100 mobile outposts and support equipment and vehicles.
The Border Guard Command also has opened "15 small outposts north and south of the city of al-Qaim next to the Syrian border", al-Husseini said.
Fortifying the border strip
Efforts are ongoing to fortify the border strip with Syria, which stretches along 610 kilometres in the provinces of Anbar and Ninawa, he said.
"Today we have more than 300 kilometres of that strip that are fully secured, especially in al-Baghouz area (north of the Euphrates river), as well as the area stretching south from the city of al-Qaim to al-Waleed crossing," he said.
The fortifications are "an integrated system that includes dirt barriers, trenches, BRC fences, thermal surveillance cameras and observation towers", he added.
There also are "deterrent detachments and patrols patrolling the border strip around the clock to prevent any infiltration of terrorist elements".
A project has been carried out to extend an optical cable to the Iraqi-Syrian border area, he said, which will improve communications and the transfer of images and data from the border strip to the electronic monitoring centre in Baghdad.