In mid-May, a lengthy video produced by the "Islamic State of Iraq and Syria" (ISIS) began to circulate on extremist social media accounts.
The 50-minute video, titled "Strike Their Necks", contained a compilation of clips that show various attacks ISIS elements carried out in the preceding weeks.
It showed dozens of ISIS elements pledging allegiance to the group's new leader, Abu Ibrahim al-Hashemi al-Qurashi, and threatening to launch what they described as "continuous attacks" inside Iraq.
It also showed the execution of unarmed tribesmen in northern and western Iraq, labeling them as "infidels" for providing assistance to Iraqi forces during the liberation operations that took place in 2016 and 2017.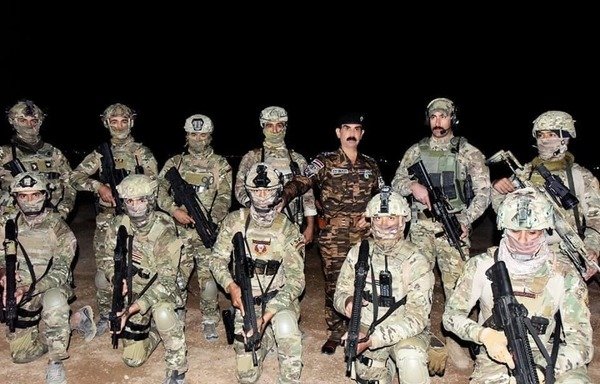 There were scenes of improvised explosive devices (IEDs) detonating, sniper operations and armed attacks against Iraqi security forces, and of civilians being beheaded under various pretexts.
Also shown was the burning of wheat fields and orchards in northern and western Iraq, the bombing of electricity pylons and the shooting of livestock.
The video showed about 30 masked ISIS elements, standing with a man whose accent indicates he is an Iraqi, as he threatened to launch new terror attacks in what he referred to as "Wilayat al-Iraq".
The video provides some insights, Iraqi security expert Fuad Ali told Diyaruna.
It shows ISIS continues to pose a threat, he said.
And it shows that Iraq still needs the international coalition, as the removal or reduction of US and coalition air cover means the group may be able to carry out attacks that result in the killing of innocent Iraqis, he added.
Security plans and co-operation
The international coalition provides continuous aerial surveillance on the situation in desert and mountainous areas that are believed to be currently serving as safe havens for ISIS remnants, Ali said.
Meanwhile, Iraqi forces are continuing to make progress in hunting down ISIS remnants in several areas of the country, said Brig Gen. Yahya Rasul, ministry of defence spokesman.
These forces have succeeded in the past few days in dismantling a number of active terror cells, he told Diyaruna.
"ISIS videos and statements in general have not offered anything new," he said.
"So we are working according to well-studied intelligence plans to crush the rest of them," he added, revealing that fruitful co-ordination with the international coalition has contributed to recent victories over the group.
These included last week's bombing of ISIS positions and hideouts in the north of the country, Rasul said.
The recent escalation of ISIS attacks in Iraq, which have claimed the lives of innocent civilians, underscores Iraq's need for continued support from allied countries, Iraqi MP Faleh al-Issawi told Diyaruna.
This includes international coalition members, and the US in particular, he said.
"There is a need for continued support to eradicate the group," and also to rid Iraq of its deviant ideology, he said, adding that "this can only be achieved if assistance is provided to Iraq".
ISIS's new video is "based on the hysteria of retaliation", Iraqi affairs specialist Ahmad al-Hamdani told Diyaruna.
The video "clearly shows that the group has shifted away from the notion of the 'Islamic State' that it promoted in 2014 to the mentality of a gang that kills, steals and burns citizens' properties", he said.
The video reveals that it "even shoots cows and sheep, under the pretext of retaliating against those who co-operated with Iraqi forces", he added.