Iraq's Ministry of Electricity has restored power transmission lines that had been blown up by "Islamic State of Iraq and Syria" (ISIS) remnants in northern parts of the country in April, a ministry official told Diyaruna Wednesday (May 6th).
Ministry workers repaired six power lines that had been out of service since being targeted with improvised explosive devices (IEDs) on April 28th, said ministry spokesman Ahmed Moussa.
Militants had planted those IEDs near transmission towers and distribution stations, he told Diyaruna.
The attacks caused a loss of more than 2,000 megawatts of electricity, affecting power supply in large areas east and north of Baghdad, as well as in the provinces of Diyala and Salaheddine, he said.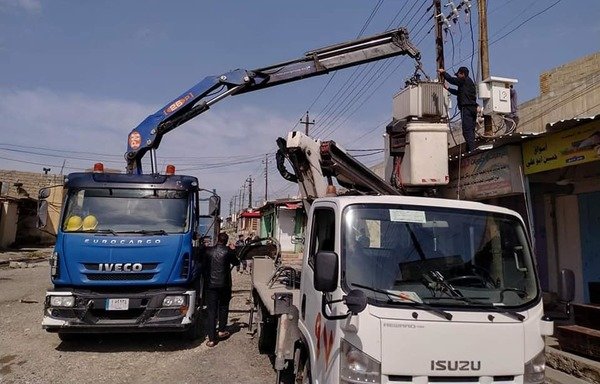 "We were able, with exceptional efforts, to restore the eastern Baghdad lines 1 and 2, and the 400 kilovolt Mirsad–Diyala power import line which feeds Diyala and the Muqdadiya-Hamreen Dam line," he said.
Additionally, the Abdullah-al-Dour and Abdullah-North Samarra lines in Salaheddine province have been repaired at a capacity of 132 kilovolt each, said Moussa.
Disrupting power supply
ISIS continues to target power transmission lines, with an attack on the al-Mansouriya-Diyala line Tuesday, Moussa said, noting that ministry personnel are currently working to repair it.
It is a main transmission line with a capacity of 400 kilovolt, whose towers have been subject to similar terror attacks in recent years.
Terror attacks aimed at sabotaging the energy sector's infrastructure "have been recently on the rise", said Moussa, as "ISIS gangs were disturbed by the success we achieved in terms of providing citizens with 24-hour electricity".
The militants "now seek to impede progress in this sector and disrupt residents' lives, especially in liberated cities", he said.
Moussa called on the security forces to "exert their utmost efforts to safeguard power transmission and supply lines and facilities, especially in remote areas".
Securing these lines by traditional means is a very difficult task, as "it is not feasible to deploy security patrols and fixed posts along their full length", he said, noting that a single line could be about 400 kilometres long and include at least 480 towers.
"Also, some of the lines pass through isolated areas that do not have sufficient security coverage, such as the waterfall areas in Ninawa province, or the Hamreen Hills and Wadi Houran in Anbar," he added.
Moussa called for increasing the use of "modern surveillance systems, such as thermal cameras and drones, to provide integrated protection for power lines".