By choosing a new leader with a reputation of brutality that exceeds even that of Abu Bakr al-Baghdadi, the "Islamic State of Iraq and Syria" (ISIS) has indicated it seeks to chart a more extreme path, Iraqi experts told Diyaruna.
Intelligence services recently identified the new ISIS leader as Amir Mohammed Abdul Rahman al-Mawli al-Salbi -- a founder of the group and an extremist ideologue who pushed for the enslavement of Yazidis in Iraq.
When ISIS named Abu Ibrahim al-Hashimi al-Qurashi as its new head in October, just days after al-Baghdadi was killed in a raid by US special forces, few inside or outside the group were familiar with the nom de guerre.
Now that a fuller picture of his identity is emerging, the depth and extent of his brutality is coming to light.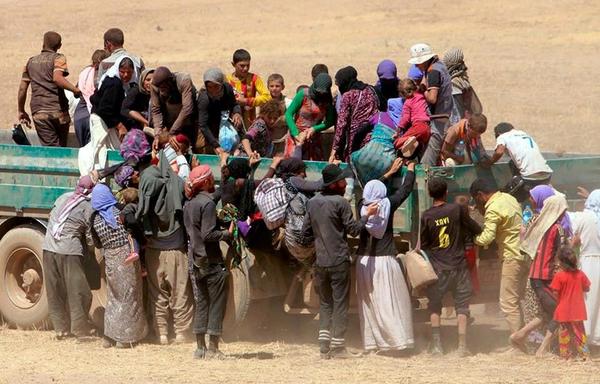 Al-Salbi "is no different than his predecessor in terms of his barbarity and absolute conviction in terrorist ideology, which is contrary to the teachings of Islam", said Sheikh Mohammed al-Shammaa, imam of al-Nabi Yunus mosque.
This ideology "is based on killing with no regard for sacredness or rationality or following a sound approach and the righteous path", he told Diyaruna.
"After suffering a disgraceful military defeat, ISIS decided to go with an even more extreme leader" than al-Baghdadi, who had committed or been responsible for his fair share of crimes, al-Shammaa said.
Al-Shammaa stressed the need to confront the group's "sick ideology" and prevent it "from once again influencing the younger generation and terrorising people".
'More gruesome than before'
Selecting al-Salbi is "an attempt on the part of the group to rebrand itself as even more gruesome than before", said Salah al-Obeidi, an Islamic scholar who heads the Forum of Religious Scholars in Mosul.
"ISIS is the worst terrorist group that has emerged in the past couple of decades and is desperately trying to stay alive after being stricken at its core," he told Diyaruna.
Any new leadership will not change the reality that ISIS has collapsed and its lies have been exposed to people, al-Obeidi said, pointing out that its ideology "has been rejected and no one buys into it anymore".
The group has set out to spread "hatred, destruction, murder and desecration", he said, which presents a sharp contrast with the true values of Islam.
Al-Obeidi underscored the importance of fighting the group's ideology and correcting distorted interpretations of religious texts that terrorists have used to mislead young men and play on their emotions.
These harsh interpretations of Islam "do not align with a sound ideological approach nor with humanistic values", he added.
A grim fate awaits ISIS leader
The new ISIS leader "will meet the same fate of his predecessor", said Khairi Bouzani, general director for Yazidi affairs in the Ministry of Endowment and Religious Affairs.
A fate like al-Baghdadi's "is the just reward for terrorists who are responsible for killing thousands of innocent Yazidis" along with many others, he told Diyaruna.
"Regardless of who leads ISIS, they follow a path of crime and desecration that does not represent any religion," he said, noting that ISIS is a vicious group that thrives on bloodletting.
Bouzani called for anti-ISIS operations to continue, so that the group is not given any opportunity to regroup.