The nomination of Adnan al-Zurfi as Iraq's prime minister has raised alarm in Tehran, observers in both countries tell Diyaruna, as the politician is a strong opponent of Iran and would likely reduce the regime's influence in Iraq.
President Barham Saleh nominated al-Zurfi on March 17th, after his previous nominee, Mohammad Allawi, failed to form a cabinet by March 2nd.
Al-Zurfi now faces an April 16th deadline, and has started the process of forming a government despite opposition from several pro-Iran political parties.
Iran's Islamic Revolutionary Guard Corps (IRGC) has made its displeasure with his nomination known, with affiliated media outlets, including the Fars News Agency, describing the former Najaf governor as an "American tool" in Iraq.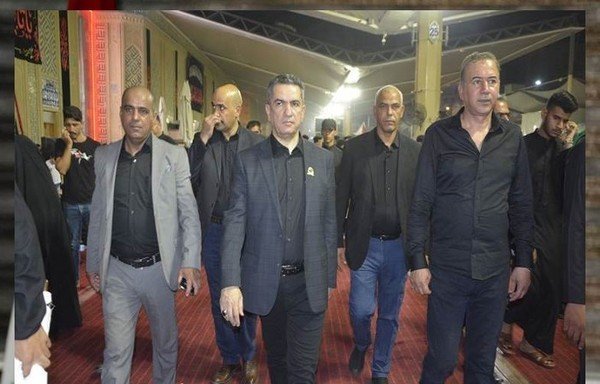 On March 19th, David Schenker, US Assistant Secretary of State for Near East Affairs, endorsed al-Zurfi and said the US is "looking for a government of Iraq that will… be interested in putting Iraq first... and wanting to have Iraq be a sovereign nation rather than a vassal state of Iran".
Al-Zurfi "appears to have the support of Sunnis and Kurds and a number of Shia", Schenker said. So "we are hoping that pro-Iran parties -- that is, Iran and its allies -- do not move to scuttle the nomination."
Fallout from Soleimani's death
Former Iraqi prime minister Adel Abdul-Madhi resigned in December at a time when Iraq was rocked by an unprecedented wave of popular protests, which denounced both government corruption and Iranian influence.
Allawi, who was Iraq's communications minister during Nouri al-Maliki's premiership, was considered to be close to Iran, and popular protests continued after his nomination as prime minister.
He did not succeed in gaining a vote of confidence in Iraq's parliament.
This can be attributed in part to the January 3rd assassination in Baghdad of IRGC Quds Force commander Qassem Soleimani, said Mohammad Saleh Sedghian, head of Tehran-based think tank the Arab-Iranian Studies Centrein an interview with an Iran-based news outlet.
"Soleimani was able to gain a deep understanding of Iraq's social and political currents, and over the years he had an important role in determining who Iraq's prime ministers should be by mobilising the Shia groups," he said.
"Soleimani's role in Iraqi politics was undeniable, and his death has created a vacuum... as nobody else is able to exert such a role in Iraq and bring the factions together," Sedghian added.
New IRGC-QF commander Esmail Qaani is struggling to fill the shoes of his predecessor, leaving Iran-backed militias in Iraq facing a crisis of confidence.
"One can expect that the situation will become more complicated in the future," Sedghian said.
Qaani was in Baghdad March 30th where he reportedly met with top Iraqi officials to relay Iran's rejection of al-Zurfi's nomination, according to local media.
Disrupting Iran's influence in Iraq
"Al-Zurfi's election is the biggest defeat for Iran's interventionist policy in Iraq," said Tehran-based political analyst Reza Taghipourian. "From the time that the news was released, media close to the IRGC mobilised to destroy al-Zurfi."
"One of the accusations against him is that he has been a US national for some time and speaks English well. One can guess as to what extent this has angered Tehran," he told Diyaruna.
The Iranian regime would have preferred someone like al-Maliki, he said, noting that the former Iraqi premier "had lived in Tehran for some time and speaks Farsi well".
"After years of Quds Force-affiliated militia's unity in Iraq, it seems that a new era has begun," Taghipourian said.
"Soleimani's death disrupted all of Iran's equations in the region, and with al-Zurfi's nomination as Iraq's prime minister, it must be said that Iran has been completely disarmed in terms of regional policy," he added.
Iran-backed Iraqi militia Asaib Ahl al-Haq lashed out at al-Zurfi's nomination as "a betrayal", and threatened "it would not remain silent", Taghipourian said.
"These militias have proven they will commit any illegal atrocities to achieve their goal," he said. "Such threats must be taken seriously and used as a tool to help dissolve these groups in Iraq."
A new direction for Iraqi politics
The nomination of al-Zurfi as Iraq's prime minister is the result of Soleimani's death and the decline of Iran's influence in Iraq, Tehran-based journalist Hossein Rajabi told Diyaruna.
"Soleimani's death has created a split among the Shia groups, and there is not anyone else who can bring them to the table, with promises or threats," he said.
"With Soleimani's elimination, one of Iran's most important playing cards in the region has been destroyed, and other possibilities for such manoeuvres no longer exist," Rajabi noted.
"After his death, a great commotion arose on the part of Iran's government," he said, and the Iraqi government even pushed through a non-binding resolution in regards to the withdrawal of US troops from the country.
But the political landscape will change under al-Zurfi, Rajabi said.
"Al-Zurfi has become known in Iran as a close ally of the US and an enemy of Iran's interference in Iraq," he said, pointing out that Iranian sources have sought to smear al-Zurfi, blaming him for attacks on Iran's consulate in Najaf.
"In fact, [Iran's] disagreement and enmity towards Iraq's new prime minister has gone far beyond a political disagreement, and it is a serious challenge to Iran's authority in the future Iraq," Rajabi added.