Iraq's rival parties were negotiating the contours of a new government on Monday (December 2nd), after the previous cabinet was brought down by a two-month protest movement demanding more deep-rooted change.
After just over a year in power, premier Adel Abdul Mahdi stepped down last week after a dramatic intervention by top Shia cleric Grand Ayatollah Ali Sistani.
That followed a wave of violence that pushed the protest toll to over 420 dead -- the vast majority demonstrators.
Parliament on Sunday formally tasked President Barham Saleh with naming a new candidate, as prescribed by the constitution.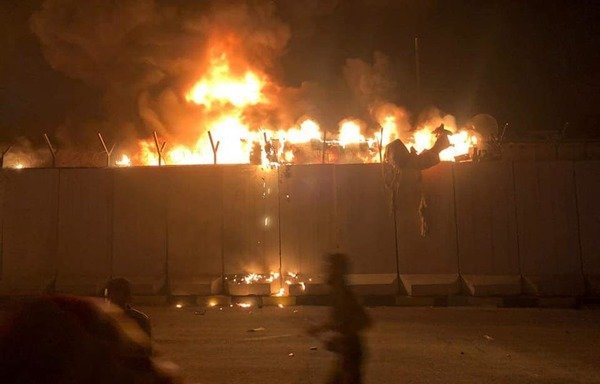 But Iraq's competing factions typically engage in drawn-out discussions and horsetrading before any official decisions are made.
Talks over a new premier began even before Abdul Mahdi's formal resignation, a senior political source and a government official told AFP.
"The meetings are ongoing now," the political source added.
The government and political sources both said parties were considering a "transitional" cabinet that would oversee electoral reform before an early parliamentary vote.
"This process will take no less than six months, in order to prepare for new elections according to a new electoral commission," the official said.
Attacking Iranian consulate
Meanwhile, protestors have kept up rallies in Baghdad as well as further south in al-Diwaniyah, Hilla, Kut and the holy city of Najaf.
The latter was rocked by clashes late into the night on Sunday between protestors and armed men protecting a revered tomb of a Shia cleric.
In the latest expression of fury, protestors crowded around the Iranian consulate -- already emptied of diplomats -- in Najaf late Wednesday (November 27th).
Shouting "Iran out, Iran out", they set fire to tires before storming the consulate itself, burning parts of it and raising the Iraqi flag instead of the Iranian flag.
"Iran's interference in Iraqi affairs has angered many Iraqis," a young protestor in Najaf said.
"The consular fire is a clear message to Iran to reconsider its role in Iraq," he warned.
Tribal fighters intervened to keep the peace, and a tense calm reigned over the city on Monday morning.
It was the second Iranian consulate attacked by protestors since the grassroots movement erupted on October 1st in anger at a government deemed corrupt and inefficient.
With unprecedented bluntness, demonstrators in Baghdad and across the restive south have charged Iran with overreaching.
They say Iran interferes too much in Iraqi politics, holds undue sway among its armed actors and has even hamstrung Iraqi industries by flooding markets with its own goods.
Protestors have slapped their shoes against pictures of Maj. Gen. Qassem Soleimani, commander of the Quds Force of Iran's Islamic Revolutionary Guard Corps (IRGC-QF) and Tehran's pointman on Iraq.
Soleimani, sources say, played a key role in convincing Iraqi factions to keep backing embattled Prime Minister Adel Abdul Mahdi, further fueling protestor outrage.
Growing anger in Iraq
The recent anti-Iran escalation is a "clear and serious reflection of growing Iraqi resentment over Iranian influence", strategy expert Alaa al-Nashou told Diyaruna.
The Iranian regime is to blame for the burning of the Iranian consulate in Najaf, he said, "as its hostile policy towards the Iraqi people and its continued support for the terrorist militias have fueled their rage".
The people of Najaf and Karbala are "deeply resentful of the Iranian regime because of its malicious agenda to dominate these two holy cities, which represent the religious epicentre for Shias", he added.
Iraqi residents of these cities have been made to feel like strangers, he said, as the IRGC and pro-Iran militias work together to consolidate their influence and dominate the religious establishment.
Iraqis' discontent with the Iranian regime stems from the latter's interference in their country's affairs and its quest to impose the doctrine of Wilayat al-Faqih (Guardianship of the Jurist), which calls for allegiance to Iran's Supreme Leader, Ali Khamenei, he said.
Iran seeks to "erase [Iraqi] identity and cultural and historical roots, and to turn Iraq into Iran's backyard and overtake its resources", he added.
"The Iraqi people are today directly confronting the Iranian regime, as they seek to defend their homeland from Iran's ambitions, recover their plundered resources, and live in peace and prosperity," said al-Nashou.