Iraq's top Shia cleric has warned foreign actors against interfering in Iraqi affairs or imposing their will on protestors who have taken to the streets last month to demand a free and independent nation and an end to rampant corruption.
"No person or group, no side with a particular view, no regional or international actor may seize the will of the Iraqi people and impose its will on them," Grand Ayatollah Ali al-Sistani said in his weekly sermon read by a representative in the holy city of Karbala on November 1st.
His comments follow reports that the commander of Iran's Islamic Revolutionary Guard Corp's Quds Force (IRGC-QF), Qassem Soleimani, visited Baghdad two days prior for a secret meeting with the leaders of Iran-backed militias.
Analysts say al-Sistani's statements align with the rising voices of Iraqis condemning Iranian influence and interference in their affairs, which they blame for the deterioration of conditions in their country.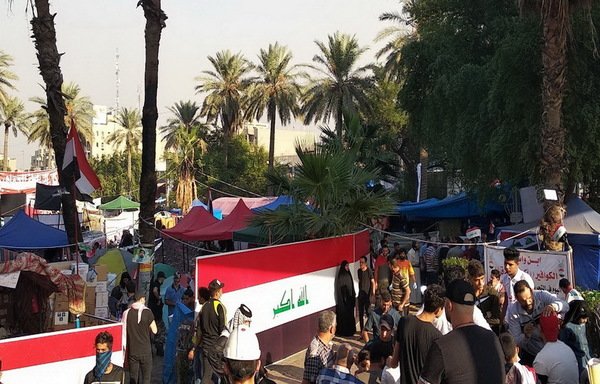 Ghaith al-Tamimi, a researcher in Islamic thought and former cleric at the Najaf seminary, said that in his latest sermon, al-Sistani hinted at Iranian interference as he spoke of international and regional meddling, especially in dealing with the protests.
"It is clear that Iran is to blame as it has influenced the situation in Iraq the most," he said.
Iran is the only country to consider the protests to be "an extreme threat", especially since these protests have clearly demonstrated the level of resentment among Iraqis towards such meddling, he added.
Protests worry Iran
The Iranian regime is very worried that the current protests will gain in size and momentum and undermine its influence in Iraq, al-Tamimi said.
This is especially true as the protestors have been calling for a free and independent Iraq that does not bend to the threats of powerful groups linked to the IRGC, he explained.
Patriotic slogans such as (We want a nation) and (I am protesting for my rights), which have been raised in the protests, threaten the IRGC's plan of sowing sectarianism and stoking religious fervour, he said.
The Iranian regime failed to establish a strong presence for itself within Iraqi society, he said, noting that even Iraqis in southern provinces whom Iran considered to be close allies have protested its meddling in their affairs that has only brought them despair and deprivation.
This failure, he said, is further evidence of Iran's inability to impose its hegemony over the Shia religious authority in Najaf and Iraq.
The Islamic Republic has been promoting the doctrine of Wilayat al-Faqih (Guardianship of the Jurist) in Najaf and throughout the region, which calls for allegiance to al-Wali al-Faqih -- Iran's Supreme Leader, Ali Khamenei.
But religious authorities in Najaf do not welcome Iran's ideological influence and largely reject the doctrine of Wilayat al-Faqih, al-Tamimi said.
Public resentment towards Iranian influence
Al-Sistani's position to reject any foreign interference is "positive and reflects public resentment towards Iranian influence", political analyst Ghazi Faisal Hussein told Diyaruna.
During his sermon, al-Sistani was supportive of protestors' demands for reforms, eradicating corruption, equitable distribution of wealth and provision of public services, Hussein said.
Al-Sistani also stressed that Iraqis only determine their own fate, he said, and supported their demands to end foreign meddling, particularly from Iran.
Iraqis view Iranian influence in their country as "colonialism" which aims to give the IRGC and their militias the upper hand, undermine the rule of law and fuel violence and sectarianism, Hussein said.
Iran-backed militias seek to destroy the national economy of Iraq and other countries in the region by drowning them in debt, inflation and economic hardship, he said, so they can easily control the political process of those countries and ultimately seize their resources.
Iraqis who took to the streets in protest are expressing "their anger towards Iran's role in depleting their national resources and the power of its militias inside their country, which results in widespread corruption, deteriorating public services, high rates of poverty, poor living standards and high unemployment".
"The militias are looting our oil to bolster the Iranian economy," he said. "They are delaying industrial projects and destroying agricultural resources so that Iraq has no choice but to import all its agricultural products from Iran."
"Today, Iraqis demand their rights and want to see an end to Iran's interference and the influence of the IRGC and its agents," he said.