Leadership changes in the Islamic Revolutionary Guard Corps (IRGC) following Quds Force commander Qassem Soleimani's death have triggered a crisis of confidence in the IRGC and deep rivalries among Iran-backed militias in Iraq.
Simmering tensions among the various Iran-backed militias came to a head after Soleimani and Popular Mobilisation Forces deputy chief Abu Mahdi al-Muhandis were killed in a January 3rd US airstrike in Baghdad, analysts said.
Esmail Qaani replaced Soleimani at the helm of the Quds Force, but has been struggling to fill the shoes of his predecessor, who was widely perceived as the second-most powerful man in Iran after Supreme Leader Ali Khamenei.
Before his death, Soleimani had traveled widely in the region, meeting regularly with the various Iran-backed militias, and had been able to maintain a measure of coherence and unity among them, analysts said.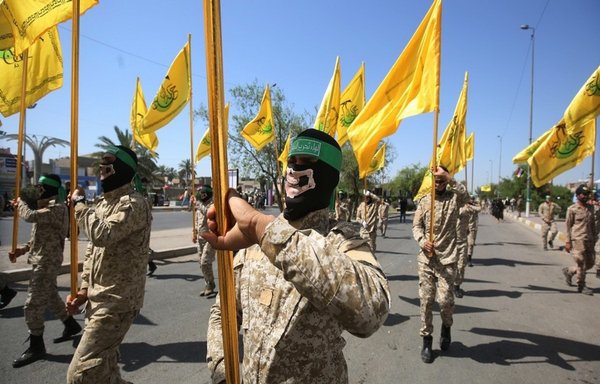 But now, despite Tehran's efforts to bring the militias closer together, divisions are persisting and even deepening, they added.
'Deep divisions' among militias
"Deep divisions" among the militias were in evidence as militia leaders on February 20th nominated a successor for al-Muhandis, Iraqi journalist and political analyst Ziyad al-Sinjari told Diyaruna.
Former Kataib Hizbullah secretary general Abdul Aziz al-Mohammadawi was chosen as PMF deputy.
The divisions over his nomination "indicate deep and escalating tensions among these militias as a result of competition for power and personal interests", he said.
Though they remain loyal to Iran and follow the orders of the IRGC, these militias "are still serving their own interests and viciously fighting for their presence and influential position compared to other militias", he said.
During a January meeting of militia leaders in Qom, Iran tried "to position [Iraqi cleric] Muqtada al-Sadr at the forefront and [sweeten] his relationship with the leaders of other militias", said military and strategy analyst Hatem al-Falahi.
"Not all militia leaders, including al-Sadr's rival Qais al-Khazaali, who heads the Asaib Ahl al-Haq militia, are supportive of this approach," he told Diyaruna.
Relations have been strained for years between al-Sadr and al-Khazaali, with both competing for influence with the other militias, he said.
Any agreement among militias to unite would be "fragile and short-lived", al-Falahi said, adding that divisions could escalate very soon and get out of control with the emergence of any sort of conflict of interests.
A 'multitude of loyalties'
The militias are characterised by a "multitude of loyalties", al-Falahi said.
Those that adhere to the doctrine of Wilayat al-Faqih (Guardianship of the Jurist), which calls for allegiance to Iran's supreme leader, are "the strongest in terms of armament, equipment and influence", he said.
There are about 40 of these militias, the most prominent of which are Kataib Hizbullah, Badr Organisation, Asaib Ahl al-Haq and Harakat al-Nujaba, he noted.
These militias are attempting to "cement their presence as a parallel entity to the state and impose their control under the threat of force", he said.
At the same time, he added, they are "infiltrating official state institutions and building military, economic and intelligence power that would enable them to solidify their dominance".
Yet there is an air of suspicion among militia leaders, ever since dozens of reports were declassified in August 2018 relating to al-Khazaali's interrogation during his detention by the US Army in Iraq in 2007.
The reports included confessions and intelligence al-Khazaali gave to US investigators about his activities and his relationship, as well as that of al-Sadr, with the Iranian intelligence services.
They also detailed the financial support and training that the IRGC provides to Iraqi militias.
Militias losing followers
There is a lack of trust among the various militias as well as growing frustration inside individual groups, political analyst Ahmed al-Abyath told Diyaruna.
Militias in southern Iraq have been losing support and influence as they have jockeyed for power and intimidated demonstrators in recent protests, he said.
Militia leaders are aware of the size and influence of Iran, he added, and have been attempting to "fill the void that was left by Soleimani and al-Muhandis" and to leverage their relationship with Iran to gain stronger influence.
There are efforts to clamp down on the militias' economic resources, however, and "force them out of the areas that were liberated from terrorists" in order to prevent them from depleting Iraq's natural resources for their own gain, he said.
Al-Abyath also said he anticipates that "US pressure on the militias and their leaders will increase" with sanctions being imposed on many individuals.