Heavy storms caused further misery to Syria's displaced population as the conflict entered its 10th year on Sunday (March 15th), ripping up tents and flooding displacement camps in the north-western province of Idlib.
At least 384,000 people have died since the outbreak of the war, including more than 116,000 civilians, according to the Syrian Observatory for Human Rights.
The war has left cities and villages in ruins, shattered the economy and displaced more than 11 million people internally and abroad.
With military support from Russia, Iran and Lebanon's Hizbullah, the Syrian regime has clawed back control of more than 70% of the country.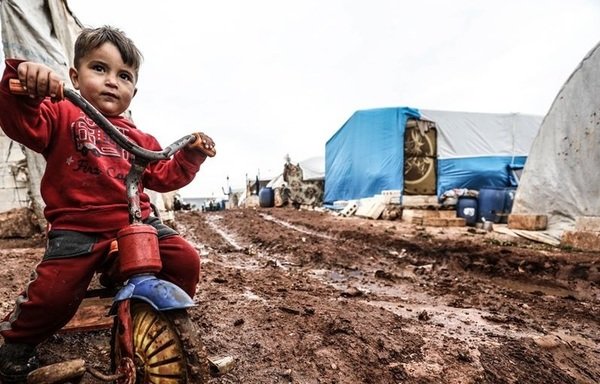 Turkish troops, which support some armed opposition groups, are deployed in the last opposition bastion of Idlib, refuge to millions of displaced people.
Syria's latest ceasefire came into effect in Idlib earlier this month, and Turkish and Russian forces on Sunday kicked off joint patrols there, Russian and Turkish media said.
The first patrol was however very brief and largely symbolic, as the route was "shortened because of provocations", Russia's defence ministry said.
Around 200 protestors had gathered on the road near the town of Nayrab, some setting tires alight or piling tree branches across the thoroughfare.
Heavy winds and flooding
Many of those unable to find space in Idlib's camps have been sleeping in fields or have sought shelter in schools, mosques and unfinished buildings.
To add to their troubles, many of the displaced in rural Idlib were without shelter following a weekend storm with strong winds that toppled tents and inundated camps, impeding movement and hindering access, a local activist said.
Dozens of tents were blown down and left in tatters, leaving the population facing yet another displacement to other camps or less damaged areas, Idlib activist Musab Assaf told Diyaruna.
Many families spent long hours out in the open before finding alternative shelter, he said, noting that activists, White Helmets teams and the few remaining relief organisations have tried to assist them with temporary shelter.
In addition to tents being uprooted by heavy winds, camps were inundated with rainwater that formed large puddles of mud that impeded movement within the camps and through their internal roads, Assaf said.
Other camps were isolated when the roads leading to them were damaged by flooding, he added.
About 20 displacement camps were hit hard by the weekend storm, Assaf said, with more than 1,000 families in need of new tents and supplies.
In north Idlib, al-Shifa camp near Hazano, and the Sarman, al-Khair, al-Amal, Kafr Nabudah and Deir Hassan camps suffered extensive damage, he said.
And in western Idlib, al-Zof camp and the Duwayla camp near Kaf Takharim were the hardest hit by the storm, he said.
Economy, infrastructure ravaged
Ten years of war have ravaged Syria's economy and infrastructure. The UN estimated in 2018 that the conflict had caused nearly $400 billion in war-related destruction.
Over half of all health facilities in Syria are non-functional, and two in five schools cannot be used, according to the UN children's agency (UNICEF).
At least 4.8 million children were born since the war began nine years ago while 9,000 others have been killed or wounded in the conflict, it said Sunday.
An additional one million children were born as refugees since the conflict erupted on March 15th, 2011, UNICEF said.
"The war in Syria marks yet another shameful milestone," UNICEF executive director Henrietta Fore said Sunday.
"As the conflict enters its 10th year, millions of children are entering their second decade of life surrounded by war, violence, death and displacement."
In a social media post, UN Secretary-General Antonio Guterres noted that "a decade of fighting has brought nothing but ruin and misery".
"There is no military solution," he said. "Now it is the time to give diplomacy a chance to work."