The heavy rains lashing Idlib have brought further misery to residents of the displacement camps, whose tents have been flooded by the torrential rain and water from swollen rivers, a local activist said.
The situation is made worse by the lack of food, humanitarian or medical assistance, due to most local and international organisations suspending their operations in the region, activist Haisam al-Idlibi told Diyaruna.
Internally displaced persons (IDPs) from rural areas in southern Aleppo and eastern Idlib have set up informal camps in several parts of Idlib, he said, especially in the area around Saraqeb.
The current tide of displacement began more than a year ago, he said, and is continuing because of the constant shelling of these areas by the Syrian regime and affiliated militias.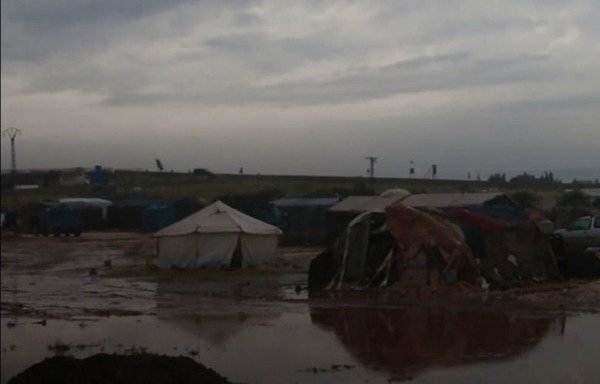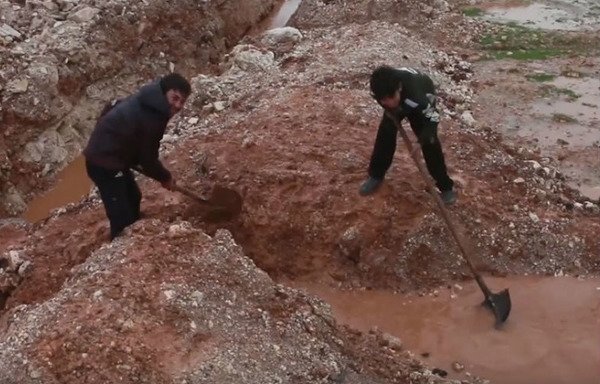 With the advent of winter, the displaced population is living under "very difficult conditions", he noted, as these camps have become large puddles of mud.
Camp residents have seen their tents inundated with water or blown away by the strong winds, al-Idlibi added.
Insufficient assistance
To add to this, al-Idlibi said, the IDPs suffer from an acute shortage of basic living requirements, especially means of heating, blankets, winter clothes, medicine and medical care, and have limited supplies of food.
This is in part due to the difficult financial situation in which they find themselves, he said, and in part to the absence of any assistance from local or international humanitarian, medical and relief organisations.
To overcome these challenges, camp residents are using primitive methods to clear rainwater and mud that has collected in the camps by digging primitive water channels and trenches with improvised tools.
While this helps in some measure, "it has not been sufficient to get the job done because of the enormous volume of rainwater", al-Idlibi said.
The modest aid that used to be provided to the IDPs by local residents also has been cut off, he said, because of fighting in the area and the large number of Tahrir al-Sham checkpoints, where residents are detained at random.
"Tahrir al-Sham has not provided any assistance to the IDPs, even though it imposed its control by force in the area and has blocked the entry of humanitarian aid," he said.
Al-Idlibi said the IDPs have serious concerns over the spread of the flu and other seasonal illnesses in the camps, as well as concerns for the health of elderly residents, especially those who already suffer from chronic diseases.